Thanks to you, First Annual National Gonzaga Day a Resounding Success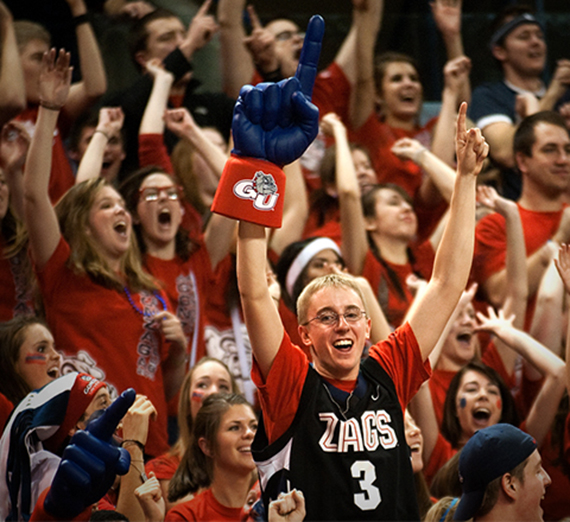 ---
SPOKANE, Wash. – The Gonzaga University community worldwide gathered in person and in spirit on Jan. 24 to celebrate the first
National Gonzaga Day
, a high point of the University's yearlong 125th Anniversary celebration. Zags everywhere celebrated "Tradition and Transformation," Gonzaga's 125th Anniversary theme, and together re-imagined the University's future. The date for National Gonzaga Day in 2014 will be set later this year.
On campus, hundreds of Gonzaga students showed their spirit – camping overnight in "Tent City" on Mulligan Field before the men's basketball game against Brigham Young University. Seventy student campers joined Fr. C. Hightower for a "Midnight Mass" in celebration of the Eucharist and Gonzaga on the eve of National Gonzaga Day. The McCarthey Athletic Center rocked with 6,000 fans that witnessed the Zags' victory (82-63) and heard an inspiring halftime message from President Thayne McCulloh. The dazzling halftime show also featured video "shout-outs" from alumni chapter gatherings in New York, Denver and Seattle. And who can forget the halftime card stunt performed by 867 Kennel Club students? Capping the historic evening in Spokane, Gonzaga presented a stunning, 10-minute postgame fireworks display over the Spokane River.
Off-campus, an estimated 2,200 people participated in the alumni gatherings – including 700 at the Spokane Convention Center, 350 in Seattle and 85 in New York City (despite the late game tip-off). The alumni gatherings celebrated the transformative impact Gonzaga has had in the lives of so many, and included service drives to help others. In Spokane, Gonzaga collected 587 pounds of nonperishable food for Campus Kitchens. Many alumni drove long distances for the events, including an alumnus who drove two hours from Sheridan, Wyo., to attend the alumni chapter event in Billings, Mont., while an alumna drove three hours from College Station, Texas to attend the Dallas-Fort Worth Chapter event.
Spokane-area businesses (including Avista Utilities, Washington Trust Bank, Froyo Earth, Liberty Tax Service, McKenzie River Pizza, Spokane Educational Service District 101, and many more) celebrated in multiple ways, including allowing employees to dress in GU attire and by offering NGD specials. National Gonzaga Day and the 125th Anniversary also were recognized by a U.S. Senate resolution (proposed by Sens. Patty Murray and Maria Cantwell), a Washington state House of Representatives resolution (offered by Rep. Marcus Riccelli), and a City of Spokane proclamation (by Mayor David Condon). The City of Los Angeles Council also issued a proclamation commemorating the event.
The blogosphere was off-the-hook Zag-crazy as social media conveyed the excitement and delivered timely updates involving all the fun. The NGD website received more than 28,000 views, while the 125th Anniversary page drew more 91,000 views. Gonzaga also saw a spike in "likes" on its official Facebook page as fans shared photos of their celebrations, and "tweets" tagged with #NationalGonzagaDay on Twitter sounded throughout the day.
More than 220 members of the GU community answered the question "How will you celebrate National Gonzaga Day?" by reflecting on Gonzaga's Catholic, Jesuit, and humanistic mission through a Facebook contest. The Grand Prize winners, listed below, will each receive an iPad mini, two men's basketball tickets, and an overnight stay courtesy of Red Lion Hotels.
The Winners
Christelle Gorman
, president of the Gonzaga Alumni Chapter in Washington, D.C.
"I'm celebrating National Gonzaga Day by remembering my past, present and looking forward to the future. From my life in Cote d'Ivoire to my life today, I am grateful (you think you know . . . but you have no idea). I have high hopes and the sky is the limit. Today, to celebrate National Gonzaga Day, I am hosting a game-watch with more than 40 RSVPs from GU alumni and friends; by organizing a food, coat and household item drive for the Community for Creative Non-Violence (CCNV), the largest homeless shelter in DC; by wearing my Zag gear and telling all my friends and colleagues about being a Zag for life; and, last but not the least, by continuing ma joie de vivre (my joy of living) through the Jesuit tradition of service. I am a Zag for life and love it. I love you too."
Kenny Pecka
, "I'm celebrating National Gonzaga Day by taking over fresh-baked cookies to my neighbor's house and inviting her son and daughter to go sledding and make snow angels with me and my wife on the hill in our neighborhood. She's a single mother who moved into our neighborhood this fall and her kids are great. I just want them to know that we are right down the road if they need help brightening up their day and having some fun in the cold."
True Zags indeed.