Alumna Andrea Woods Named 2011 Gates Scholar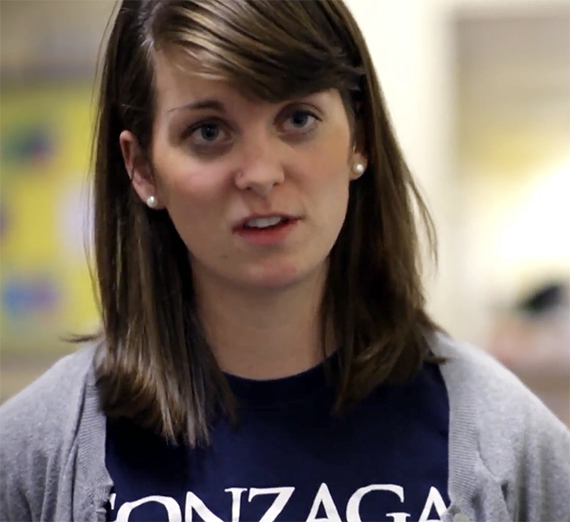 ---
Gonzaga News Service
SPOKANE, Wash. — Andrea Woods, a 2009 Gonzaga honors alumna, is one of five people chosen to receive a prestigious 2011 Gates Public Service Law Scholarship to attend University of Washington School of Law. The Bill and Melinda Gates Foundation program honors Bill Gates Sr., a U.W. law alumnus.
In exchange for the full scholarship, students dedicate five years to public service law upon graduating. The scholarship allows law graduates to move directly into the public service work they love.
Those who know Woods know how passionate she is about service. Woods works and lives with the poor, and says she is the "happiest she's ever been working and serving people." Woods likes to think of herself as an instrument for positive change.
The former president of the Gonzaga Student Body Association now serves as caregiver to the disenfranchised and dying poor. She lives simply to be in solidarity with those she serves. After earning bachelor degrees in English and psychology, Woods joined the Jesuit Volunteer Corps in Philadelphia. There, she created the "Death Penalty Awareness Week."
As an activist for the wrongfully convicted, Woods began realizing a passion for social justice. She brought former Florida Death Row inmate Delbert Tibbs to Gonzaga for a forum. Afterward, several people told Woods the event changed their minds about the death penalty.
"The ways I have witnessed poverty, heartbreak, and death . . . have forever informed my existence on earth," said Woods, "I feel energized by the possibilities for good within the legal profession." The Gonzaga Alumni Association and GU Student Life honored Woods in 2009 with the University Ignatian Award, which is presented each year to the graduating senior who best models the values of Ignatian Spirituality and Jesuit higher education.