Seattle's Pacific Northwest Ballet is Coming to Gonzaga Feb. 16-17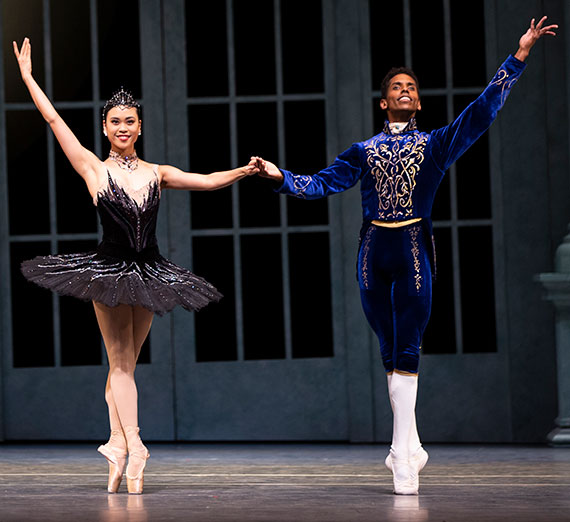 ---
Gonzaga University Dance is pleased to present Pacific Northwest Ballet (PNB) at the Myrtle Woldson Performing Arts Center on Feb. 16-17, 2024, at 7:30pm. Tickets are now on sale. This is the first time the highly regarded Pacific Northwest Ballet company will perform in Spokane.

"This is one of America's premier ballet companies and we're lucky we don't have to drive to Seattle to experience them for this Valentine's performance. Our region's audiences will be glad they treated themselves and their loved ones to tickets — fall in love with dance!" said Suzanne Ostersmith, chair of the dance department.

Pacific Northwest Ballet was founded in 1972 and is one of the largest and most highly regarded ballet companies in the country. PNB delivers more than 100 performances a year between its tours and ballets at Marion Oliver McCaw Hall in Seattle. The company has toured Europe, Australia, Taiwan, Hong Kong, Canada and throughout the United States.

The Spokane performances on Feb. 16 and Feb. 17 will include Kent Stowell's White and Black Swan Pas de Deux from "Swan Lake," Jessica Lang's "The Calling," Jiří Kylián's "Petite Mort" and Twyla Tharp's "Sweet Fields."

"We are so excited to bring Pacific Northwest Ballet to the Myrtle Woldson Performing Arts Center," says Peter Boal, PNB artistic director since 2005. "The program I've selected offers iconic works by some of the most innovative choreographers working today, plus two excerpts from Kent Stowell's magnificent 'Swan Lake' — straight from the Seattle stage.
"Audiences will see the incomparable PNB dancers performing the best of classical ballet alongside inspired new creations. Whether you are new to dance or a devoted fan, I know you'll love this program."
Tickets range from $47.50-$80 and are available online at gonzaga.edu/ticketcenter. They are also available in person at the Myrtle Woldson Performing Arts Center box office, located at 211 E. Desmet and open from noon to 5 p.m. weekdays.