Welcome Weekend Brings Exciting Beginnings and Valuable Lessons to a New Class of Zags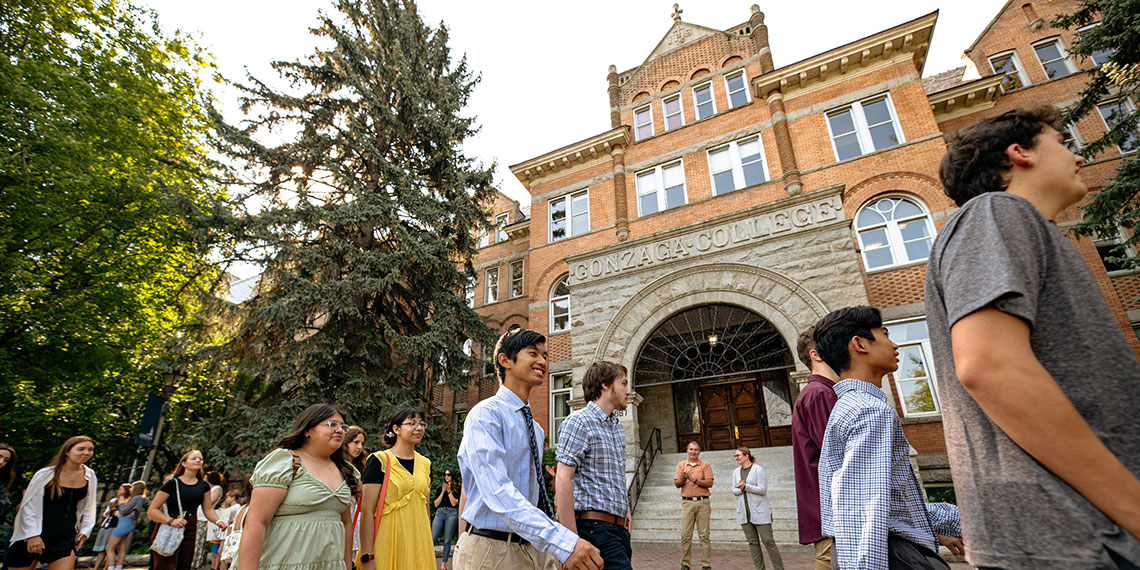 For Jack Surface, a first-year student from Vancouver, Washington, planning to study engineering management, a campus tour and summer orientation session gave him a feel for what the Gonzaga campus "is really like."
Alexsis Tosh, a recent graduate of Spokane's Rogers High School planning on a pre-med track in human physiology, had heard about Gonzaga her "whole life," and she fell in love with the place on a tour during high school with help from the friendly guides.
Caden Vimont, a first-year student from Madison, Wisconsin, at first resisted the idea of choosing Gonzaga to study civil engineering, even though — and dad jokingly suggested because — both his parents graduated from GU in 1996 (dad Dan in physics and mom Mandee in biology). He changed his tune after a visit during his senior year of high school, when "it was really clear there's a great community here."
Sophia Acuff from Lafayette, California, arrived for move-in weekend with insights from her sister, Catalina, a rising senior and biology major, who praised the support she received from friends and faculty alike as she navigated COVID on campus and through changing majors. Sophia, pursuing psychology, loves "how people speak so highly of the community here," and is thrilled to explore the Inland Northwest with new friends from Marian Hall.
"I'm a really outdoorsy person, and I'm excited to try skiing and snowboarding, things I never really had the chance to do before," Sophia Acuff says.
There are myriad reasons first-year students and transfers choose Gonzaga, but throughout Welcome Weekend the disparate backgrounds and separate educational and career goals give way to a sense of community and mission that is both palpable and undeniable.
A miraculously smoke-free move-in weekend didn't pause the GU community's thoughts for our neighbors and community members who've dealt with tragedy in recent area wildfires, but the blue skies and bearable temperatures delighted new Zags and their families hauling mini fridges and piles of clothes into GU housing.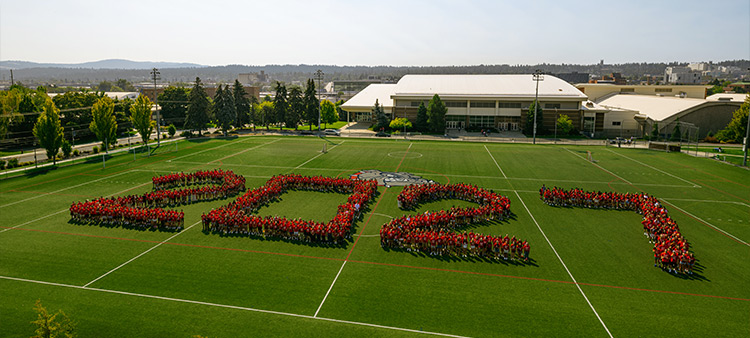 This weekend saw the arrival of 1,273 first-year students and 132 transfer students, and it's the most racially, ethnically and culturally diverse first-year class ever, with 33 percent of incoming students identifying as Black, Indigenous or students of color.
A packed schedule of events introduced students to campus, and to each other, from meeting resident advisors Friday through GSBA Fall Festival Monday. New Zags had opportunities to explore majors, meet academic advisors and dine with groups dedicated to the BIPOC, Jewish, LGBTQ+ and Native American GU communities in between events like the classic class photo session, meeting some cuddly critters at the temporary petting zoo or enjoying an outdoor movie.
For every emotional goodbye as families departed, there was an exciting welcome from a different corner of campus for these Zags embarking on a new journey in a new place.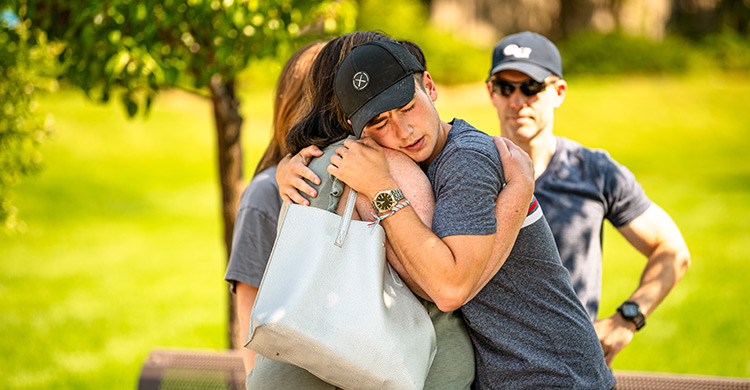 Kent Porterfield, vice provost for student affairs, said that "being a Zag means you are part of a community," and reminded the students packing St. Aloysius for Academic Convocation Monday that "You deserve to be here. You've earned it."
Provost Sacha Kopp emphasized that new Zags are now part of the GU family.
"No matter where you're from," Kopp said," you belong here, and you are treasured here."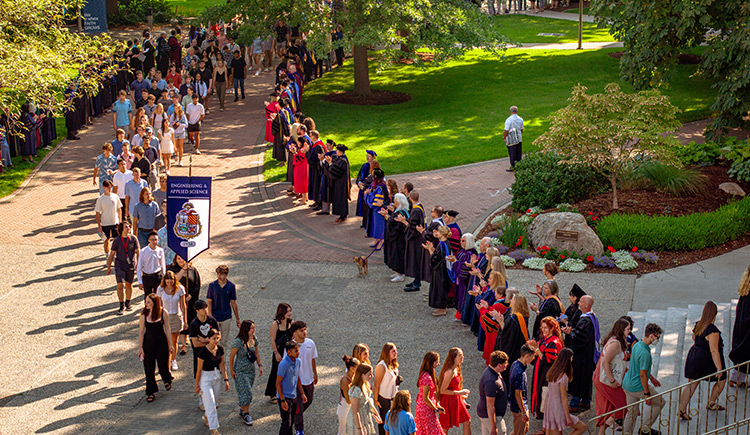 A Snapshot of the Class of 2027
From Near and Far
GU's first-year students and new transfer students come to campus from 37 states, several tribal nations, and countries including: Australia, Austria, Canada, China, Croatia, France, Germany, Mexico, Russia, South Korea, Spain, Taiwan, Ukraine, the United Kingdom and Vietnam.
Leadership Quality
15 former student body presidents
75 class presidents and officers
570 students who were involved in leadership activities in high school.
Caring for Others
877 arrive with significant volunteering experience
A Way with Words
70 involved in speech and debate in high school.
A Song in Their Hearts
Bound for the Stage
Earth Friendly
141 ecology/sustainability enthusiasts
Always Ready for a Game
981 athletes and/or outdoor hobbyists
Worker Bees
755 have real-world work experience
The Big Picture
Official fall enrollment won't be determined until Sept. 29, Gonzaga currently has 7,334 total students, including 5,199 undergraduates, 1,581 graduate students (master's and doctoral) and 554 law students.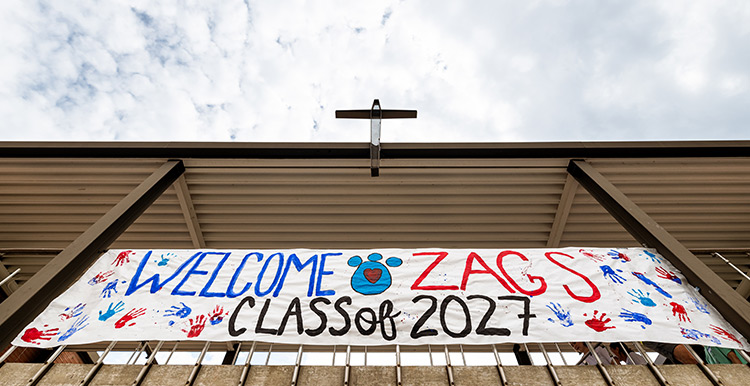 President McCulloh's 10 Keys to Being a Happy Zag
On Saturday morning Aug. 26, President Thayne McCulloh welcomed a crew of new Zags, some of them sleep-deprived, to the McCarthey Athletic Center for new students' first quiz at Gonzaga, "testing" them on the pronunciation of Spokane before giving them a short history of the school, its history, and the importance of taking full advantage of their next few years.
"Don't feel like you have to rush," McCulloh said. "This is a marathon experience, not a sprint."
And with that, he shared his annual list of the 10 ways to assure a happy life at Gonzaga:
There is no one way to be a Zag. Be part of the community, and be yourself!
Immerse yourself and get involved. This is your university!
Make the transition from "old school" to "professional student." College is a job, except you're paying for it.
We are all on a journey.
Take care of your body and soul as well as your mind.
Care for yourself and each other. Zags help Zags!
Give yourself the opportunity to explore and examine your faith life, your relationship with God.
Broaden your definition of community. Gonzaga life extends far beyond the borders of campus, into Spokane's neighborhoods and across the globe.
Expand your horizons and consider studying abroad.
Don't go it alone. There is support at every turn.
Student Life
Faith & Mission
Diversity & Inclusion
Health & Wellness
Undergraduate Admissions
New Student Orientation
News Center