Books, Awards, Accomplishments: Zags in the News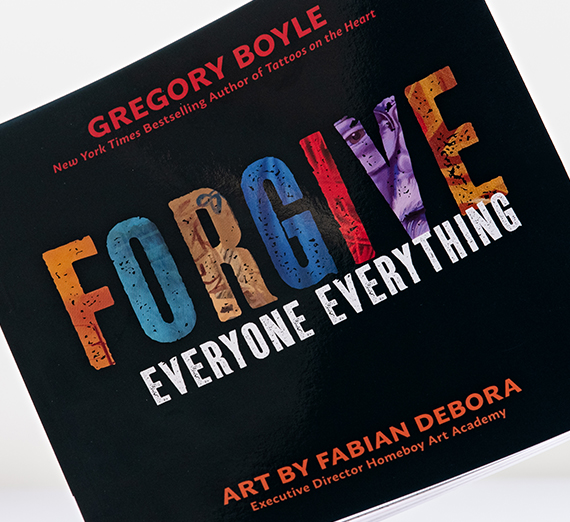 ---

Waste Not
The options for meal bars seem limitless. From Power Bars to Protein Pucks, there are dozens of options for busy folks needing energy on the run. So, what makes the Act Bar different?
Founded by Amelia Allen ('16), a former GU varsity volleyball player and communication studies major, Act Bar exists with a hope to fight hunger. During COVID, Allen was living with her sister Ashley, a teacher at a school with a high percentage of children who qualified for free or reduced lunch programs. When Ashley shared that the school lunch was the only meal some students could rely on, Amelia researched further, discovering that 34 million Americans experience food insecurity every year – and yet a third of all food in America goes to waste.
"Ultimately, the desire to waste less so we can feed more is what inspired Act Bar," says Allen.
"The U.S. hunger crisis isn't going to get solved overnight, but I knew that enough small actions would lead to change," Allen says, "So I created a bar wasting less through the use of upcycled grains and feeding more through our donation of one meal for every bar purchased."
"I hope Act Bars inspire others to take action with us to close the hunger gap."


ACCOLADES & UPDATES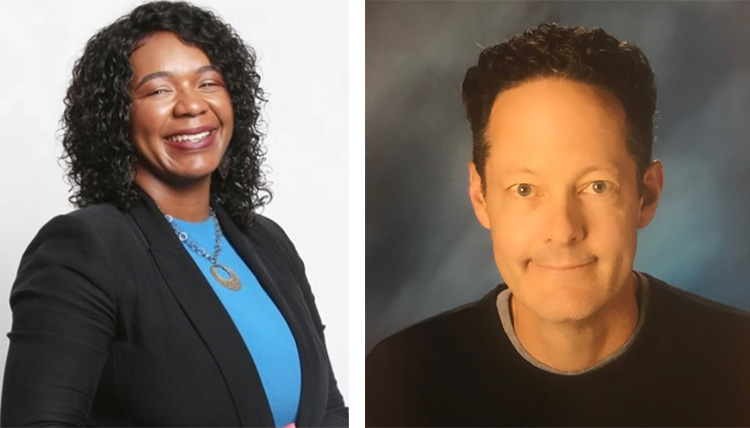 '12 M.A. Essence Russ Batson (above left) was featured in the "40 under 40" spotlight in the Puget Sound Business Journal (fall 2022). She is director for Technology Access Foundation, a role for which she says Jesuit education prepared her. She attended Seattle University (where she is on the Board of Regents) before she completed a master's in communication and leadership at Gonzaga.
'89 Tim Harrington (above right) began as an education major at GU but ended up switching to economics. Harrington is happy to announce that after acquiring a Master of Arts in Teaching,
he is a third-grade teacher at Monte Cristo Elementary in Granite Falls, Wash. After all these years, he is doing what he should have all along, teaching.
'11 Ryan Candee is a physician assistant for Matthews-Vu Medical Group. He recently was named Physician Assistantof the Year by the Colorado Academy of Physician Assistants.
'10 Raevyn West is vice president of Global Markets Development at Engie where she is responsible for commercial activities across five continents. She shares: "I love the topic of decarbonization and working with businesses on their strategies. Working to decarbonize the energy-intensive sectors like steel, consumer goods and manufacturing is highly technical, and each business has a unique set ofchallenges. This work is dynamic, and I have had the opportunity to manage teams around the world."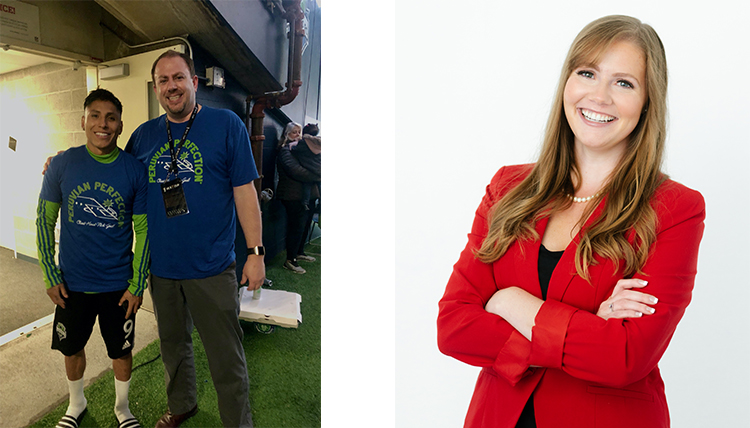 '95 Bryan Thorn (above left) celebrated his 23rd season working in sport stats for the Sounders, Sonics, Storm, Huskies, Seahawks and Mariners.
'14 Kari Nore (above right) is director of external affairs for Alaska Chamber, responsible for the chamber of commerce's communications and advocacy.
'15 '18 M.A. Mark Smith has joined the Spokane Public Facilities District as an event coordinator.
'18 M.A. Kimberly Virtuoso is senior vice president of Fontainebleau Las Vegas after having completed her master's in organizational leadership. She also serves as vice chair of the Civil Services Board in Henderson, Nevada.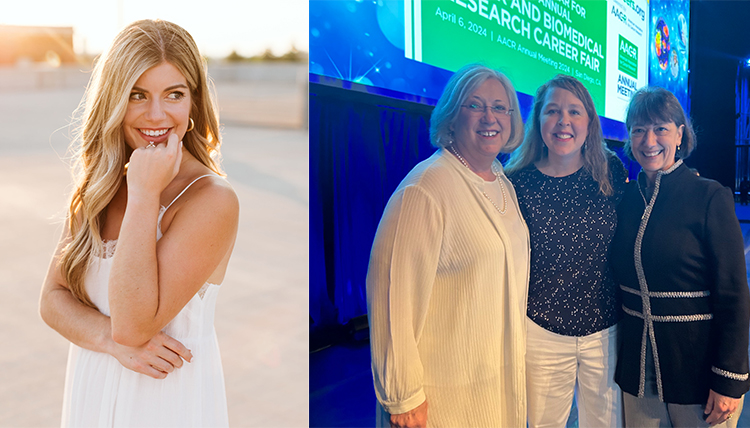 '15 Kaitlin DeBarros (above left) is director of marketing communications, responsible for overseeing a global team at Simply NUC, a Texas-based computer hardware company.
'01 Amy Moran (above right center) has begun her journey to become a translational cancer immunologist at Oregon Health & Science University where she is also associate professor of cell biology and cancer biology. "Mia Bertagnolli (professor of biology) was the spark," Moran wrote. "She graciously trained me as a Murdock Scholar in her lab over the summer, then connected me to her sister-in-law (Monica Bertagnolli), a surgeon in Boston, whose lab I joined at Harvard Medical School for four years. This was the start of my own journey to becoming a translational cancer immunologist at OHSU." In May, Moran had the honor of sharing the stage with Monica Bertagnolli at the American Association for Cancer Research's annual meeting.
NEW IN PRINT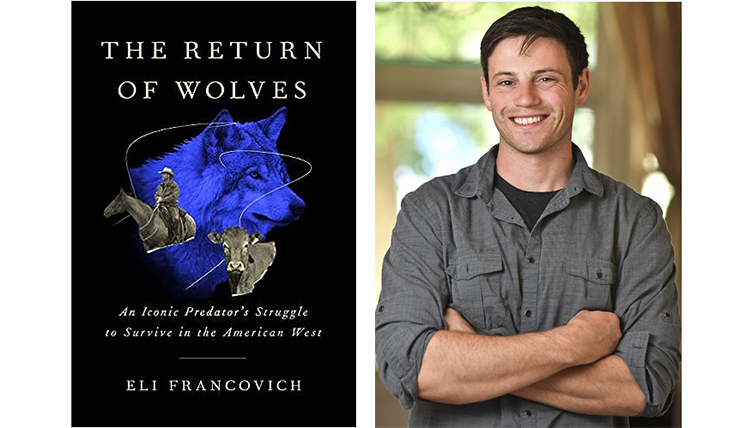 '15 Eli Francovich (above), who (after being a student writer for Gonzaga Magazine) worked as a staff writer and editor of the outdoor beat for The Spokesman-Review, has published "The Return of Wolves," about a topic that continues to present challenges throughout the American West. True to Francovich's journalistic roots, the book explores perspectives from ranchers and politicians to environmentalists and everyday folks interested in the comeback of the gray wolf in Washington.
'66 Robert Roberg published "The Mount Spokane Poet," a collection of short poems. Roberg says he was drawn to poetry in the eighth grade, and in high school received a prize from a Spokane districtwide competition. A life of lessons as a Peace Corps volunteer and community developer permeates the pithy reflections.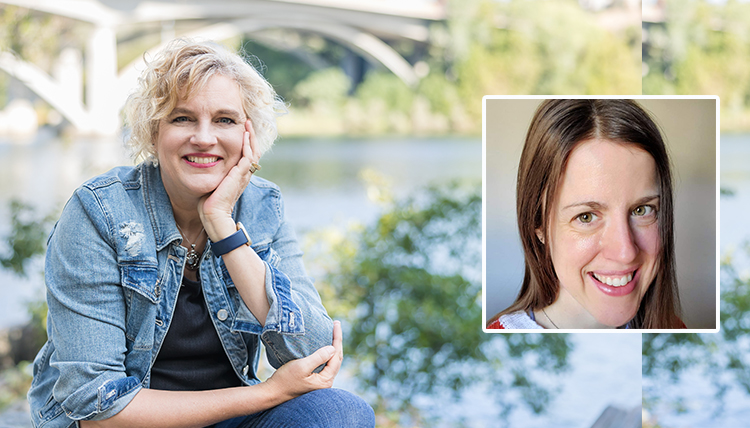 '98 Kelly Tuttle (above, main image) is a neurology nurse practitioner and herself a survivor of traumatic brain injury (TBI) who has published "After the Crash," a guide to help individuals keep working, learning and living life as their brainsrecover. She also provides tips to prevent TBI from devastating your livelihood.
'10 M.A. Dena Rosko (above, inset) is wrapping up a five-book series, "Kingdom Come," about heritage theology, formation and care. The chapters provide a heritage model, devotional and prayers that invite us to design organizations and partnerships with a heritage model-informed language to dialogue the gospel by rekeying, reframing and recontextualizing our conversations about basic needs and safe love.
'81 Teresa Janssen released a novel, "The Ways of Water." This historical fiction piece tells of a young woman's coming-of-age in the American Southwest in the early 20th Century.
'13 Chelsea (Caslavka) Caslie published the second book in the "Fantasia Series, Fatal Reset," an exciting take on video-game genres and multiverse storytelling with fun banter.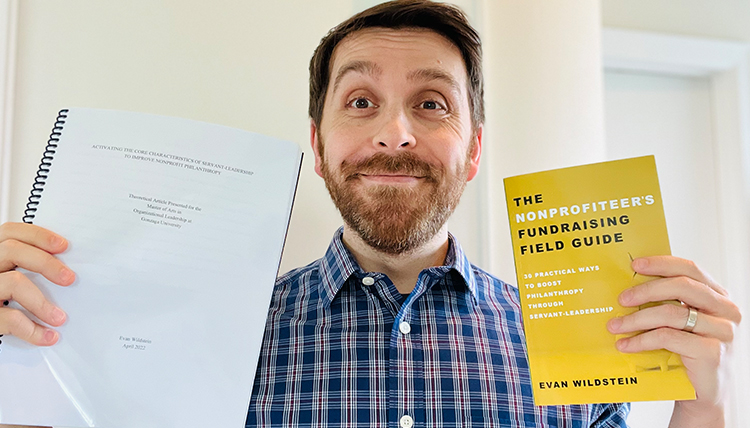 '22 M.A. Evan Wildstein (above) published his first book, "The Nonprofiteer's Fundraising Field Guide," an enhanced version of his thesis from the organizational leadership program in the School of Leadership Studies.


RECONNECTING WITH FATHER BOYLE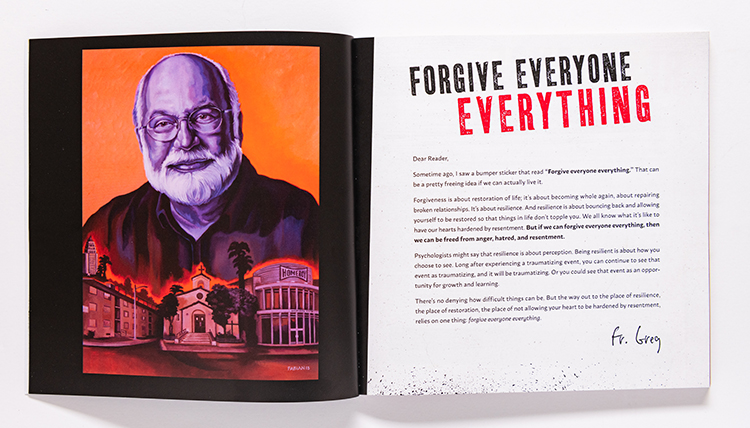 "Forgive Everyone Everything" is '77 Father Greg Boyle, S.J.'s latest book. After "Tattoos on the Heart" (a New York Times bestseller), "Barking to the Choir" and "The Whole Language," readers across America have fallen in love with "G's" way with words and his unlimited love and commitment to people who come through the doors of Homeboy Industries and Homegirl Industries – both of which provide jobs and dignity to those who were formerly members of gangs and/or incarcerated.
"Forgive Everyone Everything" can be enjoyed in small doses – think of them as short homilies – with the added bonus of original artwork by Fabian Debora, a Chicano muralist who is executive director of Homeboy Art Academy.
Have you published a book? Submit info » gonzaga.edu/alumninews and mail a copy:
Editor, Gonzaga Magazine
AD 70
502 E Boone Ave.
Spokane, WA 99258
Have news to share with the Zag family?
Academics
Alumni
Careers & Outcomes
Academic Vice President
Alumni
Gonzaga Magazine