Gonzaga Welcomes New Dean of Nursing and Human Physiology: Julie Wolter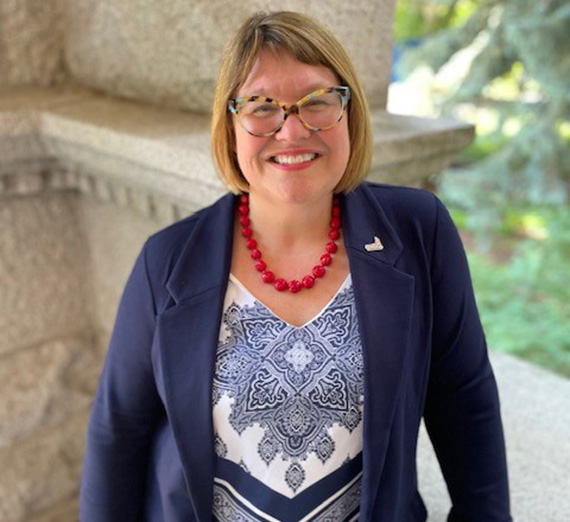 ---
Gonzaga welcomes a new dean to its administrative staff this fall: Julie Wolter, School of Nursing and Human Physiology, transitioning to its new name, School of Health Sciences.
Wolter served at University of Montana as associate vice provost for innovation and online learning after serving five years as chair and professor in school speech, language, hearing and occupational sciences.
Spirit asked GU's new dean a little about herself to better acquaint you with her.
Q: What are your early impressions of the area?
A: The Gonzaga and Spokane communities are integrally related, and it is immediately evident that people in the community – those who are and are not affiliated with Gonzaga – are deeply connected to and proud of this University.
Q: What do you like to do for fun?
A: I am a bit of an art deco and craftsman- era house nut and like to take walks in neighborhoods like Spokane's South Hill to appreciate the early 1900s architecture and the beautiful tree-lined streets.
Q: If you could meet anyone for the first time, who would it be?
A: Carol Greider paved her own success as an individual with dyslexia. She and her health science colleagues, including research mentor Elizabeth Blackburn, won a Nobel Prize in Physiology and Medicine in 2009 for the discovery of an enzyme that has real potential to fight cancer and age-related disease. Dr. Greider had significant struggles with reading and spelling that impacted her full school career – including multiple graduate school rejections due to low standardized test scores. In addition to having a professor like Dr. Blackburn who considered her abilities as a whole person that extended beyond her literacy abilities, Dr. Greider credits dyslexia and how she had to find innovative ways to problem-solve to achieve academic success as the core of her skills as a scientist. She also is an advocate for women leaders in science and academia and has promoted ways to better support her peers. As a long-time researcher in the area of dyslexia, I would love to hear her perspective about how we can best support our students with a wide range of abilities.
Q: What do you like to read?
A: I am an avid reader and love good fiction. Right now I am reading The Outsiders with my 12-year-old son as part of his summer reading list.
Q: Have you found a favorite restaurant in Spokane?
A: I recently got to experience Jack and Dan's and loved hearing about all the connections with the Gonzaga community.
Q: What's your favorite thing about this greater Spokane area so far?
A: I have enjoyed exploring the city parks and walking my dog in Manito Park at the Japanese gardens.
Q: Would you like to share anything about your family?
A: My husband, David, is originally from Boise and we met at Carroll College in Helena, Montana. My 16-year-old, James, is starting his junior year at Gonzaga Prep and my 12-year-old Charlie is starting 7th grade at St. Aloysius.
Q: What is your biggest professional hope or goal for this coming year?
A: My overarching goal for our new School of Health Sciences is to be recognized for our academic excellence, whole-person formation, and commitment to serving the vulnerable at a regional, national and global level. This includes a deep focus on interdisciplinary health and human service programming, both in-person and via distance, personified through experiential learning and service in health communities across the region. In the coming year I am focused on how we can work with our partners across Gonzaga, the UW School of Medicine, Spokane and the Inland Northwest to collaborate and serve our students and community in meaningful and impactful ways.
Q: Tell us something we don't know about you?
A: My family and I took a beautiful trip to Italy last summer to celebrate our 25th wedding anniversary. My husband and I renewed our vows in the Vatican and I can still hear the powerful and moving sound of the vocalist singing Ave Maria just to us in St Peter's Choir's Chapel.
The School of Nursing and Human Physiology – transitioning to its new name, School of Health Sciences – prepares students for careers in human sciences and health professions.