Gonzaga Hosts City Line Ribbon-Cutting
The zero-emissions rapid-transit bus line connects Spokane in a whole new way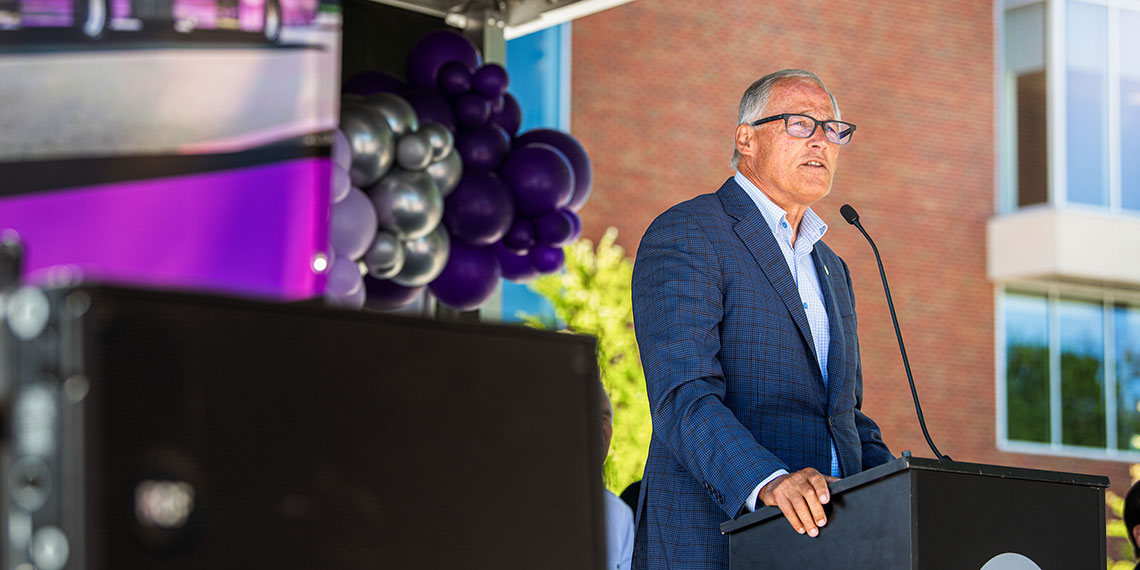 Washington Gov. Jay Inslee woke up in Spokane Tuesday morning to a beautiful sunrise and tasty cup of coffee.

But Inslee's reverie was cut short by the disturbing climate-related headlines in the morning news. Record-breaking temperatures in Europe, India and the American Southwest. People perishing due to floods in Pennsylvania, and having trouble breathing from wildfire smoke descending from Canada into the Midwest.

Inslee relayed his thoughts to a crowd of a couple hundred gathered on campus on the corner of Cincinnati and DeSmet for the ribbon-cutting of Spokane's new City Line, a zero-emissions rapid-transit bus line connecting Browne's Addition to Spokane Community College, with several stops in between.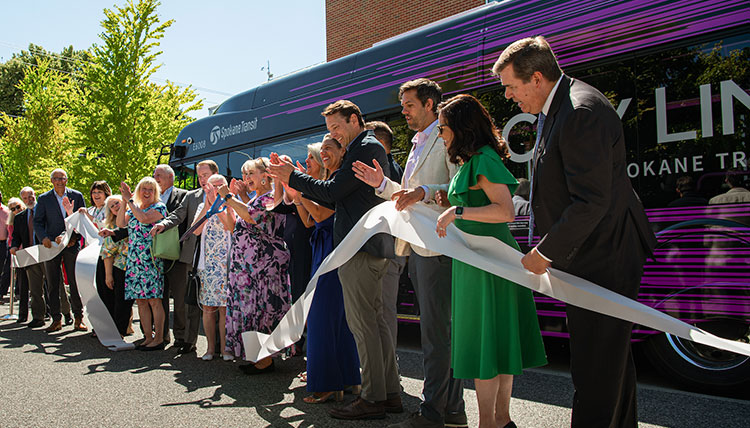 The long-gestating project went live on Saturday, with Tuesday's ceremony drawing a number of dignitaries from across local, regional and federal government agencies, community organizations and Gonzaga's administration. GU President Thayne McCulloh opened the event with a land acknowledgement and welcome to a dais that included Inslee and his wife Trudi, Spokane Mayor Nadine Woodward, Spokane City Council President Lori Kinnear, Spokane County Commissioner Al French, Spokane Transit Authority CEO Susan Meyer and others. Spokane Indians' mascot Ribby was spied in the audience and got shout-outs from a few of the speakers.

Inslee hailed the City Line as an example of the kind of radical thinking needed to address the climate crisis, and praised Spokane for its leadership in moving public transportation away from fossil fuels. He also noted how the buses serve as community connectors, a theme repeated often over the course of an hour as speaker after speaker exalted the City Line, its leadership, STA drivers and staff, and the fact that it is a rare transportation-oriented project that actually came in under budget.

The speeches were followed by a group ribbon-cutting and celebration outside of Hemmingson Center.

More photos from the event: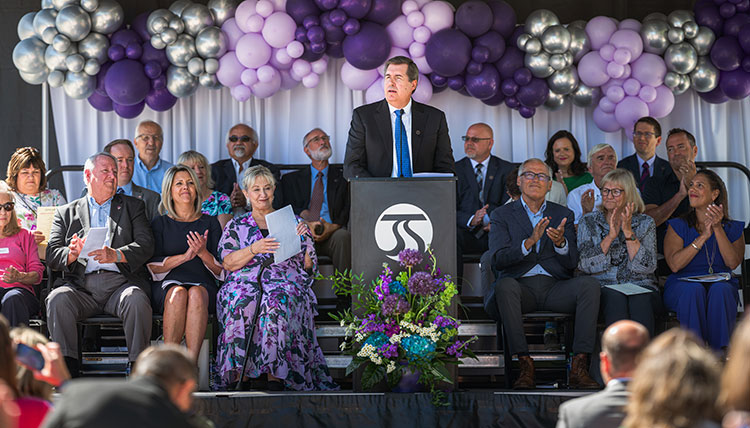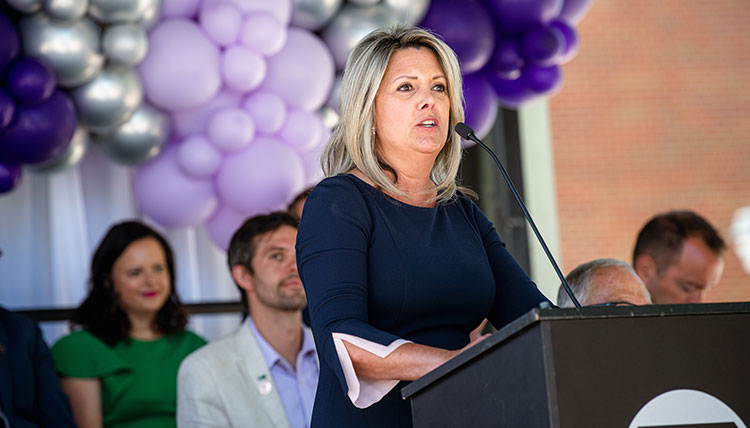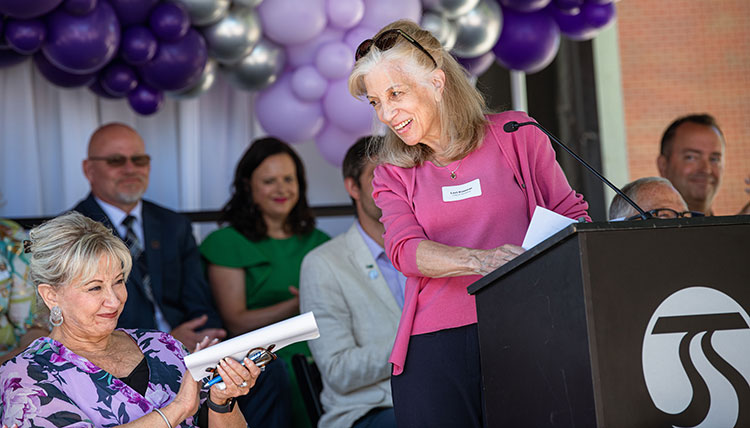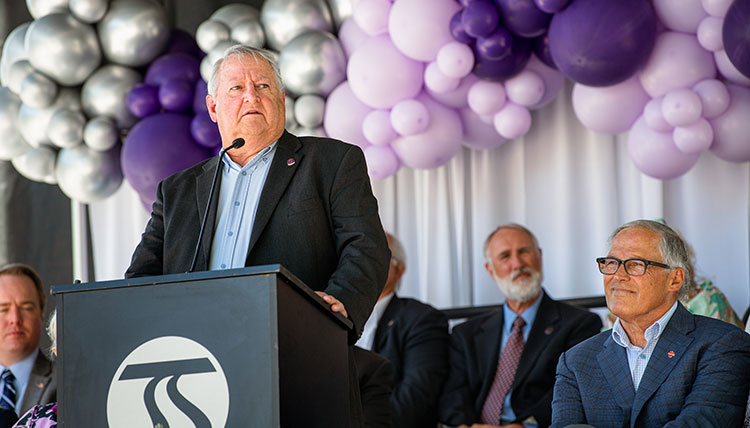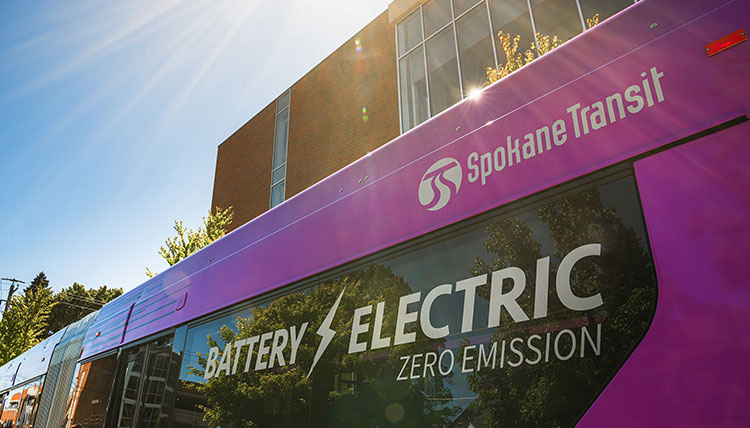 Learn about the Spokane City Line
Student Life
Sustainability
President's Office
Office of Sustainability
News Center