Stepping Stones to a Yes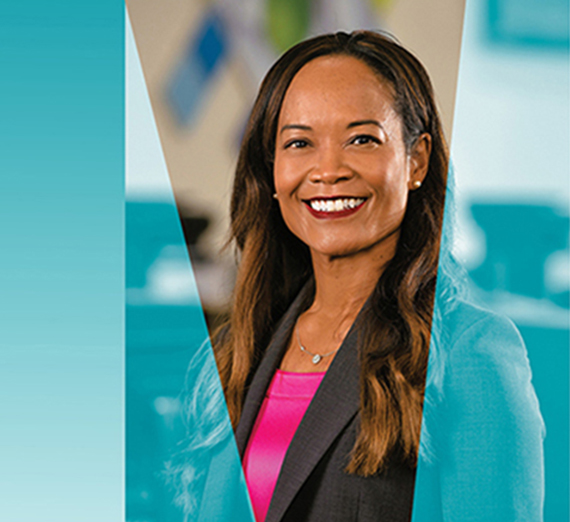 ---
Alongside a feature in the Summer 2023 Gonzaga Magazine about GSBA presidents of the last decade, former GSBA President

Cindy

Runger

('91, '94 J.D.)

reflects on her career journey and lessons.
My gut still lurches when I recall the intense organic odor emanating from the sugar beet factory. The smell drifted across my small Idaho town and lingered by the mall. The factory was an important business to the local economy. For some, it was the smell of money. For me, it presented one more reason to leave and pursue challenges and opportunities beyond my farming community.
I delightedly joined the 3,500 other students and 50 Jesuits at Gonzaga University. As a first-gen student, I fed voraciously on opportunities to debate and explore ideas with my classmates. Some of my fondest memories at GU were when my friends and I would spend endless hours contemplating big thoughts about the world beyond the beige and brick façade of Catherine-Monica, beyond the rugby players bone-crunching it up on Mulligan Field. Why were we here? How can we matter? How can we serve and make a difference?
These interests led me to serve in the student senate and eventually as GSBA president. These roles helped me grow to understand the mightiness of listening, the power of representation, and the strength of advocacy. At one point, we had challenged the University's investments with companies doing business with South Africa's apartheid regime. Not dissimilar to the questions raised today by the students concerning our fossil fuel ties. We got the attention of Fr. Coughlin and his administration. The interaction was thrilling for a political science major like me.
During this time, many of my political science and philosophy professors took a special interest in supporting my growth. They gave me space and encouragement to find my voice, explore my values and discover my passions.
As I neared graduation, I prepared to leave Spokane in my rear-view mirror. I had reached a point where I wanted to be surrounded by more diversity. Being one of the few ethnic minorities in the community became lonely at times. One summer I could not secure housing in the Spokane community. I was blessed to have the friendship and support of Sue Weitz, student life vice president, and Bob Bartlett, director of multicultural education. I ended up briefly living with their families until I could secure a place to live. Gonzaga School of Law offered me a full-ride scholarship. As an academic- and needs-based scholarship kid, the school's generosity immensely impacted my life.
Once I received my J.D., I couldn't believe my fortunate circumstance when I launched my career as an attorney for the Washington State Senate. I could see the majestic dome of the Capitol building from my office window. The Temple of Justice stood across the lawn. And the governor lived in the mansion nearby.
Being part of the legislative experience, surrounded by elected officials, lobbyists and staffers, was particularly remarkable for me – an immigrant who left war-torn South Vietnam. My family and I left just before it fell to communist control where pervasive censorship and cultural purification became the norm.
During my six years in politics, I became convinced that corporations were capable of benefiting society through their leadership in job creation, products and services, and community engagement. With this belief, I set out to Seattle to do good in the corporate world.
I spent the next 15 years growing my clientele, managing investment portfolios and working my way up the ranks in companies like Piper Jaffray and JP Morgan. Once again, I found myself in awe of my fortunate circumstance working alongside captains of industry, non-profit organizations and institutions.
Discovering investments that focused on impact investing brought me great fulfillment. Doing business with funds and companies that provided positive social outcomes while improving shareholder value fulfilled my desire to do good.
Nowadays, I am privileged to be in the joyful position of making a difference through philanthropy and board service. As vice-chair of the Gonzaga University Board of Regents, I am grateful to be able to give back to the institution that strongly influenced my transition into adulthood. A place where I fondly recall learning lessons in risk-taking and being of service to others.
I am also a board member of Bishop Blanchet High School. And I serve as an independent board director for First Financial Northwest Bank. Serving on boards is hugely rewarding because I can play a key role in the success of an organization.
By many measures, I have been very successful in life. I credit this to the strength of my support system of family and friends, Gonzaga and many past colleagues. I also attribute my success to personal grit, optimism and multiple failures and setbacks along the way.
My advice for those starting out is to take risks and permit yourself to fail. When I was first building my clientele as a stockbroker, I didn't look like Leonardo DiCaprio's wealthy stockbroker in "Wolf of Wall Street." As a young, brown female in a predominately white male industry, clients and even some new colleagues underestimated me or mistook me for the assistant to the "real" stockbroker.
Rejections and failures knocked me down a few times, but I viewed every "no" as a stepping stone to a "yes." I used failure as an opportunity for growth and a way to improve my skills. This mindset propelled me toward numerous achievements in business and service.