Andrew Brajcich Elected Chair of Washington Society of CPAs Board of Directors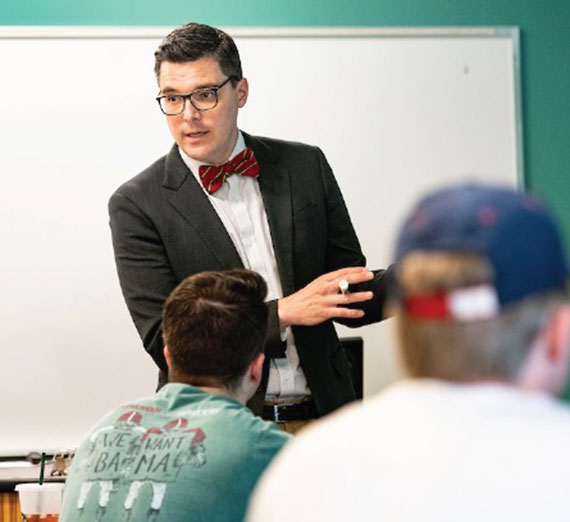 ---
The Washington Society of Certified Public Accountants recently elected Gonzaga professor Andrew Brajcich as chair of its board of directors for 2023-24.

Brajcich, who is GU's Jud Regis Endowed Chair of Accounting and director of the school's graduate accounting programs, previously served as vice chair and secretary for the WSCPA. The group is a professional community of more than 6,500 CPAs and financial professionals working in business and industry, education, government, non-profit organizations and public accounting.

The WSPCA is the only organization in Washington state dedicated to serving the professional needs of CPAs, educating consumers about CPA services, and encouraging students to enter the profession. Brajcich's combination of professional experience and hands-on work with students make him a natural fit for this new role. He's served on the organization's board of directors since 2019.

"My time on the board has taught me more about the profession than I knew existed," Brajcich says.
"Interacting with various professionals helps me be a better mentor to students as they embark on a wondrous career. I've also been exposed to the governance of the profession at the state and national levels. This insight informs my understanding of what we do in class and in the field."
As chair, Brajcich will spend time advocating for the profession and guiding the organization that includes students he works with every day in addition to professionals and retirees. Among recent efforts he and the WSCPA have worked on are a scholarship program for aspiring accountants that awarded more than $500,000 to accounting students in the state for the 2022-23 school year, as well as working on CPA exam changes to eliminate onerous rules that disproportionally affected women, parents, working professionals and underrepresented groups trying to enter the profession.

At Gonzaga, Brajcich is part of a team that's continually made accounting a strength of the School of Business Administration. The program's 82.4% CPA pass rate is 10th in the nation and first on the West Coast among large programs. GU's master's of tax program has a 100% placement rate within three months of graduation, while the master's in accounting program has a 95% placement rate within the same time frame. Both the undergraduate and graduate accounting programs are consistently ranked among the nation's best by U.S. News & World Report.
Learn about studying accounting at Gonzaga