Gonzaga Announces Partnership With Pat Tillman Foundation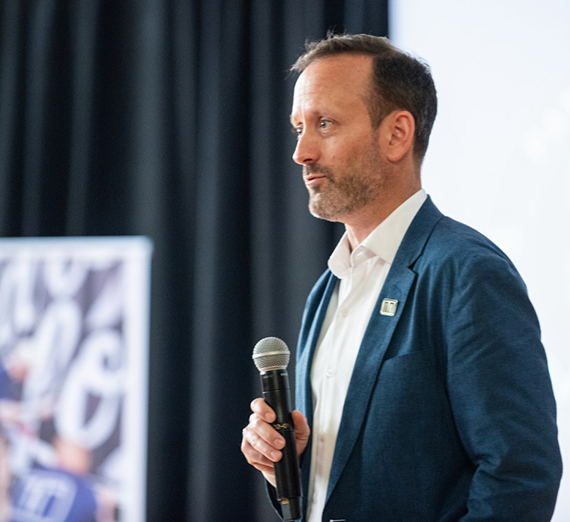 ---
Gonzaga University's commitment to its military-affiliated community members was bolstered today with the announcement that the school is joining the Pat Tillman Foundation University Partner community.

The partnership will enhance Gonzaga's ability to recruit and retain military members and veterans to its student body through the support services, financial aid and scholarships provided by the foundation. Each year, the Pat Tillman Foundation selects 60 Tillman Scholars based on merit for a multi-year scholarship that averages more than $22,000 per recipient.

The Pat Tillman Foundation is a national non-profit formed in 2004 by friends and family of NFL player turned U.S. Army Ranger Pat Tillman to support the educational and leadership development of veterans and military spouses. The ties between Gonzaga and the foundation were significant even before today's announcement. Dan Futrell, the foundation's CEO, is a 2005 Gonzaga graduate and a 2011 Tillman Scholar who utilized the honor to earn a master's degree at Harvard University. Gonzaga law student Jennifer Scanlon — a U.S. Army veteran and Russian linguist — used her own Tillman Scholar award to move beyond her career in higher education to pursue her Juris Doctor. The two Gonzaga Tillman Scholars met on campus in the fall of 2022.

"As a U.S. Army veteran, I am proud to lead a university that is so supportive of our students, colleagues and families dedicated to military service," said Gonzaga President Thayne McCulloh.
"Our partnership with the Pat Tillman Foundation will aid in the recruitment of military-affiliated students, and deliver financial support, personal support and leadership development for military servicemembers and veterans who join the Gonzaga community."
Futrell noted that the U.S. military and Gonzaga University share many values that make the partnership a natural fit.

"There is such a strong thread between Gonzaga and the Tillman Foundation in our call to service and holding each other to a high level of excellence," Futrell said. "Veterans have found a home here in a way that's unique and related to the service mentality that unites our organizations. People come to Gonzaga to expand their horizons, grow intellectually, and to serve others, which is very much aligned with military service."

The Pat Tillman Foundation partnership is the latest effort by Gonzaga to support the military community's connection to the school. This year marks 75 years of the Reserve Officer Training Corps' presence at Gonzaga University, as well as the launch of a new University Military Service Community designed to unite and support all current and former U.S. military members affiliated with Gonzaga.

This spring, Gonzaga earned the designation as a Silver Military Friendly® school, and partnering with the Pat Tillman Foundation will only improve the university's ability to support active military and veteran alumni, students, faculty, staff and friends.

"I look forward to witnessing the connections between us grow stronger," McCulloh said. "Each new addition to the Zag network of military service members is unique, valued and important."
Learn about the new Gonzaga Military Service Community