Drew Timme: Just Being Himself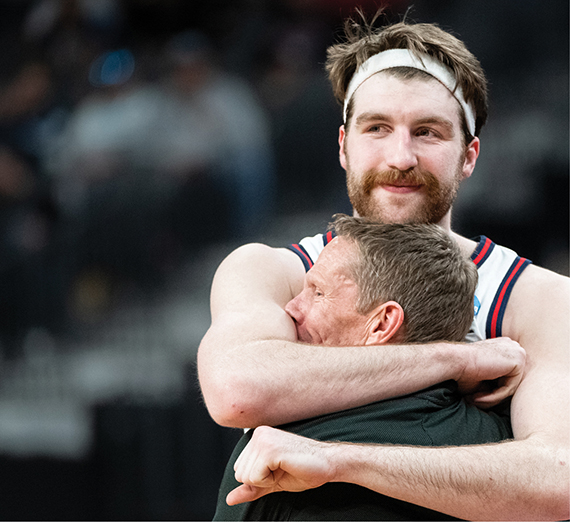 ---
He is one of the best college players in America, and arguably the most recognizable ever to wear a Gonzaga uniform.
He's Drew Timme, who became Gonzaga's all-time leading scorer, surpassing the 60-year record of Frank Burgess (1958- 61), and three-time All-American as the best power forward in America. His flair on the court, with his mustache flip, his winged flutter after a successful runner and his rather colorful post-game interviews on national TV made him a fan favorite.
Says CBS Sports analyst Seth Davis: "Drew will be remembered for his personality as much as anything. He plays the game with great joy, great verve."
But don't let the smile and free-wheeling spirit fool you. "I've got the passion and the fire burning in my eyes," Timme said in a CBS interview.
It showed in the recent NCAA tournament, where he averaged 28 points through the Sweet 16 before ending the season in a disappointing Elite Eight loss.
Displaying a great sense of maturity and care for his teammates, Timme reminded the Zags afterward: "We had a helluva year. I was proud of them, and I love them. I wouldn't have wanted to do this with anyone else. Nobody thought we'd make it this far. It speaks volumes to who we are as people more than players."
Davis shared Timme's sentiment on a recent Dan Patrick podcast about the accomplishment of this team:
"Timme's a great player in a great program. We take this Gonzaga thing for granted. I'd challenge anyone to find me another example anywhere in sports where this little private, Jesuit school in Spokane, Washington, playing in the West Coast Conference, is this dominant for this long. We're going on 20-plus years since they made that first run to the Elite 8 (in 1999). It's not just (Coach) Mark (Few). It's a total buy-in by the university, its alumni base, its donor base, the community.
"Look at their record in the NCAA tournament (44-25). You need just a couple fingers on one hand to count the programs who have been able to match that. People say, 'They have not won a championship.' Are you serious? They played in two (NCAA) championship games and were one possession away (from winning) against North Carolina (2017)."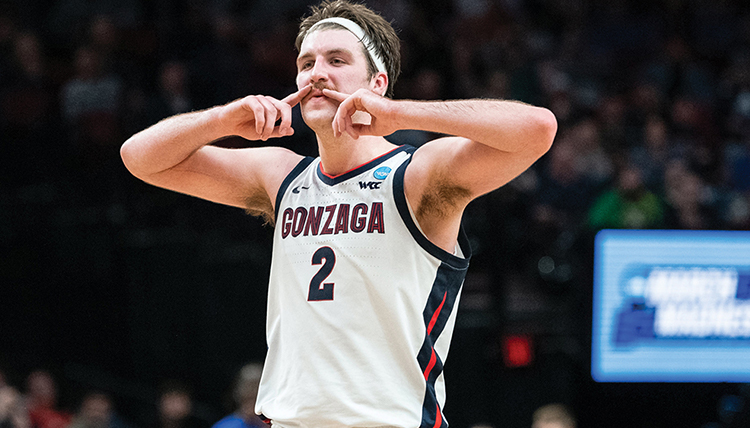 TEAM PLAYER
Despite the enormous success, both as a program and a player, Timme never put himself above the other players on this team. "I'm a Gonzaga player, playing for Gonzaga," he told Adam Morrison on an early-March podcast.
"We've had some great characters over the years and also just incredible players," Few said following the team's last game. "He's certainly at the top of those lists, and I think you could say the same in the history of college basketball."
"He's one of the greatest college players in this modern era," Few said after the Connecticut loss. "Look how much he has won (121-17) ... He just took us to the brink of (another) Final Four. A bigger-than-life character. He's been a blast to coach. It's easy to coach him because he is so tough. He loves to compete. I love to compete. So, we get it."
And Timme is as grateful to his coach as his coach is to him.
"(Coach Few) means the world to me. He believes in us. He is always pushing us to be the best versions of ourselves in every area of life. He holds you accountable but loves you as well. Words don't do justice to what he has meant to me and the team. Especially when things don't go as well you like, you find out who people really are . . . he stayed true to who he is. I'll love this man forever."
"I'm just so thankful that a program and a place took me for who I was. They didn't ask me to be anybody but myself," Timme said.
Major Accolades
GU career scoring leader, 2,307 points
Zags No. 1 in 30 of 75 AP polls during his career
Ten 20-points games is an NCAA Tournament record
Associated Press First-Team All-American (2023)
CBS Sports National Player of the Year (2023)
Find more Zag basketball stories