A New Kind of Kick
"Soccer is just a different platform than any other sport. It reaches more people, it reaches more kids with opportunity."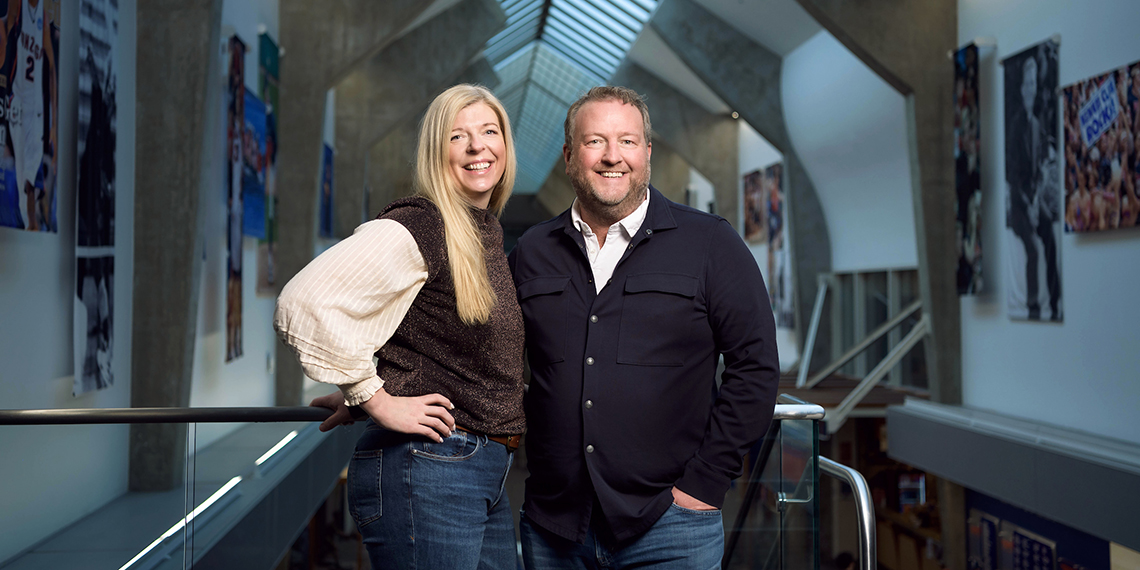 One ball. Two goals. Eleven players per side. Soccer can seem really simple. But Ryan and Katie Harnetiaux have big ideas of what bringing professional soccer to Spokane can mean for the community. Because for them, soccer has always been more than just a sport.
Ryan Harnetiaux ('96) played soccer from an early age in Spokane, and at a high level, even competing in the Olympic Developmental Program for three years. Katie was centered on academics in high school, focusing on the books.
Despite growing up just a few blocks from each other, Ryan and Katie didn't meet and become a couple until they were both counselors at Camp Reed as college students on summer break. When Ryan and Katie later had children, they — like so many parents — got their kids involved in the world's most popular sport as a relatively inexpensive way to keep them active and teach them about teamwork.
"Most kids, sports-wise, start with soccer. They just do," Ryan says. "All of our kids played, and as they got older, they all gravitated toward different sports."
Soccer served the Harnetiauxs as more than simply a fun activity for their three kids. It became an organizing force for the family.
"How we have raised our kids and how we have parented has really been about family, and in staying united, staying together," Katie says. "A lot of what we've taken for our parenting has come from team sports."
Now the Spokane natives and current Seattle residents are hoping to bring some of the lessons they've learned from "the beautiful game" back to their hometown by leading the ownership group of three United Soccer League (USL) teams slated to begin play in Spokane in 2024. It's a chance for them to help the Inland Northwest embrace the international spirit of the sport, to lift opportunities for women athletes to equal footing with men, and to reduce the barriers to participating in elite-level athletics that existed when they were kids.
"Soccer is just a different platform than any other sport," Ryan says. "It reaches more people, it reaches more kids with opportunity."
Staying Rooted
Ryan and Katie a decade ago moved their family to Seattle, where he's worked in wealth management and investing, and she is currently the head of North American retail marketing for Amazon. But they've always considered the Lilac City home, and a big part of that is their bond with Gonzaga.

Their daughter Reilly ('23) graduated in May, and she joins a long line on Ryan's side of the family who have embraced the Gonzaga experience.

"Both my parents went here, the class of '69," Ryan says. "We got married at St. Al's, and I have a great aunt who was in the first class of women who were admitted to Gonzaga."

Ryan grew up embracing the Jesuit ideals exemplified in GU's mission, and Katie earned her master's degree at another Jesuit institution, Seattle University. And both say those ideals live on in their children.

"Our kids, they really are attracted to and dive into the Jesuit education," Ryan says.
"We are a family rooted in the Jesuit ideal, like giving back to community, education, cura personalis," Katie adds. "I think we've expected that of our children, and we've watched them give back."
In many ways, Ryan and Katie see their USL Spokane project as the next natural way for them to give back to the Spokane community. The club — which will include men's and women's professional teams, a women's amateur team, a youth soccer academy and a non-profit arm — is to them much more than a savvy business investment in an increasingly thriving city. It's an opportunity to lift up underrepresented communities in the region and model a business that, Katie says, "represents the things that matter to us."
Breaking Down Barriers
One of the things Ryan remembers about his days playing soccer was that to compete at an elite level, Spokane athletes inevitably had to leave town or spend a lot of money on training. The local soccer clubs do great work finding players and helping them develop, but often still run into financial constraints in helping players reach their ultimate abilities.

"Soccer, at the elite levels, it's not accessible to most people," Ryan says. "You're always going to have kids who are going to fall through the cracks."

Hence the inclusion of a training academy and a nonprofit as part of USL Spokane. Ryan and Katie want the Inland Northwest's best players to be able to stay in the area and still improve, and they want to dramatically increase the access young children have to the sport.

"When we were growing up, if you were really good at something, you left," says Katie. "I don't want that to be the case.

"I see the academy as a way to do some additional good in the city [beyond training]. I see the academy as being the face of making sure kiddos have cleats, making sure they have shin guards, that we have balls in all the schools. I'm thinking how do we, as a grassroots effort, use the academy to build up what we think equity and children's sports should look like? We'll be working with Spokane Public Schools, working with the tribes, to make sure that any kid who wants to play has what they need."

Similarly, the Harnetiauxs see the club as a way to forge connections among the various immigrant populations in the area. With soccer as a common language, children from around the world will be able to look at the USL Spokane teams and see players from Europe, Africa and elsewhere.

"I see a world where if we can build a global team, and we put a focus on that, then those kids are going to see themselves out there," Katie says.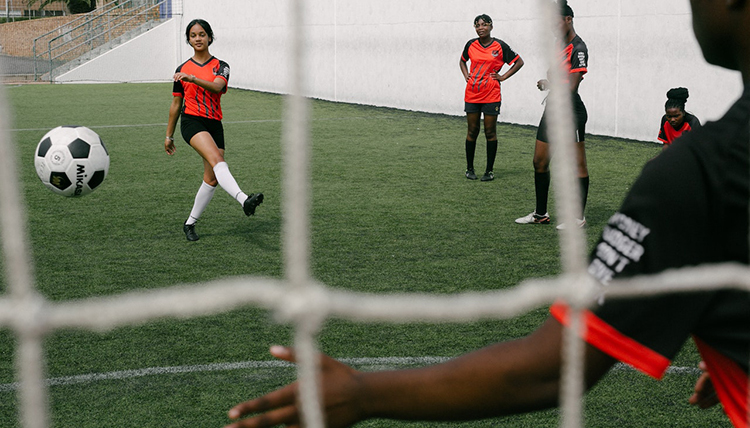 Likewise, USL Spokane's focus on elevating women players to compete on equal footing with the men's team is purposeful, and part of the couple's passion for owning a soccer club. In fact, if the project didn't have women's teams as a major component, Katie and Ryan say they wouldn't be involved at all.
Having navigated various sports with their three kids, Ryan notes, they are acutely aware of the disparities in the opportunities their sons enjoyed compared to those for their daughter. And the gap in professional options in U.S. soccer is dramatic, Ryan says, noting that some level of professional soccer has been available for men for decades, but the main pro outlet for women, the 12-team National Women's Soccer League (NWSL), only has jobs for roughly 300 women players in the whole country.
"That, to me, just seems quite unacceptable," Ryan says, noting that the USL's W League pre-professional ecosystem will see 70 women's teams compete nationwide this summer, hopefully growing close to 100 in the summer of 2024. The USL Super League — women's professional soccer — will launch in 2024 with between 10-12 teams and compete with the NWSL for the top female players in the country. "We can add this to Spokane to show a pathway for women to play professional soccer."
"I've been a passionate advocate for women my entire life," Katie adds. "Women in business, women in sports, women everywhere. And this project would have been completely unacceptable to do anything that didn't include equality. I wouldn't put my name on it."
Campus Connections
The new downtown Spokane stadium and the region's booming population — and the accompanying economic growth — drew Ryan and Katie to the idea that the Inland Northwest is ready for a new team to cheer on. They both remember the support enjoyed by the teams around town, especially Gonzaga, where Ryan would play under the bleachers as his folks watched basketball in the pre-McCarthey Athletic Center days.

Now Ryan is looking to his alma mater, which launched him to a successful business career, to play a major role in the success of his and Katie's USL Spokane franchise. He envisions people at the University involved with USL Spokane on multiple levels, from interns learning the ropes of business and marketing to professors with expertise in psychology and their students working with the athletes.
"I loved my time at Gonzaga," Ryan says. "The ways for the club to partner with different parts of campus, the sky's the limit there. Gonzaga is just a great foundation for us, and it's always represented a huge piece of our house."
Katie concurs, noting that Gonzaga has been a major part of all the "pinnacle" moments of her and Ryan's life together. And even though they now live in Seattle, they still feel like "home" is Gonzaga and Spokane.

"That family atmosphere, that place of safety and home, is kind of what we've tried to recreate in our life," Katie says. "And if we can have half of that in these soccer clubs, I think we will have been incredibly successful."
Learn more, reserve season tickets and support USL Spokane's mission
Alumni
Careers & Outcomes
Diversity & Inclusion
Faith & Mission
Global Impact
Service & Community Impact