Two Awards Are Just One Step in The Process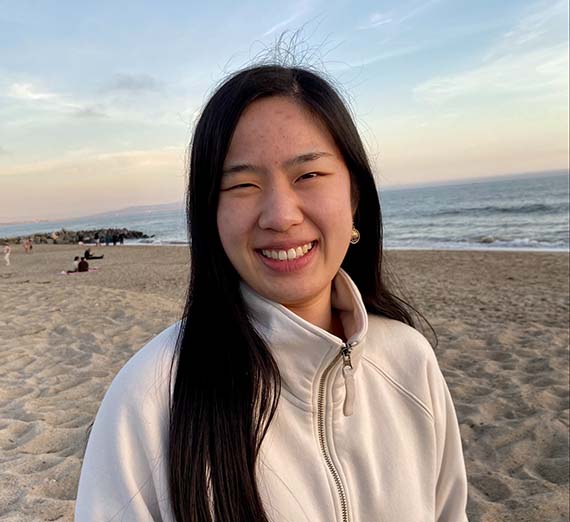 ---
Yuchen Huang ('23) received two impressive awards: outstanding senior in mechanical engineering and outstanding physics student.
She started as a mechanical engineering student and quickly found a passion for physics.
"Second semester of sophomore year I added on a physics minor and took like one or two more classes. Then second semester of junior year I added the physics major, which was a crazy move," says Yuchen.
Her passion for physics and mechanical engineering was apparent right away as she began doing research with Associate Professor Timothy Fitzgerald in her first year.
"Freshman year and throughout the first semester of sophomore year I was learning MATLAB (a programming language), robotic arms and more. In my sophomore year, since I was familiar with MATLAB and spacial coordination, he said do you want to move onto a bigger project?" says Yuchen.
She was eager and accepted the offer to do research on three-dimensional motion capture of free-flying insects.
After recruiting a few friends to the lab over the years and researching the topic, she presented her findings at a regional conference.
Her interest in research did not stop there. In summer 2022, she was in a bio-materials lab at Colorado State University where her research focused on critical bone healing.
"I was working on the structure side of designing bone implant structures that would help with blood flow. Eventually the bone implant would degrade slowly as the bone grows back," says Yuchen. "That was the first time I worked in a bigger interdisciplinary lab."
Beyond Research
Outside academics, Yuchen has been very active in the Spokane Bahá'í community. She explains Bahá'í as valuing all religions and the unity of all people.
"One of the focuses of Bahá'í is to educate the younger generation and not just from an academic standpoint, but also spiritually, such as topics about the human mind, soul, the heart and more," says Yuchen.
She is a mentor in a junior youth group (ages 12-15), meeting with them once a week, and tells stories about how to find joy in difficult times and to develop an understanding about the world.
Additionally, her group comes together once a month to do a community service project in the students' neighborhoods.
Joy and Sacrifice
"My parents supported me a lot and they have always supported me. They are still in China, and I haven't seen them since my freshman year," says Yuchen. "They realized there is a bigger picture for me to figure out and their spirit of giving and sacrifice supported me throughout the years.
She has a bigger picture for herself as well, including entering a Ph.D. program at Colorado State University this fall.
Mechanical engineering is perhaps the most diverse of the engineering professions. It opens doors to opportunities in many industries.