Exploring the Spread of Dangerous Ideologies and Baseless Beliefs in "Rhinoceros"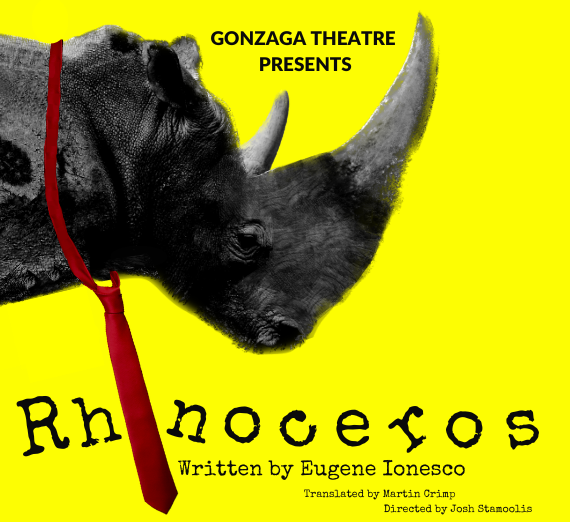 ---
Gonzaga University's Spring 2023 Theatre main stage production is Eugene Ionesco's 1959's play "Rhinoceros," as translated by Martin Crimp. This production, set in midcentury France, follows a provincial town as their typical lives are undone by the sudden emergence of a rhinoceros. The anti-hero lead must decide what to do as the humans around him turn one by one into rhinoceroses.
According to guest director Josh Stamoolis, the characters must debate, "Are we to fear the rhinos? Warily accept them? Embrace them as ourselves? Is this cause for moral outrage, or reason to expand our tolerance? And perhaps most saliently: is this an unnatural aberration, or the wave of the future?"
While the subject matter may come across as purely comedic, Stamoolis says there's more to this story than laughs.
"Ionesco wrote 'Rhinoceros' thinking of the rise of the fascist and antisemitic Iron Guard in his native Romania beginning in the late 1920s," Stamoolis says.
The audience is encouraged to ponder how this story is pertinent to the spread of ideologies in today's world.
This translation of "Rhinoceros" was first produced by the English Stage Company at the Royal Court Theatre on September 21, 2007.
"Rhinoceros" will run Friday-Saturday, March 24-25, at 7:30 p.m., Sunday, March 26 at 2 p.m., and Thursday-Sunday, March 30-April 1, at 7:30 p.m. and will take place in the Harry and Colleen Magnuson Theatre located at the East Entrance of College Hall, 502 E Boone Ave. in Spokane.
Tickets are $10 for GU students, $12 for GU faculty, staff, and alumni, and $15 general admission. They can be purchased at
https://bit.ly/TicketCenterTheatre
, through visiting the Myrtle Woldson Performing Arts Center Box Office (211 E DeSmet Ave.), Monday-Friday 12 p.m.-5 p.m., or by calling 509-313-2787. Tickets will also be sold at the door, but are not guaranteed in the event that a performance sells out. For more information involving the production please email
theatre@gonzaga.edu
"Rhinoceros" runs for two weekends