Gonzaga ranked No. 32 among Princeton Review's Top 50 Green Colleges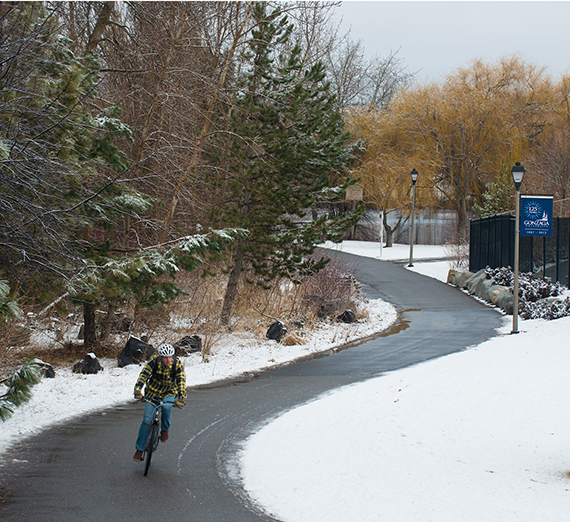 ---
Gonzaga University is no stranger to being included in Princeton Review's annual list of "Green Colleges," and this year the efforts of GU's Office of Sustainability and the campus community landed the school in the Top 50 for the first time — No. 32 to be exact.

Gonzaga has in recent years made a concerted effort to be more environmentally friendly as a campus, including being the first U.S. university to sign up for Pope Francis's Laudato Si' Action Platform, an effort to embrace long-term sustainability in care for the planet.

"To be ranked No. 32 is a testament to how we are building a culture of sustainability on our campus by cultivating habits and actions that foster creation care, resilience and reciprocity," says Jim Simon, Gonzaga's director of sustainability.

Gonzaga has been included in the larger, unranked Princeton Review list of Green Colleges every year since 2015, as well as in 2013, and rising into the Top 50 is a significant achievement.

The ratings are based on three things: whether students have a campus quality of life that is both healthy and sustainable, how well a school is preparing students for employment in the clean-energy economy of the 21st century as well as for citizenship in a world defined by environmental concerns and opportunities, and how environmentally responsible a school's policies are. The Princeton Review chose Gonzaga to be in the Top 50 based on recent submissions to the Association for the Advancement of Sustainability in Higher Education's STARS rating system (STARS stands for sustainability tracking, assessment and rating system) as well as surveys from Gonzaga students. The survey asks questions about a university's food expenditures, mass transit programs, waste-diversion rate, majors in environmental studies and more.
"Out of the over 710 schools we considered for this project, the Top 50 Green Colleges are, in our opinion, truly up to the task of training the next generation of leaders, who will be responsible for putting green ideas into practice," the Princeton Review explains on its website.
According to Simon, the growth and strengthening of Gonzaga's Student Sustainability Leadership Program and the Employee Ambassador Program have led to the creation of lasting ambassadors for sustainability as well as tangible results, such as an expanded Campus Garden, a xeriscaping (landscaping that requires little to no irrigation) pilot project and the work necessary to become a Bike Friendly Campus.

The school's commute trip-reduction program, which provides all students, faculty and staff with Spokane Transit bus and shuttle passes, is one way to cut down on automobile trips to campus, Simon adds, and it will only be enhanced by the opening of the electric-powered City Line bus system that will connect campus to jobs, internships and the broader campus community starting this summer. Simon is also "grateful for the efforts of Plant Services to improve the systems that run our campus so that they are more efficient and gentler on the planet."

While making it to the Top 50 is a huge accomplishment, Simon says we still have work to do.

"I am excited to begin integrating the Laudato Si' Action Platform goals into how we plan and lead sustainability efforts on campus," says Simon. "The goals will push us to think about what must be done to more deeply and authentically create our vision for integral ecology at Gonzaga."

Check out the full list of Princeton Review's Top 50 Green Colleges.
What does a "green" campus look like?