Igniting a Successful Zags Give Day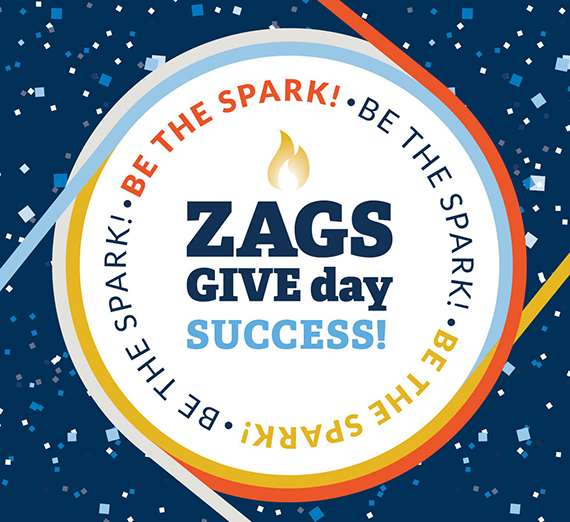 ---
As Zags Give Day hit its 10-year anniversary in March, the Gonzaga community showed no signs that its passion for supporting students pursuing a Jesuit higher education is abating.

More than $1.1 million was given and matched on Zags Give Day 2023, with 2,170 donors chipping in to the cause. With 99 percent of GU students relying on scholarships and grants, the annual fundraiser is key to making sure students can say "yes" to a Gonzaga education no matter their economic background.

As a private, non-profit university, Gonzaga needs its network of alumni, faculty, staff, families, friends and fans to come together for the cause, and they did just that for the March 9 event. Let's break down the numbers:
2,170 total donors

1,138 alumni donors

264 faculty and staff members donated

257 GU friends and 775 parents and family members donated gifts ranging from $1 to $25,000

The average donation was $226.
Those donations helped unlock a series of matching challenges that added up to $145,000, including $50,000 for people donating from all 50 states, $50,000 for donations aimed at all academic areas of Gonzaga, $25,000 for at least 250 faculty and staff members donating, $20,000 thanks to a match that donated $10,000 for every 100 first-time donors.

"The tenth annual Zags Give Day was a whirlwind of activity as Zags near and far connected to contribute to scholarships, resources, academics, athletics and more," said Joe Poss, vice president for University Advancement.
"The entire community could not be more thankful for those who donated, from long-time friends to first-time donors. Their generosity is incredibly powerful -- showing how the Gonzaga network is thriving, driven by our motivation to support our students and the leaders they become."
The first Zags Give Day took place in 2014, but it was called the GU+1 24-Hour Challenge; the Zags Give Day moniker was embraced in 2016. It's looked a little different each year, with this year's fundraiser turning the Hemmingson Center Ballroom into a combination of telethon, television studio and tailgate party (complete with cornhole). While the University Advancement team worked the phones and laptops, Marit Jacobs took on the daunting task of serving as an emergency substitute online host and knocked out a series of interviews with the likes Dean AnnMarie Cano, Athletic Director Chris Standiford and more.
It's not too late to have an impact on Gonzaga's future