Jacob Rooksby Receives William A. Kaplin Award for Excellence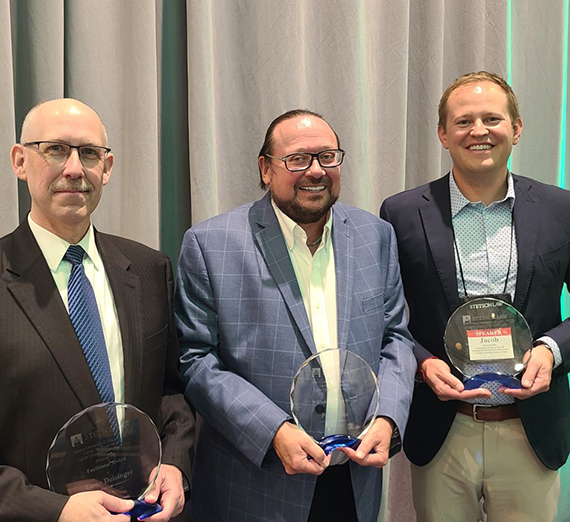 ---
As the economy, political polarization, community health and student enrollment test today's higher education, the skill to problem-solve, teach and lead in this unstable environment is paramount. Earlier this month, Gonzaga law school Dean Jacob Rooksby received national recognition for his accomplishments in this challenging work.

Rooksby, the Smithmoore P. Myers Dean of Gonzaga University School of Law, received the William A. Kaplin Award for Excellence in Higher Education Law and Policy Scholarship.

The prestigious award from the Center of Excellence in Higher Education Law & Policy at Stetson University College of Law recognizes scholars who have published works on education law that embrace the intersection of law and policy.

"Jacob is a richly deserving award winner," said center director and conference chair Peter Lake. "He's not just a scholar, but a manager and a leader of scholars. He's a thought leader in the field of higher education, not just law schools.
"He sits in a small circle of those who have distinguished themselves among elite scholars over a career in higher education, and yet he's still mid-career. He's the Patrick Mahomes of scholarship in higher education."
Rooksby received his award during the annual National Conference on Higher Education Law & Policy in Clearwater, Florida. A nationally known speaker, he contributed his own scholarship at the conference, keynoting a presentation on intellectual property, particularly the rise of artificial intelligence and protecting academic integrity. He also participated in a panel discussion reflecting on the future of higher education law and policy.

"I believe in higher education as a public good. I think, as a sector, getting to wake up and live and breathe in a place of constant lifelong learning is a real gift for all of us," he said. "These are great jobs to have, but we're all working together for the students and in service to the mission."

Rooksby is nationally known for his expertise in intellectual property law and higher education law. His work has been published in Harvard Journal of Law & Technology, Yale Journal of Law & Technology, and the Chronicle of Education. He writes a regular column for Campus Legal Advisor and is author of "The Branding of the American Mind: How Universities Capture, Manage, and Monetize Intellectual Property and Why It Matters," from Johns Hopkins University Press.
Are you right for Gonzaga's School of Law?