A Culture of Caring
Gonzaga Student Athletes Share Their Passion for Community Service
Gonzaga student athletes shoulder a lot of responsibilities. Besides the high expectations for the classroom and their respective sports, they are called to embrace the GU mission, that of becoming leaders and serving others.

Talk to athletes about juggling academics, sports and service, and they acknowledge it's not always easy. But they embrace the opportunity to lend a helping hand in the Spokane community with the same passion they show pursuing their teams' goals and their college degrees.

"We get caught up sometimes in getting good grades and performance on the court. Some things aren't just about basketball or school," says Anton Watson ('23), a member of the men's basketball team, a sports management major and Spokane native. "It's about being a good person and helping out the people around you.
"I grew up here, so I've seen a lot. I've seen people go through struggles, and it means a lot to me to help out. I've had a lot of help from this community, whether it's coaches or teachers, and I want to share what I've been given, the opportunities I've been given."
Logan Elementary in Spokane has some of the highest poverty rates in Washington state, and it's close to both Gonzaga and Watson's mother's house. Volunteering and speaking there hits close to home for the hoopster.
Volleyball player
Alisa Kim
('23) also finds inspiration working with local school children. Part of that is ingrained from her own childhood; her mom's a teacher and her dad's a school counselor. And while Kim is a kinesiology major, she's also getting her teacher certification in elementary education.
Volunteering with Blessings Under the Bridge, bringing food to Spokane's unsheltered population, was the first service project that inspired Kim when she was new to campus. But during her student teaching at Stevens Elementary, she realized many students she works with could never follow the same path to volleyball she did because of the expense of sports camps. So Kim took the initiative to make sure Stevens' students could at least get a taste of the sport.
"I made it a goal to organize this free volleyball camp for the students at my school," Kim says. "When I hear from people that they can't do something because it's too expensive or they can't possibly do it, it pushes me to get involved. I brought my whole team, it was completely free."
Strength in Numbers
That kind of leadership and initiative is impressive across all the teams' involvement in community service. Whether taking part in projects organized by the athletics department or creating their own when they sense a need in the community, GU's student-athletes learn from their first days on campus that all the love they feel from the Spokane community is something worth reciprocating.

They do just that in incredible numbers, according to data compiled by Gonzaga University Athletics. During the 2021-22 school year — a period when COVID-related restrictions kept athletes from many community-service opportunities they'd enjoy in a "normal" year — 161 student athletes volunteered 2,429 hours to organizations ranging from Catholic Charities of Spokane to Transitions, an organization dedicated to helping women and children escape trauma, homelessness and poverty.

This school year, the numbers are even more impressive. As of mid-February, more than 270 athletes have donated 3,017 hours, with 100 percent of teams participating. Women's basketball spent time doing arts and crafts with children living at Gonzaga Family Haven and joined residents of Rockwood Retirement Community for some bingo. Men's rowing helped the Catholic Charities hygiene-product drive, and several teams have put in time packing meals at 2nd Harvest Food Bank, building homes for Habitat for Humanity and doing yard work throughout the community for older residents.

Those volunteer hours are compiled out of dozens of projects over the course of a school year. On a recent sunny Monday, members of the men's golf team descended on Garfield Elementary to read stories to students and potentially inspire them to see college in their own futures.

In Mrs. Bonnett's fourth-grade classroom, GU senior Clay Thatcher ('23) and freshman Guillermo Polo Bodart ('26) are both a little tall for the tiny chairs, but they easily settle in to read and be read to, and to answer questions about college. There's a buzz throughout the visitors' time and Mrs. Bonnett is quick to invite the golfers for a return visit.

"At Gonzaga, we're uniquely situated with the community that's around us," says Thatcher, a law and public policy major. "There's a lot of needs that need to be met, and being able to read to these kids is really fun. To see them starting to like reading and their eyes light up, it's pretty cool."

Polo, an economics major from Argentina, says doing community service has helped him acclimate to being an international student in America on his own for the first time. He's done some work with Habitat For Humanity and really enjoyed interacting with the kids at Garfield.

"Being student-athletes, we have such tight schedules," Polo Bodart says.
"Being able to find some time to give back to the community, it's definitely something I will remember when I graduate."
Inspired to Serve
Grayson Sterling ('23), a baseball player and a double-major in economics and psychology, did some volunteering in his hometown of Boise, Idaho. But community service became a focus in his life from his first team meeting at Gonzaga, when coaches emphasized that part of being a student-athlete is "how you respect the community that Gonzaga is in, the community that is always there for us."
"It's definitely made me feel more connected to Spokane, getting out and being able to rake someone's leaves or shovel their snow," Sterling says. "It definitely helps tie your identity into this place a lot more than just going to school and playing a sport. You're helping people have a better life experience. It's definitely something I'll prioritize throughout the rest of my life, after I leave Gonzaga."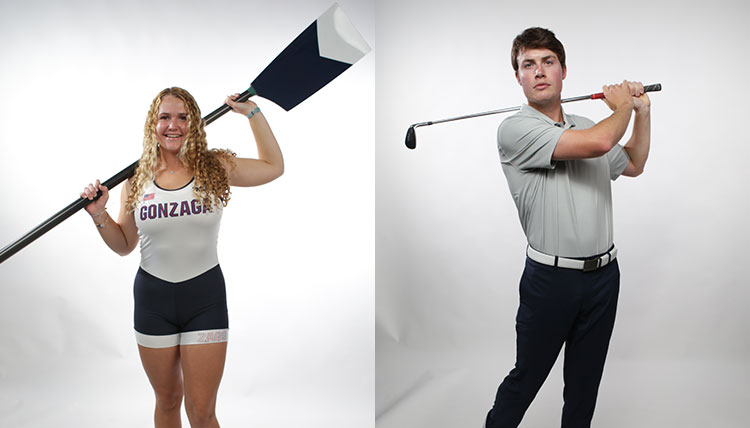 Women's rower
Kailee Jackson
('23) embraced what she learned as the "three pillars" of being a student-athlete: "Doing well in your sport, doing well in the classroom, academically, and doing well in the community." The biology major is a native of Kapolei, Hawaii, and volunteered with some environmental organizations in high school. She remains passionate about protecting the planet, but Jackson's enjoyed the variety of service opportunities at GU.
"I've gotten to be involved in a bunch of different communities here," Jackson says. "I really enjoy working with children a lot, going to schools and doing readings."
"It's fun to see the spark when you're wearing Gonzaga athletics gear. They're like, 'Wow, you play a college sport? That's so cool." And you're telling them, 'You can get there too!' It's awesome."
Women's basketball player Yvonne Ejim ('24) traces her interest in community service back to high school in Calgary, Alberta. Upon arrival in Spokane, the opportunities provided by GU allowed her to learn about her new community.

"I wanted to be involved outside athletics in some way, and community service was very appealing to me," says Ejim, who is studying human physiology with a focus on pre-med. In February, Ejim rallied some teammates to help support a Black History Month event at Spokane's Central Library in which local high school students shared writing and art projects reflecting on their lives as Black students in Spokane.

"Being a student-athlete, with all your practices, all your classes, you can really get stuck in this tunnel where you think, 'I just need to focus on these because they're the quote-unquote most important things in my life right now,'" Ejim says. "But helping at events like that reading, it really opened my eyes to how broad this community is outside of campus. Listening to the high schoolers, they honestly gave me a little bit of inspiration. Being able to experience that as a student-athlete, I feel like that just opens my eyes to the fact there's more outside of what you think is important in your life that you can do, that might bring you joy. Community service is kind of like my own little hobby outside of being a student-athlete."
Something In Return
While athletes see service as a way to give back to a community that's consistently supporting Gonzaga students, they quickly learn helping others helps themselves and their teams in myriad ways.
Rower Jackson says doing community service has made her a better communicator and "confident in who I am," while volleyball player Kim adds that she's a natural introvert, "so getting out in the community has helped me grow in being able to just step outside myself and meet other people, talk to other people."
The athletes see their teams growing closer through their collective service, too. Golfer Thatcher notes that he spends hours practicing by himself, "so any time we're able to spend time together, collectively, is really cool. And then to do something meaningful adds a bit more substance to the time we spend together."
Basketball player Watson notes that he always prefers doing service projects with his teammates, noting that when they spend time together helping others, "you definitely build better connections and relationships with those teammates."
Sterling says baseball is similar. With so much time dedicated to training and practice, he says, it's nice to have team experiences off the diamond.
"Helping people out, it's just a great way to get to know your teammates and get closer with them," he says. "When I look back at doing community service, I'll definitely remember just having a bunch of fun with my friends."
Enjoy more stories about Gonzaga student athletes
Faith & Mission
Service & Community Impact
Student Life
News Center