Preparing for the Future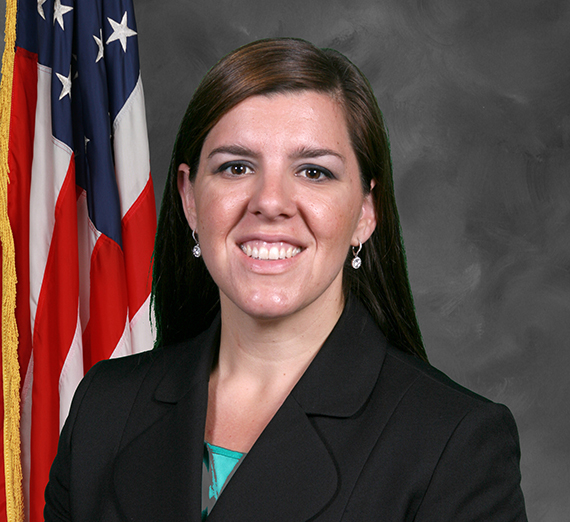 ---
Carrie Braun is no stranger to a busy schedule as a full-time member of the Public Affairs team for the Orange County Sheriff's Department in California, a mom of three and a wife. Crisis at work is expected and often takes her off the grid for hours to days at a time. When Braun decided she wanted to advance her career by pursuing a master's degree, she needed the flexibility to work around her unpredictable schedule.
Braun said Gonzaga's online Master's in Communication and Leadership Studies (COML) provided the flexibility she needed for her demanding job. Once she started, she found she used what she was learning right away.
"Every time I'm learning a new concept or hearing a theory, I can very easily tie that to something that I am currently dealing with or that I've dealt with in the past. The program has also really widened my perspective towards some of the things that, particularly in the current industry that I work in, need to be improved and ways that we can do a better job of reaching out to different communities," said Braun.
Braun wanted to continue building her crisis communication skills, but that was not the only reason she chose Gonzaga's COML Program. She has always wanted to teach at the college level and the concentration in College Teaching of Communication drew her to Gonzaga. Braun found the unique combination of courses allowed her to increase her skillset for her current job and build a foundation for the future.
"I thought I was a little crazy in deciding to go back to school for a master's degree. Finding a program that talks about both communication and leadership and also brings information about how to teach at a college level course, I just couldn't have designed a program that would have been better for what I was looking to do in my future career," said Braun.
The concentration requires an internship which helps students build connections with a variety of education professionals to gain a better understanding of the classroom. One of Braun's connections at a local university provided the opportunity to combine Braun's current career in crisis communication with her future goal of teaching on the college level.
"We had a conversation about a crisis communications class that the university she was teaching for was really interested in putting together. I took on creating that class for my internship for the program and at the conclusion of the internship she helped me connect with the dean of the college," said Braun.
One of the unique aspects of the teaching concentration is the opportunity to learn how to design an online course.
"That class was incredible. It taught how you build a class and the things that you need to think about with the different elements of Jesuit education. That all intertwined together to create an experience for a student that provides them the opportunity to take what they learn in class out into the real world."
Braun who graduates in May 2023 has already been hired as an adjunct professor at Vanguard University.
Braun sums up the COML program this way.
"This is not a checkbox. I'm not trying to just put something on my resume. I've grown as a person. I've learned so much. And I would very, very highly recommend this program."