Zagapalooza Brings Alumni to Campus After Two-Year Pause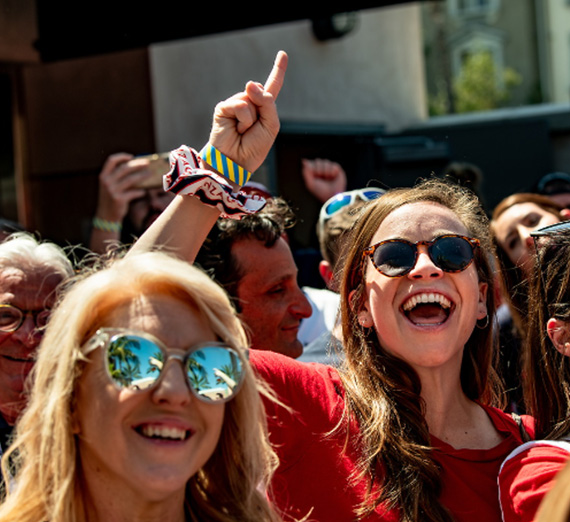 ---
Gonzaga Reunions are back after a two-year hiatus. While the campus remained open to students during the pandemic with classes resuming in the fall of 2020, reunions and other social events were put on hold in 2020 and 2021.
"We know how special our community is, and this is an opportunity, after a very long time, to come together and build that connection that we haven't had," said Joe Poss ('97), vice president for University Advancement.
Alumni are the one constant community that exists in a university's life, Poss said, and they help Gonzaga continue to meet the needs of society and to prepare students for the future.
"Our alumni are Gonzaga's pulse, its heartbeat, and having a connection with them is fiercely important," he said. "In a weekend like Zagapalooza, we're able to check in with alumni, to see how they're doing, see how we are doing in service to them, and how we can continue to evolve as a University focused on developing future generations."
Zagapalooza is an all-class, all-Zag reunion weekend October 14-16, with more than 20 festivities on campus and at various locations around Spokane. The events begin on Friday afternoon and conclude with Mass on Sunday.
"These last couple years have shown us, in a new way, what a gift it is to be together," said Kara Hertz ('01), assistant vice president of Alumni and External Relations. "We hope this weekend re-ignites the Zag spirit for our alumni and reminds them of their footprints on this school and their special place in the Gonzaga family."
Hertz shared that there will be opportunities for alumni to see new facilities on campus, engage in dialogue about the admissions process and hear from University leaders about Gonzaga's future.
"Zagapalooza weekend is packed full of events and opportunities to have questions and curiosities answered, while also having a lot of fun," she said.
During the reunion weekend, the School of Business Administration will host a "Business and Bubbles" brunch, where the school's dean, Ken Anderson, will provide a school update. The School of Engineering and Applied Science will also host an open house in the brand new John and Joan Bollier Family Center for Integrated Science and Engineering with Dean Karlene Hoo.
The Office of Mission and Ministry will host Spirituality on Tap on Friday afternoon with Father Ken Krall, who will be retiring this year, and University leadership will be available to answer questions and present a University update on Saturday afternoon.
"Our alumni really care about their Gonzaga friendships, classmates, and the people that impacted them while on this campus," Hertz said. "They want to know how our University is doing and what our campus looks like today."
Classes who missed their reunion years due to the pause in celebrations the last two years will have an opportunity to gather at class-specific socials run by Zag volunteers. Additionally, the first-to-launch Gonzaga Alumni Affinity Community, the Alumni of Color Community will have their own networking social and additional opportunities to engage with the campus throughout the weekend.
Zag employers will be available to meet with any job-seeking Zags during an Alumni Employer Networking Social on Friday afternoon, and alumni who have rising future Zags can connect with Admissions to ask questions about the college admissions process on Saturday morning.
"Our alumni are so proud to share when their children or family members are considering attending Gonzaga, but they often have several questions about the process," Hertz said. "What's different now? What would set them up for the most success? We're so grateful to our Admissions colleagues for their partnership in this informative session."
The BULLDOG BLAST, a culminating event of Zagapalooza weekend, will take place at the Spokane Convention Center downtown, offering a homecoming-style celebration for all graduating classes.
The "homecoming" theme resonates with alumni, Poss said, because Gonzaga is a formative experience and coming back to campus triggers a reflection for alumni of who they are and what they stand for.
"Gonzaga will always be home to our alums, and whether they can be here Zagapalooza weekend, or any other day of the year, we want them to know they're always welcome home," Poss said.
A full schedule of events is available on the Zagapalooza website. The cost to attend Zagapalooza is an all-inclusive fee of $150, which guarantees entrance at all events, food and beverages at most gatherings, a Zag Swag Bag full of special GU-branded items, and a one-time use 20% off coupon for the ZagShop.
Participants who register before September 15 will be entered into a drawing for a chance to win one of 10 co-branded Zags/Mariners jackets, one of six Zag apparel packages valued at $200 each, or the grand prize—two tickets to the Gonzaga vs. Kentucky basketball game on November 20, with a complimentary one-night hotel stay at the Davenport Hotels.
Questions can be directed to the Office of Alumni Relations at gonzagareunions@gonzaga.edu.