Orientation Weekend Offered Smiles, Tears and How to Be A Zag
Emotional farewells, excited reunions, wise advice and a whole lot of boxes – new student orientation and move-in activity always bring a buzz to campus.

That buzz was perhaps a little louder this weekend as a large cohort of first-year students, including Gonzaga's most racially and ethnically diverse class, enjoyed the gatherings muted over prior pandemic years.

"It was crazy!" said Belle Wain, a senior volunteer ambassador for new students and families. "We had so many students here, everyone was looking out for one another and really wanting to see each other succeed. It's nice to see that sense of community and that Zag culture back on campus."

This year music boomed from speakers across campus as new students checked in and led parents to their residence halls. But the students themselves brought more energy than any DJ could, whether learning to cheer like a Kennel veteran at Saturday's Welcome Night, making new friends under the lights of Mulligan Field at Friday's Playfair or gaming their way through Sunday night's Welcome Carnival.
"There's so much excitement with returning students, too," noted Mary Browne, a junior ushering incoming students and parents throughout the weekend. "There's a sense of comfort being at Gonzaga. New students have people who will support them, even people they barely know."
Between the festivities designed to welcome the 1,230 first-year students and 142 transfer students, there were opportunities to learn about campus clubs and the greater Spokane community at Zagfest, an emotional Welcome Mass at the McCarthey Athletic Center and information sessions spanning Gonzaga's academic offerings.

"There's nothing quite like the energy of the Welcome Weekend," said Kent Porterfield, Vice Provost of Student Affairs. "Students and families are taking in the campus, meeting roommates and fellow students, and learning about all the ways they can be engaged with the Gonzaga community. The next chapter is about to unfold and we're excited to show our new students everything GU has to offer to help them write their very best story."

Monday morning's Welcome Walk featured more than a few high fives from cheering staffers and regalia-adorned faculty greeting new students marching toward their first Academic Convocation at St. Aloysius Church. And beautiful weather all weekend meant plenty of outdoor time to greet new friends and colleagues.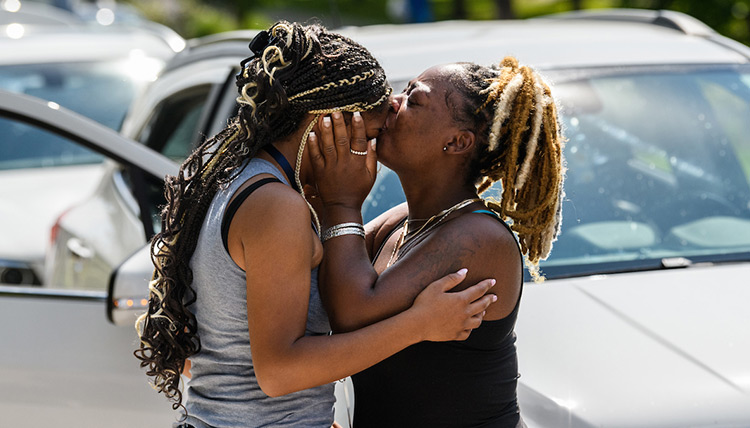 "It was a beautiful thing to see," Wain said. "Because after years of Covid where we all spent time in our rooms, it's really nice to be back and really get to live out that mission of holistic beings and promoting our own success and connections and building a community and family here."
Gonzaga has focused on increasing the diversity of its U.S.-born students, and recruiting more international students as well, and the results are seen in the makeup of this year's class. Among the 2022 first-year students, 32 percent identify as students of color, and four percent as international students. Besides boasting, on average, a 3.73 grade point average, the 2022 first-year students bring an incredible array of interests to campus.
"We've made an intentional effort to increase numbers of domestic students from diverse backgrounds and international citizenship," said Nathan Mannetter, Gonzaga Associate Director for Admission. "We really look forward to the perspectives and experiences they bring to campus."
A Snapshot of the New Class
Abundance of Leaders
The new class includes 19 student body presidents, 68 class presidents and 212 high school student government participants.
Caring for Others
857 of them have significant volunteering experience.
Talking a Good Game
65 are experienced in speech or debate.
Playing Hard
956 participated in athletics and outdoor activities.
A Love for the Arts
302 are musicians, and 157 participated in live theater.
Protecting the Earth
80 were members of ecology and sustainability clubs.
Working It Out
699 worked summer or part-time jobs in high school.
Savvy Travelers
Our first-year students come from 36 states and the U.S. territory of Guam, and are citizens of 23 different countries outside the U.S. Our transfer students come from 22 states and Puerto Rico, and nine countries beyond the U.S.
The Big Picture
While official fall enrollment won't be confirmed until Sept. 30, Gonzaga currently reports 7,248 total students, including an estimated 5,098 undergraduates, 1,647 graduate students (master's and doctoral), and 503 Gonzaga School of Law students.
President Thayne McCulloh's 10 Zag Points
Welcoming first-year students during the weekend's Opening Ceremonies, President Thayne McCulloh offered 10 points that will add up to a successful and happy life as a Zag:
There is no "one way" to be a "Zag!" We want you to feel welcomed, but we want your unique self to thrive, too!
Immerse yourself, get involved, take the place over! This is your University! Own it, make it yours!
Make the transition from "old school" to "professional student" - It's a Job! Engage your faculty!
We are all on a journey.
Take care of your body and soul, as well as your mind.
Care for yourself and care for each other: Body, mind, spirit. Remember, Zags Help Zags.
Give yourself the opportunity to explore and examine Your Faith Life and your relationship with God.
Broaden your definition of Community.
Think about studying abroad.
Don't go at it alone.
Recalling a weekend wrap-up speech to parents, Browne summed up orientation, saying, "Parents, you brought them this far, we'll take it from here. The weekend is coming to a close, but we'll take care of your student."

Welcome, Zags!
Learn more about Gonzaga's Student Life programs.
Student Life
Diversity & Inclusion
New Student Orientation
Undergraduate Admissions
News Center