UW Medical Students Embrace Gonzaga-Taught Leadership Course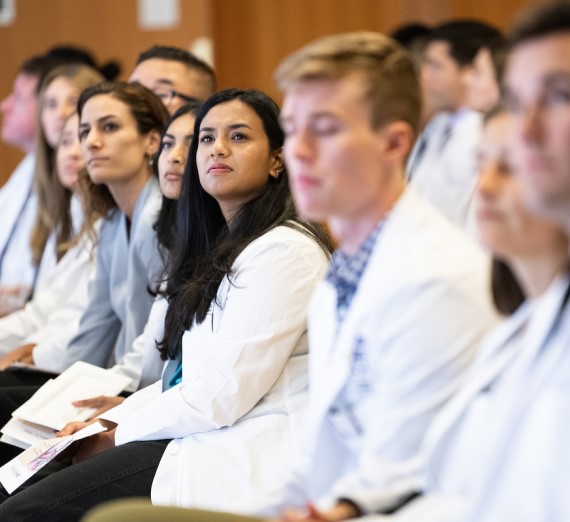 ---
A leadership course offered to University of Washington medical students in the UW School of Medicine-Gonzaga University Health Partnership has been well-received, with the future doctors citing how it will influence their careers.
The Leadership Pathway, a program developed by Gonzaga's School of Leadership Studies, aims to lay the foundation for aspiring physicians to be capable, effective leaders within their organizations and communities.
"Many people and organizations within medical education have highlighted the need for leadership training for future doctors, yet not many places are doing it," said Darryl Potyk, chief of medical education for the UWSOM-GU Health Partnership.
"Our partnership with Gonzaga presented us with a great opportunity to tap into the expertise of the School of Leadership Studies.
"We came together in such a positive manner, recognizing the strengths that each of us has and brings to the table. It was a wonderful opportunity and through the spirit of collaboration and for the greater good, this program is living up to its potential."
Product of a Partnership
The collaboration of UW and GU in 2016 was a first-of-its-kind public-private partnership to advance the health of communities across Eastern Washington through medical-related health sciences education and research.
In a variety of settings, medical professionals are presumed to be leaders.
"Whether they have had formal leadership training or not, physicians are often looked at as leaders and/or they find themselves in leadership roles having to learn by trial and error," Potyk said.
Gonzaga's Leadership Pathway program takes a broad approach to the topic.
"Our approach to leadership is centered on the notion of inclusivity," said lead instructor Jen Towers, assistant dean of Gonzaga's School of Nursing and Human Physiology. "Leadership is for everyone, every day. We also strive to instill the importance of followership and to acknowledge that it takes a skilled, diverse team to be successful."
One Step at a Time
The program begins with leadership theory and self-awareness, leading to students' understanding of their personal leadership style. Besides classes, several skills and traits assessments are included, followed by analysis with experts.
The Pathway then advances to teamwork and how to lead with others within health care settings. It culminates with students applying best practices for leading in other environments. Mentors and guest speakers, mostly from health care organizations, help students along the way.
"Health care is a team sport where everyone has a critical role in contributing to the best patient care and patient experience possible," Potyk said. "Teamwork in health care is no longer functioning as the golf team but is now functioning as the volleyball team."
Recent students noted the Pathway's stages.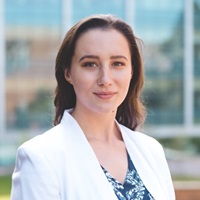 "I appreciated that self-awareness and understanding were the earliest foundation of this program, as they are what truly define a leader," said Grayson Baden, a medical student in UW's graduating class of 2023. "Leadership isn't a singular trait, but a fluid ability that is heavily dependent on its practitioner.
"There isn't one way to be a leader just like there isn't one way to be a physician, and the emphasis on embracing this and growing from that knowledge has helped me envision what I hope to bring to my future practice."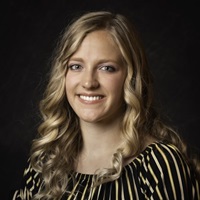 Dana Arenz, a classmate of Baden, also valued the foundational work.
"I learned that I personally have strengths in analyzing, learning and focusing, which informs how as a leader I tend to observe systems so I can identify problems and then methodically create multiple plans to improve those problems," Arenz said.
The medical students' reflections no doubt hearten Towers.
"We hope to set students on a journey to develop the skills to both lead and follow well," she said. "We want them to understand the importance of concepts that likely will affect their own practice, such as identity, empathy, emotional intelligence and communication."
New Paths May Follow
Baden said her trajectory as a physician may change because of the self-awareness focus.
"Before I chose medicine I wanted to be a science teacher," she said. "I've always loved education and mentorship, and a strength assessment I completed as part of the Pathway noted an aptitude for recognizing and cultivating growth and learning in others.
"I know I'd like to teach in some capacity when I've finished training, whether for medical students, other health professionals or community members, and I've gained confidence in my ability to do this formally and in my daily life."
Arenz says the Pathway has sharpened her skills for the direction she would like to take.
"In the last four years it has become increasingly clear that individuals without medical training in governmental power are ill-prepared to make public health decisions," she said. "I have always had interest in working in health care administration, but recently I have gained a drive to serve in the public sector.
"From seminars with Spokane Regional Health District staff to workshops on navigating difficult conversations, the Leadership Pathway prepares me well for a career working as a physician leader in a complex, discordant environment."
Students Offer Endorsement
Both Baden and Arenz recommend the program.
"This is worth the time, and you get out of it what you put into it," Baden said. "If you take the time to self-reflect you can identify how your strengths and points of growth color all of your interactions, both as a leader and in the rest of your life.
"While many medical students have leadership experience, there was previously little formal leadership training in medical school. This Pathway serves to build a strong foundation for growing as a leader, and the mentorship and involvement from the medical community in Spokane has been very appreciated."
Arenz knows she will be looked to as a leader.
"Simply being a physician is a significant role in leadership," she said. "You have an abundance of influence on patients with diverse needs and backgrounds. Therefore, leadership training is vital to being a well-rounded impactful and compassionate physician."
The Leadership Pathway helped lay the groundwork for Gonzaga's new Certificate in Healthcare Leadership, a partnership recently approved by GU's School of Nursing and Human Physiology, the School of Leadership Studies and the UW School of Medicine. Its first class, fully enrolled and including both emerging and experienced health care professionals, begins next January.
A Bright Future
Potyk offered praise for the Pathway and the soon-to-be-launched certificate program.
"The Leadership Pathway has been very successful," he said. "It echoes the themes of inclusivity by recognizing that you don't have to be a doctor to be a leader in health care. It recognizes the key roles played by everyone on the team.
"With this in mind, this certificate program will include many types of health care professionals including nurses and physical therapists, anyone who is playing a role on the health care team."
He singled out GU's Rachelle Strawther, who helped create the Pathway curriculum and served as the lead facilitator from September 2019 until this June.
"She really has been instrumental in both the Pathway and the certificate program," Potyk said.
Strawther is now the director of GU's Center for Lifelong Learning.
Expanding and enhancing top-ranked medical education in Spokane and eastern Washington.