"You're immortal now..."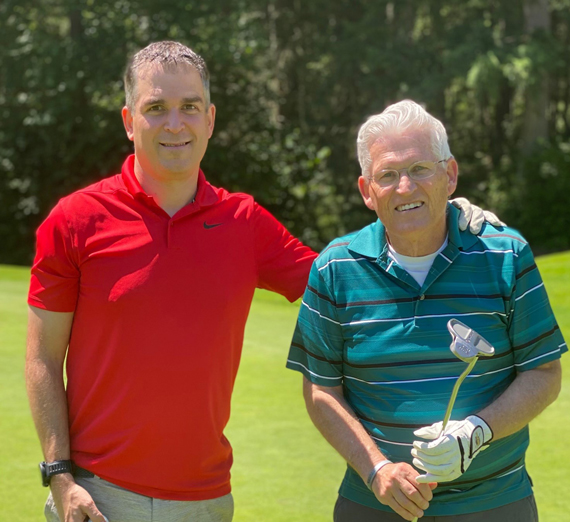 ---
Five years before Tom Larkin's ('99, JD '02) father was taken from their family by Alzheimer's, he and his dad made a joint decision.
"We were going to do all the things we wanted to do together," Larkin recalled, "because there was no excuse."
Their plan to make the most of the time they had left together was an extension of the relationship they forged while Larkin was growing up as the only boy in a family of four children.
"We were 'the guys,'" he said. "We'd watch Gonzaga games together or go over to Eastern Washington to visit my aunt and uncle, and go hunting to get away from the teenage girl drama of my older and younger sisters."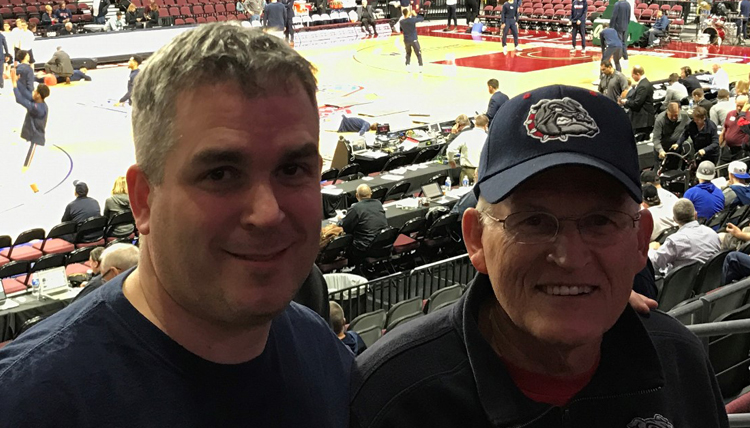 It was that relationship that inspired Larkin's commitment to honoring his father's life by establishing The Honorable Thomas P. Larkin Endowed Scholarship for Mock Trial within Gonzaga's College of Arts and Sciences—a remarkable act of generosity that extends his father's legacy of care for the future with his passion for practicing law as an attorney and later, a judge.
Tom Larkin, Sr. ('71, JD '73), was one of ten children born and raised in Tacoma, Washington, to the Irish Catholic town doctor and his wife, a nurse who worked in the same hospital. Tom Sr.'s older sister and her husband lived in Spokane, which factored into his decision to choose Gonzaga for college. When he was in the fourth year of his undergraduate experience studying political science, Tom Sr. met a first-year education major named Marilyn, known best as "Mayo" ('73). A residence director (RD) in Alliance House, Tom Sr. helped with Gonzaga's international student program, and for a brief time, worked for campus security. He forged a meaningful connection with Fr. Frank Costello, S.J., who served as a mentor throughout Tom Sr.'s education. Tom Sr.'s oldest brother was also Jesuit, and he was often trying to recruit his younger brother to join the priesthood. Tom Sr. had his sights set on a different path—one that included Mayo.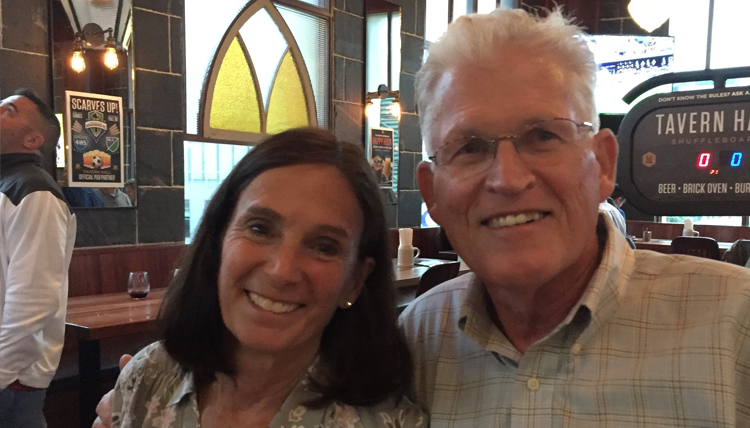 Tom Sr. and Mayo were married in Spokane toward the end of Tom's Gonzaga School of Law experience. After Mayo completed her teaching degree, the pair moved back to Tacoma, where he practiced law and she taught at Holy Rosary, while they raised their four children—three girls and young Larkin. Tom Sr. became a judge and after 28 years of service, retired from the bench. A year later, he was diagnosed with Alzheimer's.
"He got cheated out of the retirement they'd wanted," said Larkin. "But my parents still did as much as they could. He told me pretty early on—fully knowing where things were going to go—that there was nothing he'd change about his life. That was the sort of person he was—a glass-half-full guy."
Larkin continued, "As much as he was my dad, he was also my mentor and my best friend. I knew I could talk to him about anything. Like that law school wasn't ever in the cards for me, but Dad watched me figure out my own path, and it just directly followed his on its own. I think he got a kick out of that—there was never any pressure, I seemed to find myself in very similar situations and exposed to things that drew me into the law. That became a bond that carried us all the way through."
Establishing the scholarship in his father's honor was an idea with roots dating back to Larkin's undergraduate experience at Gonzaga. He had received a named, donor-funded scholarship that made a significant difference for him. He recalled writing a letter of gratitude to the husband and wife whose generosity helped fund his education and receiving it again year after year. Later, while he was in law school, the woman wrote back to him.
"She said I was the only one who'd ever received the scholarship three years in a row," he explained, "and that her husband was an attorney who'd passed away. The scholarship was established in his memory."
Larkin tucked her letter away in his memory, bringing it out again after his father's diagnosis. One of the founding members of Gonzaga's undergraduate mock trial team, Larkin and his classmates worked hard to fundraise for the team's appearance at the regional competition, where they qualified to go to nationals. When the money fell through, unbeknownst to Larkin, his father had stepped in to make the trip to both regionals and nationals possible. Later in law school, Larkin learned how proud his father was to have helped.
"I wanted to do something for him, and all of the sudden it clicked," said Larkin. "My wife and I committed and reached out to other Mock Trial alumni. We emailed family and friends and some of Dad's colleagues and other judges—it was like a snowball. We had five years to make it happen and it came together in just a few months."
Meanwhile, Tom Sr.'s condition continued to decline. Christmas Eve 2019, Larkin told his father about the scholarship, the impact it would have, and how his story would live on through it.
"I said, 'you're immortal now,'" Larkin recalled. "He loved telling stories and didn't want people to forget what he'd done, so I felt like I was giving him a gift in telling him his stories will be told forever."
The Honorable Thomas P. Larkin passed away on June 27, 2021, at the age of 72, surrounded by his family. Gonzaga University is truly grateful for his impact and inspiration, and his legacy, which will be carried forward through the scholarship that bears his name.
Join Tom Larkin's family and friends with a gift in honor of Tom Sr.