Sweet Dreams: Homage to COG Cookies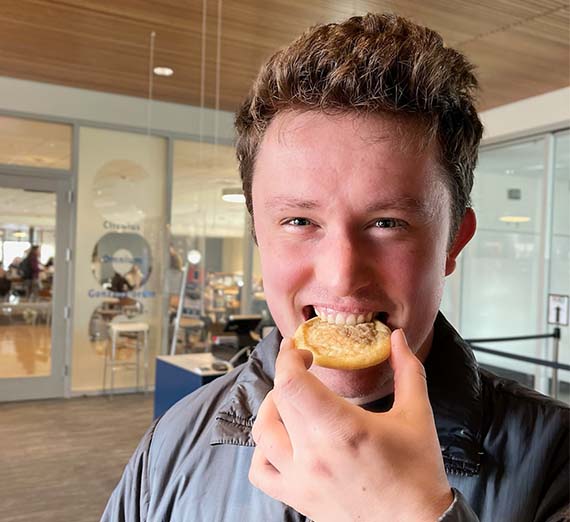 ---
COG cookies are a staple of the Gonzaga experience, at least since the early 1980s.
Sodexo's Pat Clelland calls them cura perso-cookie, a cookie made with love by the Zag Dining team.
They have been passed down through generations of Zags. Clelland says Zag Dining even receives requests from alumni to package them up and ship them to other lands.
"When, for whatever reason, the bakers don't bake them, it's a serious bone of contention with students. It's their comfort food," Clelland says.
"Every dining hall around the country has something the students remember. For Gonzaga students, it's the COG cookies."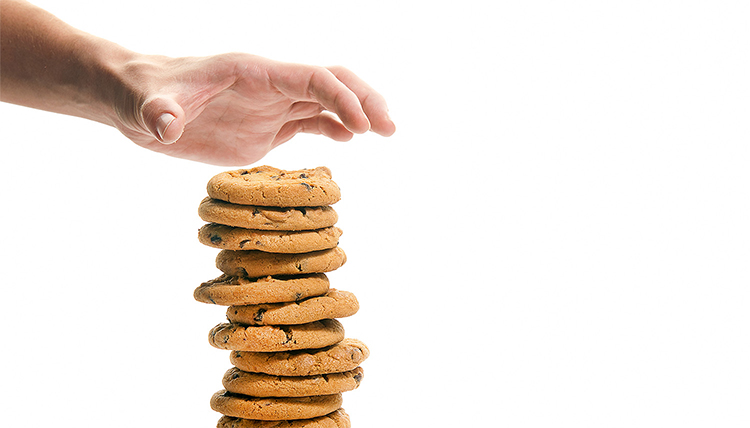 In 1987, Wally "Famous" Amos delivered a lecture on campus. He is credited with being the instigator of a multibillion-dollar cookie industry. But according to news reports, his cookies didn't match COG cookies, at least in the minds of Gonzaga students.
In 2012, COG cookies were named among the 32 "Best Campus Eats" by The Food Network. A sweet distinction.
Over the years, COG cookie distribution sites have included Welch Hall's lower level, Kennedy Apartments, and in the actual COG for Wednesday cookie nights.
"Warm cookies just out of the oven served with a cold glass of milk," Clelland says. "It brings me back to a time in my childhood when that was the thing. I think Cookie Night helps people feel connected to their homes."
Some would argue they have medicinal powers, as well. Whether you're suffering through a tough breakup, pouting over a bad test or celebrating a Zag win, COG cookies always seem to hit the spot. Isn't it hard to be down when you're eating a cookie?
Barbara Johnson once said, "A balanced diet is a cookie in each hand," and Gonzaga alums shared their agreement in comments about COG cookies on Gonzaga's Instagram channel:
"These were their own food group," said Sarah (Taylor) Schwering ('04, '07 M.B.A.). Vicki Le Garde ('08) admitted to using her card punches just to get cookies.
"I've inserted an illegal amount of these cookies into my oral cavity," another noted, and someone else said the cookies "make you a true-blue GU bulldog!" Chris Shogun recalled putting the cookies in the bread toaster and topping them with vanilla ice cream.
Danielle Cendejas ('04) said she took a to-go box filled with cookies back to the dorm – more than once. Another grad claims she ate COG cookies straight out of the freezer at Waikiki Retreat Center around 1980. Johnny Palmer ('13) always tried to mention COG cookies to prospective students on his campus tours. Katie Galassi ('13) found them particularly tasty, perhaps even spiritual, following Mass.
"Life is short. Eat cookies for breakfast."
Or as the Cookie Monster says, "Today me will live in the moment, unless it's unpleasant, in which case me will eat a cookie."
There's some wisdom there, shared through the years.
COG cookies: What began as a treat has become a legend.
What favorite traditions would you recommend for a future "Then & Now" story?