Communication in a Time of Uncertainty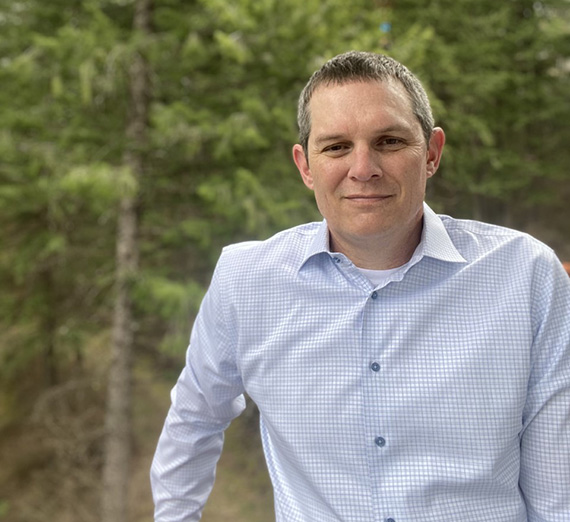 ---
It was the summer of 2020, following the killing of George Floyd and the resulting social unrest across the nation when Police Major Mike McNab enrolled in the Gonzaga School of Leadership Studies' Online Master's in Communication and Leadership (COML) program.

"It was a really hard time, emotionally, to navigate. All of a sudden, my career field was being demoralized and vilified in a very broad sense," said McNab.

As a member of a police department's executive leadership team, McNab said going back to school "provided me a way to process all that information and to work through it in a healthy way. It was cathartic, really, to write it all out, to work through it and to realize boundaries of how you have to communicate in certain forums about this tense subject. It helped me realize the deeper, broader social inequalities that have led to this damaging symptom we are seeing and to have compassion for that, to not be on the defensive and feel like a victim because my profession is under attack. Instead of playing the victim role, I'm more thinking of how do we get through this together with the community."

McNab was pleasantly surprised by Gonzaga's ability to tackle relevant and sometimes difficult topics in the curriculum.

"The way they wove in larger concepts of diversity, inclusion, equity and social issues into lessons that didn't necessarily apply to the specific subject of a particular course was brilliant. In every course there was some element of diversity, equity, and inclusion. I found that in the heat of what I was going through at work, it was a little bit challenging at times because I was already mentally exhausted, but I grew into it over time and it was truly eye opening for me," said McNab.

McNab started the program at a perfect time for him, not only because of the challenging time for police departments and communities, but also at a time he was advancing in his career.

When he was promoted from Lieutenant to Major, skipping a rank, he suddenly found himself in executive leadership and questioned whether taking on school at the same time would be overwhelming. Instead, what he found was a symbiotic relationship between school, work and learning.

"What I learned in school helped me at work and what I learned at work helped me in school. Those things fed off each other and helped me develop," he said.

McNab did consider other programs but with many years in the military and leadership roles in law enforcement, he had already taken part in many leadership development opportunities, so he decided Gonzaga's COML program was the best choice for him.

"I just felt I needed something new and different, and communications is so important and so critical that I felt that this would be a good skill to learn."
With a demanding schedule in law enforcement, a commitment to school required balance. Gonzaga's flexible, online program, which allows students to access their online classroom 24/7, fit McNab's life. McNab said the program also provided an opportunity to build relationships.

"I thought it was pretty easy to develop a sense of community. Even when you're not having face-to-face verbal contact with somebody, I still felt like I was connecting with people."

McNab also really enjoyed having the opportunity to come to campus for a three-day immersion where students from various locations and industries come together.

"Even though I live in Spokane, it was still just nice to feel like a student and connect face to face with other students and with the professors."
Another highlight for McNab, the connection to faculty.

"I really love all the instructors. The way they treat the whole person and educate the whole person, rather than just teaching you a subject matter. I feel like they're turning out community leaders rather than people with the piece of paper,"

McNab sums up the program this way: "This is so much more than just getting a diploma. This is all about the experience. In fact, now, the diploma means very little to me compared to what I've learned in the process.
Academics
Alumni
School of Leadership Studies
Master of Arts in Communication and Leadership