Amy Eddy: The Doctor Next Door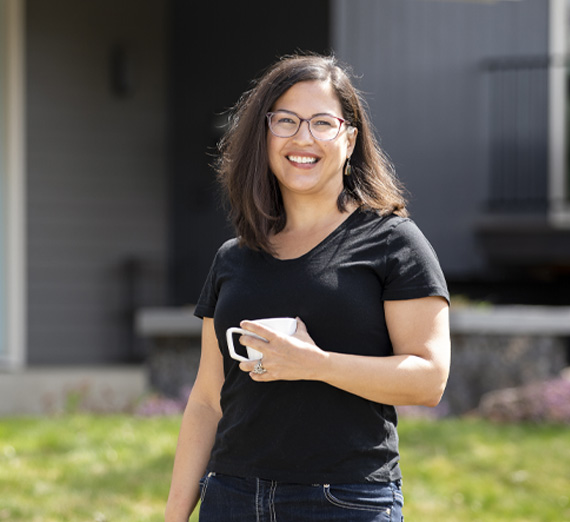 ---
University of Washington Medical School graduate and director of Spokane's Internal Medicine Residency took an unconventional journey to her career.
Growing up in Lewiston, Idaho, Amy Eddy never doubted she'd pursue a career in medicine.
"My mom is from a Filipino family and everyone is in healthcare," she said.
Her grandfather was a physician and her mom was born at Sacred Heart hospital in Spokane during his internship.
However, when she was in high school a family medical crisis solidified her desire to become a doctor.
"My dad was diagnosed with advanced colon cancer," Eddy recalled. "As our family interacted with his oncologist, I saw how medicine can make a lasting impact."
When she attended an Underrepresented in Medicine outreach hosted by the UW School of Medicine at the University of Idaho, she set her sights on attending medical school at UW.
In 2004, her first year was split between campuses at The University of Idaho in Moscow and Washington State University in Pullman. She got married and on the first day of her second year of medical school she found out she was pregnant.
She took some time off following the birth of her son in 2006 and was back at UWSOM when she found out she was expecting twins.
Eddy laughed.
"I ended up expanding my education from four years to six," she said. "The faculty was so understanding."
When her twin daughters were six-months-old, she was visiting family to celebrate the girls' baptism when she became critically ill.
"I'd had a headache and I was tired, but I had three kids," she said, shrugging off her exhaustion. "But when I tried to put on make-up before the baptism, I couldn't raise my arms."
Her family rushed her to Tri-State Memorial Hospital in Clarkston, WA.
"I was intubated that night," Eddy said. "I could no longer inhale."
She was diagnosed with Guillain-Barre syndrome, a disorder in which the body's immune system attacks the nerves, often resulting in paralysis.
Eddy was hospitalized for a month.
"That little hospital was so good to me," she said. "They took amazing care of me."
Her illness provided lasting life lessons. In addition to discovering what it's like to be a patient and receive care, she also learned about the concerning gaps in our healthcare system.
"I had to learn to walk again. My whole body was so weak," recalled Eddy. "But my state insurance didn't offer inpatient rehab benefit."
So, after her discharge, she instituted her own version of rehab, slowly regaining strength and mobility.
"My physical therapists sent me home with a gait belt and some resistance bands. My stepfather would walk with me across the lawn and hold on to my gait belt," she said. "For the first week or two, I had to scoot down the stairs on my bottom. My church family took care of my son and twin babies during the day and I made it my goal to do one thing for one kid per day--change a diaper, buckle a bike helmet, feed a baby."
Her determination paid off.
"I got out of the hospital at the end of June and by August I was up on ladders, painting the house we'd purchased in Spokane."
Fully recovered, Eddy planned to pursue family medicine, but an internal medicine clerkship in Spokane altered the course of her career.
"I discovered I really liked working with adults," she said. "I enjoyed treating the whole patient, gathering data, and solving the puzzle to reach a diagnosis."
As part of Spokane's Internal Medicine Residency program, she thrived in her chosen field. In 2012, during her second year of residency, she welcomed her fourth child and third daughter and contemplated her career path.
"I always thought I'd return to Lewiston," she said.
But when her residency was done and she was offered a job as a hospitalist in Spokane, she decided that she'd found the perfect place to launch her career and raise her family.
"The medical community in Spokane is so diverse," said Eddy. "And I didn't want to leave my mentors."
In her job as a hospitalist, she traveled a bit and found it especially meaningful to return to Clarkston, to the hospital that offered her such quality care during her illness.
"The staff said, 'Oh! We remember taking care of you!'" she recalled.
For her, the most satisfying part of her job is simple.
"There's an a-ha moment when everything comes together and I know how to make a patient better," Eddy said.
A year into her career, she joined the UWSOM faculty and stretched her teaching wings, and in 2021, she became the program director of Spokane's Internal Medicine Residency. Teaching and training the region's future healthcare providers are at the core of the Health Partnership UWSOM and Gonzaga University forged in 2016 to promote greater health through education, research, and innovation.
Her roots are deeply planted in her South Hill neighborhood and her experience with her own healthcare crisis informs the way she teaches and practices medicine.
"I understand the fear—the feeling of powerlessness," she said. "I understand how difficult it can be to navigate the system. It's given me a lot of empathy."
She relishes the opportunity to lead the program that she graduated from.
"I took so many unexpected paths to lead me to this," said Eddy. "There's no place I'd rather be."
Read more stories about UW-GU Health Partnership