Professors and Students Receive EPA Grant for Water-Purification Project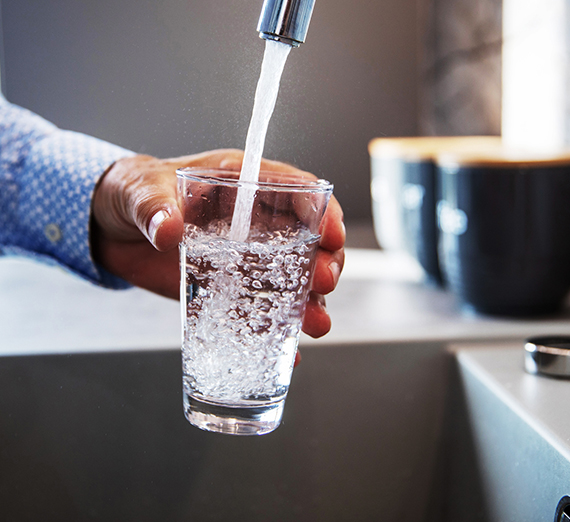 ---
SPOKANE, Wash. – A cross-disciplinary team of Gonzaga University students and professors is working to develop a sustainable filtration material to treat contaminated water. Their work on "biochar" aims to make it a low-cost treatment material that can be in point-of-use filters – under a kitchen faucet, for instance – that would enable communities such as those on the West Plains in Spokane County to ensure their water is clean.
The Environmental Protection Agency has taken notice of the project and awarded GU's team $24,982 to pursue it through June 2023. It is one of just 16 student teams across the country to receive a grant of up to $25,000 under phase one of EPA's 18th annual People, Prosperity and the Planet (P3) Program. Gonzaga and Oregon State University are the only two schools west of Colorado awarded grants this year.
The GU project, led by civil engineering professor Kyle Shimabuku, also includes mechanical engineering professor Marc Baumgardner and chemistry professor Eric Ross, an example of the interdisciplinary projects emerging from the recently completed Bollier Center for Integrated Science and Engineering. Environmental studies professor Greg Gordon also has a role.
Focusing on PFAS
The contaminants targeted by GU's team are PFAS, per- and polyfluoroalkyl substances. They are often found in drinking water wells that serve individual households in rural, small, often disadvantaged communities that typically lack adequate treatment. For example, elevated PFAS levels have been found in private and municipal wells and community members' blood in the West Plains. Water from that area is being used in the GU research.
The project – "Optimizing Biochar Adsorbent Production through Semi-gasification" – tackles what the EPA describes as one of five "critical questions" about PFAs: how to remove them from drinking water.
"Unfortunately, it is pretty expensive to treat these contaminants with either activated carbon or ion exchange resin, neither of which are particularly environmentally friendly materials," Shimabuku said.
"That is why we are developing a low-cost alternative called 'biochar' that can be produced as a byproduct of energy production from waste biomass – forestry slash or agricultural waste, for example – using simple systems that allow communities impacted by PFAS contamination to produce the filtration material nearby."
Producing biochar that is "just right" has presented challenges.
"We are finding a wide range in performance of the biochar to remove PFAS depending on the biochar production conditions, such as high temperatures versus low temperatures," Shimabuku said. "It will take a bit of fine tuning to determine how to make it just right."
He said Marc Baumgardner, associate professor of mechanical engineering and a co-principal investigator with Shimabuku on the project, "brings expertise in combustion processes to optimize wood gasification to produce efficient biochar filter media."
"Because PFAS could pose health risks down to low levels in drinking water, possibly to the parts per quadrillion," Shimabuku said, "detecting these compounds at these levels is a significant challenge."
New Instrument Plays Role
That's where Eric Ross, professor of chemistry and another co-principal investigator, brings his expertise. Ross develops the team's methods to measure PFAS at such low levels in the hundreds of samples that the project generates by using liquid chromatography mass spectrometry (LC-MS). The instrument acquired last spring and located in a shared research facility in the Bollier Center makes possible the team's detection part of the work.
Karlene Hoo, dean of the School of Engineering and Applied Science, put the research and grant into perspective.
"Offering undergraduate research opportunities is but one goal of our strategic plan to enhance the learning experience," said Hoo, who earned a doctorate in chemical engineering at the University of Notre Dame and worked in private industry prior to entering academia. "Linking those opportunities to competitive funded federal research elevates the quality of the research experience and its importance.
"Faculty such as Kyle Shimabuku and Marc Baumgardner bring a passion for research and engagement with our students to complement their classroom learning. Such high-impact experiences can only serve to bring home to the students how engineers and scientists can come together to find creative solutions to very challenging global issues."
Students Embrace the Project
The students working with Shimabuku exude enthusiasm for both the goal and the process.
"The most satisfying part of this research has been understanding what it can lead to," said senior Brooke Baker, a civil engineering major from Portland. "Looking into cost-effective solutions for water decontamination is fascinating and necessary, especially in the coming years. Being able to be part of a project that seeks to aid those in less-fortunate communities by providing them with an affordable way to treat their water has been amazing.
"I can only hope that this research progresses and grows, attempting to find ways to solve our water crisis through sustainable and cost-effective methods going forward."
Baker acknowledges she's come a long way since the project started.
"At the beginning of the summer, I was not very well versed in how to think analytically," she said. "I was not sure how to pose questions that can be answered through measurable data acquisition and analysis."
Brynna Bone, a transfer civil engineering student who will graduate in May 2024, cited the collaboration of those involved with the project.
"Not only have they created a welcoming and understanding environment, but they've also taught me that making mistakes is OK and there's always something to be learned," said Bone, who hails from Guemes Island, on the San Juan Islands' southeast edge just north of Anacortes, Washington. "Since it's such a friendly atmosphere, I am always free to ask any questions, which has given me a strong foundation of understanding that makes me excited to continue learning."
"The most satisfying thing is getting results back from Dr. Ross after working for weeks on experiments and trying to understand the results," she said.
Grace Luoma, a junior from Butte, Montana, studying civil engineering, also cited the teamwork involved.
"Working with Brooke and Brynna in the lab has been really fun and exciting, especially knowing that we are all working toward the same goal of coming up with an efficient but also cost-effective solution to a real-world problem," Luoma said. "Since they are a year older, I have been learning a lot from them and they are always willing to answer any questions I may have. The work environment is something I look forward to each day."
Like Baker, Bone and Luoma both embrace the goal.
"The most exciting part is just being a part of research that could mean the increased health and safety for people all over the world," Bone said. "I hope to do more research like this in the future!"
Luoma echoed that excitement.
"The most satisfying part of this research is how real it is," she said. "In the classroom, professors continuously give real-world problems to help get us thinking of how the material will be applicable in our lives in the future. This research project helps put emphasis on that way of teaching.
"In the end, I know that the work that I've done all summer leads to something bigger than myself and will positively impact our surrounding communities."
Reaching Out to Schools
"For point-of-use PFAS removal technologies to be adopted, it is essential that their utility is communicated to end users," Shimabuku said. "This senior design project team will partner with an environmental studies senior capstone project team that will work with local K-12 schools that have been directly impacted by PFAS contamination with hands-on learning modules on PFAS treatment."
The capstone team will be led by Greg Gordon, professor of environmental studies and co-principal investigator with the other three professors.
Additional project partners, he said, will include environmental nonprofits, a commercial biochar manufacturer and the Spokane Regional Health District.
The EPA explains what research has learned so far about PFAS:
PFAS are widely used, long-lasting chemicals, components of which break down very slowly over time.
Because of their widespread use and their persistence in the environment, many PFAS are found in the blood of people and animals all over the world and are present at low levels in a variety of food products and in the environment.
PFAS are found in water, air, fish and soil at locations across the nation and the globe.
Scientific studies have shown that exposure to some PFAS in the environment may be linked to harmful health effects in humans and animals.
There are thousands of PFAS chemicals, and they are found in many different consumer, commercial and industrial products. This makes it challenging to study and assess the potential human health and environmental risks.
The EPA's P3 grants reward student teams seeking innovative solutions to environmental and public health challenges.
"The students honored today are leading the way when it comes to developing cutting-edge research to address some of our most challenging environmental concerns," said Chris Frey, assistant administrator of EPA's Office of Research and Development. "I'm excited to support the next generation of scientists and engineers through EPA's P3 program."
All are now eligible to compete for a phase-two grant of up to $100,000 to implement their design in a real-world setting. Gonzaga's team intends to pursue the follow-up grant. Last year, three projects received the additional funding.
Read more Engineering Research stories.