Boeing Through the Rearview Mirror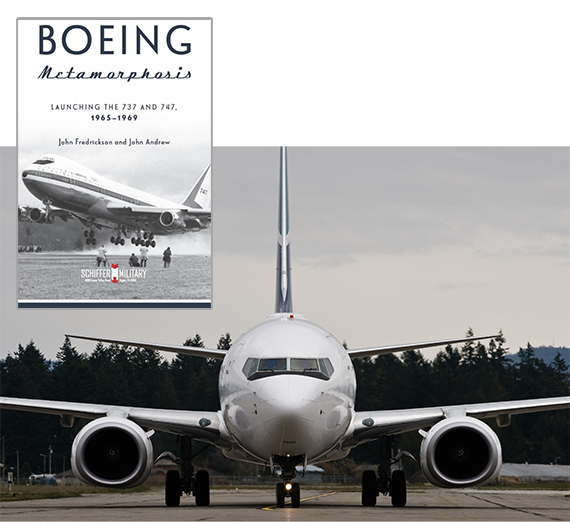 ---
Boeing Metamorphosis Launching the 737 and 747, 1965-1969
by John Andrew ('54)
Reviewed by: Gary R. Weber, Ph.D.
Director of Engineering Management and Assistant Professor of Mechanical Engineering
Driven by the need to meet ever-increasing performance requirements, the aerospace industry has developed many innovations that we now take for granted: International travel; lightweight vehicles and recreational equipment incorporating aluminum, titanium and carbon fiber composites; driving directions based on the global positioning system; ball point pens.
Aerospace technology advanced rapidly after World War II as the GI Bill increased the supply of degreed engineers and scientists while the Cold War and post-war prosperity created demand for new and innovative technologies. A first-hand account of Cold War technology development at Lockheed is provided in Ben Rich's book, Skunk Works: A Personal Memoir of My Years at Lockheed. In this book, Rich provides contextual background for some of the military aerospace developments from Lockheed's Legendary Skunk Works development group.
John Andrew's book, Boeing Metamorphosis Launching the 737 and 747, 1965-1969 documents a period of rapid expansion for Boeing's commercial airplanes business. Despite the existence of a profitable and lower-risk military aerospace business, Boeing saw the growth potential for commercial aviation and invested heavily to establish their market presence. Boeing's family of commercial aircraft was bookended by the small, high production rate (for aerospace) 737 and the "Queen of the Skies" 747.
John Andrew presided over facilities development for production of the 737 and 747 aircraft. Whereas Rich, a thermodynamicist, focuses on the development and implementation of Cold War technologies, Andrew, a Gonzaga-educated Civil Engineer, focuses on the planning and decision-making that resulted in the world's largest buildings. He held progressively higher positions at Boeing from 1959 to 1984. Interspersed with first-hand descriptions of the struggles that led into constructing the 737 and 747 production facilities are timeless lessons learned by all project managers.
"I reflected on the eventful morning while driving back to Renton for a brief Saturday office visit. With the help of Tex to arrange the much-needed meeting, we had obtained most of what was needed. Good project managers are "here and now" people. Because Wilson was the best there was at project management, I was confident the logjam at corporate was broken and the land would be promptly purchased." – John Andrew reflecting on a meeting with future Boeing CEO T. A. Wilson regarding purchasing land for the Boeing Everett site.
My personal experience of Boeing began in 1986 and ran through 2019. I had assignments in the major facilities that Mr. Andrew describes: Auburn, Renton, Developmental Center, Plant II and Everett. Project management truisms learned during my time at Boeing which are reflected in Boeing Metamorphosis include:
Deal with minor setbacks while remaining focused on the long-term wins
Focus on "Facts and Data" when presenting to upper management, allowing them to draw conclusions
The reward for completing a difficult project is the next difficult project
"Industrial Age Chivalry" – fair dealings and ethical behavior – establishes a foundation of trust for building a lifelong network of collaborators
John Andrew concludes the book with a section entitled "The Rearview Mirror." It is a metaphor for where we all hope to be as our working career draw to a close – proud of our accomplishments and the difference they have made in our communities.