Mystery Zag Revealed: Fr. Pat Ford, S.J.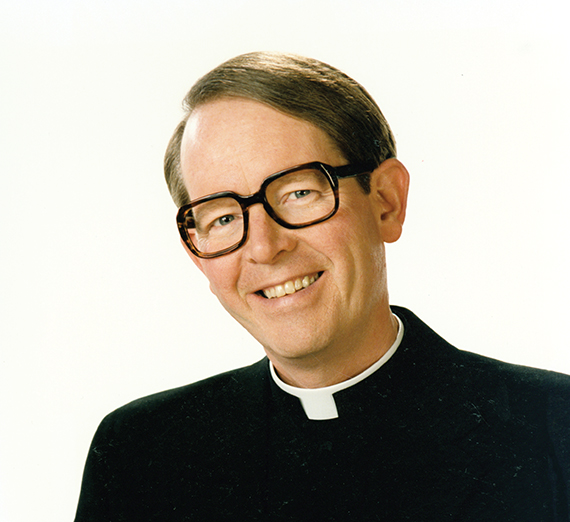 ---
Our Mystery Zag from the spring 2022 issue of Gonzaga Magazine:
Father Pat Ford, S.J., Academic Vice President, twice Dean and Professor, 1974-2001
Stanford- and Gonzaga-educated, Fr. Ford was an extremely intelligent scholar. He served as professor of doctoral studies, dean of Arts & Sciences, Graduate School dean, and academic vice president during his 27-year love affair with Gonzaga. What he liked best about his vocation was "working with people at close range," he said. But perhaps what most distinguished him was his priestly ministry. "The celebration of the sacraments was his great passion," said his longtime friend Father Frank Costello, S.J. In 2005, Fr. Ford passed at age 63 after serving his last four years as socius for the Oregon Provincial. Gonzaga bestowed upon Fr. Ford its highest honor, the DeSmet Medal.
Reader Responses
That Zag is a very young Father Pat Ford, for whom I served as graduate assistant the first year of the doctoral education program. He was a fine man who taught me much, including, "Where you stand depends on where you sit." I've used that portion of wisdom throughout my life. Thanks for the fond memory.
Michael P. Aleman ('73')
Spokane
My religion professor as I worked on my doctorate, Father Ford was kind, a very good listener, and had a way of sharing conversations without judgment. As an adult convert to Catholicism, my interpretation of religious views had some unusual slants. For one example, I felt that missing Mass was a sad thing; I missed out on the message, the music and getting together with others. I felt a personal loss for not being there. He kindly responded, "I like your thinking and you are right. A person misses out in many ways. I am glad that you enjoy Mass and want to be there. Just add to that thinking a higher level of responsibility and know that God really wants you there." He could have humiliated me for my ignorance in a class full of Catholics who all knew I was wrong. He didn't humiliate me. Nor did he set a tone in class for anyone to humiliate others – ever. He helped me find my way to a Ph.D. in a timely manner. He was a spiritual guide, my teacher and my friend.
Marie Phillips ('98)
Spokane
He may not have been "God," but he was bigger than life to me. Father Ford was on my husband's doctoral committee. My husband went to his home for breakfast, and he came to ours for dinner. He was a generous, kind man. After my husband graduated from Gonzaga, we moved to a log cabin in the woods at Snoqualmie Pass. Father Pat called my husband, who was not at home. I took a message and Father Pat left a 1-800 number. I could not help replying, "You mean, I could have lived in the woods all these years and had 1-800 DIAL A PRIEST?" We shared a joyous laugh. He was a servant of the Lord who could be counted on.
Cherie Crawford Park
Meridian, Idaho
Father Ford touched so many lives. We used to have Pat and Father (Frank) Costello over for dinner and we cherish those memories. One night they both went off on the pope when he wanted to disband the Jesuit order. We were all sort of shocked at their strong, negative, yet honest and understandable reaction to the pope. Pat invited my husband, Denny, and me to an Easter service at Jesuit House one year. It was lovely. Such an amazing individual. I am forever grateful our paths crossed.
— Kathy Canfield-Davis ('96 Ph.D.)
Coeur d'Alene, Idaho
Father Pat grew up in the Gonzaga/St. Al's hood just two blocks from campus; I grew up two blocks farther. When Pat was a teenager, he threw the evening papers for The Spokane Daily Chronicle and hired younger kids like myself to help him. We picked up the bundles at the Phillips 66 (later One Hour Martinizing and David's Pizza). He taught me how to fold the paper to make throwing easier and he was very fussy about getting it just right. Although they were good character-builders, newspaper routes weren't exactly get-rich schemes and that may have had some influence on Pat's later decision to further his education and take the vow of poverty.
Patrick Burgess ('69)
Edmond, Oklahoma
I had the pleasure of meeting Father Ford long before I was a Gonzaga student. He was a student-teacher for my dad one term when dad taught summer school. He was a frequent visitor at our house and had quite a few dinners with us that summer and in subsequent years when home from school. We had a large family and he always fit in and joined the dinner conversation. Four of us later went to Gonzaga. When I was there, he would ask about my parents and my brothers. He always had a recollection or two about his visits to our house. While I know he was a great contributor on the Gonzaga faculty, my dad always maintained that he would have been one of the best high school teachers there ever was. Fr. Ford was a humble and thoughtful man who taught many of us by his wonderful example.
Mike Ormsby ('79, '81 JD)
Spokane
An incredible teacher, mentor, spiritual leader and friend, I had the good fortune to take classes from Father Ford as part of my doctoral studies. His humor was a delight. His commitment to quality learning was legendary. I thought I could write until I took my first class from Father Ford. My first returned paper looked like it had been bled upon. I learned so much from him. Prior to the graduation event we were invited to the beautiful cathedral for a ceremony. I went to Father Ford and said, "You know I am not a Catholic?" He acknowledged that he knew that. I asked, "Then is it appropriate for me to attend the ceremony at the cathedral?" He looked at me, smiled and took my hand, asking, "Shirley, do you believe in God?" I responded with "Absolutely!" With that boyish smile, he said, "Then plan to worship with us." He had a tremendous impact on my life, and I am forever grateful to him and all the other professors who invested their time, intelligence and kindness in this woman
from Alaska!
Shirley J. Holloway ('85)
Anchorage, Alaska


Who's this Zag?
Excitement for teaching oozed from this longtime special education professor. He loved teaching, striving to improve college education, and seeing students succeed through experiential learning. He received several outstanding teaching awards, earning professor emeritus status when he retired in 2013 after 34 years at GU. The energy of this animated professor touched every part of his life. He was a scratch golfer, might have been a professional bowler had his knees held up, and was a gifted amateur artist and photographer, showcasing his work at numerous art shows and galleries. Some remember him best for dressing as Santa and walking the halls of academic buildings at Christmastime, handing out peppermint sticks.
» If you know this Mystery Zag, please share a favorite memory: gonzaga.edu/editor