Accounting Students Mine Opportunity in London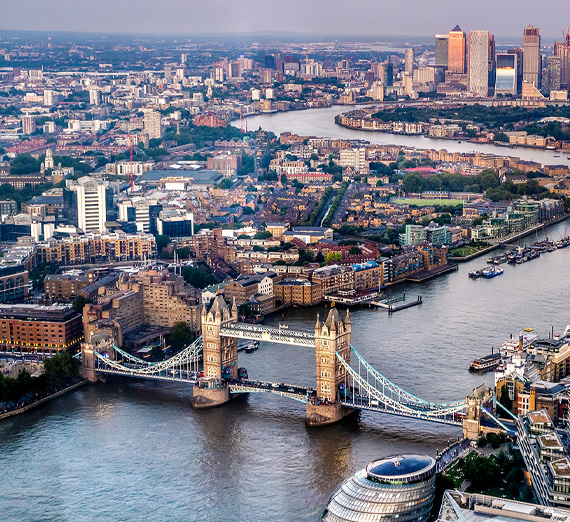 ---
Graduates mesh cultural immersion with launch of careers
SPOKANE, Wash. – It started in 2014 with one student being assigned to accounting giant Deloitte's London office by a Seattle-based recruiter for the firm. Now that placement has become a fixture for Gonzaga University's accounting program.
Nine Gonzaga students have worked in London with Deloitte UK either as interns or full-time employees.
Andrew Brajcich, GU's inaugural Jud Regis Chair of Accounting, who is also associate professor and director of Graduate Accounting, followed up after the initial intern placement.
"I was persistent in emailing the partners in London asking for details on the internship and providing unsolicited recommendations for students as candidates," Brajcich said.
That doggedness paid off.
"We've had a wonderful experience partnering with Gonzaga University on the internship program," said Marek Krawczyk, Deloitte partner in London. "The students have come well-prepared academically to excel within our group and that has been proven by how many full-time offers we've issued to Zags at the conclusion of the internship."
GU graduate Joanna Hazel, currently with Deloitte, has spent two years in London and will soon move to Tokyo, where she will play a larger consulting role with the firm's international clients.
"The initial thought of starting my career abroad was a lot to consider, but as soon as I arrived, I haven't looked back," Hazel said. "It's been an amazing experience living and working abroad. I can't wait to see what the next chapter brings."
Hazel is fluent in Japanese so she will have little difficulty transitioning to her new home. She also plans to continue supporting her favorite English football club, Tottenham Hotspur, from afar.
While a Gonzaga student or graduate hasn't gone to London every year, Brajcich said, some years there have been more than one.
"I count graduates from 2014, 2017, 2018, 2019, 2022 and one from 2013 who went later in his career," Brajcich recalled, adding that undergraduates can apply for the internship as well.
"We had an intern there this spring, Jeff Melchor, who's originally from Saipan. He is pursuing a master's degree in tax with us next year. He has a full-time offer with them."
Two intern candidates for next year are waiting to hear on their applications, according to Brajcich. Interns are hired with the intention of starting their career with the firm, he said.
The first Zag to make the jump across the pond was Morgan Eliasen, who spent about two years with Deloitte there. He's now a tax manager at Belltower Fund Group in Boston.
"I expressed an interest in working abroad with the Seattle Deloitte recruiter when she was on campus," Eliasen said. "The next thing I know, I was an intern living in central London, walking to work, learning more than I could imagine, and lunching at pubs that had been around over 100 years."
Zags work for the U.S. Business Tax Group of Deloitte, the largest U.S. tax practice outside the country, where they advise U.S. and foreign multinationals, private equity, real estate, hedge funds, and other organizations on U.S. cross-border activity.
The group has a wide variety of backgrounds, including professionals hailing from the UK, Brazil, Vietnam, Japan, Russia, China, Israel, Korea, and India in addition to the U.S.
Accounting has long been a strength of Gonzaga's School of Business Administration. The program's 82.4% CPA pass rate is 10th in the nation and first on the West Coast for schools with at least 60 candidates taking the exam. The undergraduate accounting program is ranked 31st in U.S. News & World Report's 2022 business school rankings.
On the graduate school level, GU's master's of tax program has a 100% placement rate within three months, while the master's in accounting program has a 95% placement rate within three months.
Gonzaga's business school was founded in 1921 to help stock a fledgling city with business leaders, bankers, accountants, and professionals in economics, finance and trade. The first formal degree was a Bachelor of Science in Business Administration in 1930. The first master's degree came in 1961. This year, its part-time MBA program is ranked 46th by U.S. News and World Report.
Learn more about Gonzaga Accounting