Standardized Patients Play Important Role for Medical Students' Education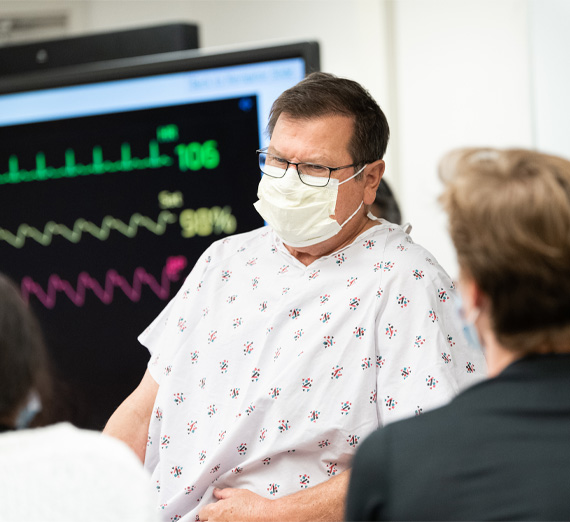 ---
Community members serve as Standardized Patients, following scripts and presenting common health issues through simulations in medical education, allowing students to practice physical exam skills in real-life scenarios.
Steve Brazil had a heart attack last week.
He described his symptoms to the white-coat-clad group at his bedside.
"I thought it was indigestion and took Tums for it. It usually helps, but this time it didn't."
Brazil didn't actually have a heart attack. He was playing a role as a Standardized Patient (SP) for UWSOM-Spokane, which partners with Gonzaga University to improve the health of patients through the UW-GU Health Partnership. The group in charge of his diagnosis and treatment plan was first-year medical students.
A Standardized Patient is a person who's been coached to accurately and consistently recreate the history, personality, physical findings, and emotional structure and response pattern of an actual patient through simulation in medical education.
"Standardized Patients offer a unique and valuable educational advantage to our students," said Clint Hauxwell MD, Co-Director, Foundations of Clinical Medicine UWSOM Spokane. "They see SPs during their first week of medical school and several times throughout their first two years."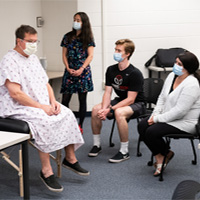 The SPs are community members who are paid to learn a scripted role detailing a medical problem. The script includes past medical history, family and social background, and the emotional and physical symptoms they'll need to portray.
Several times a year SPs are part of simulations through workshops and classroom activities. No medical or acting background is required, though Hauxwell said, "Some of our SPs are actors like Gonzaga University drama grads or Spokane Civic Theatre actors."
Brazil doesn't have a theater background. He learned about the program after he retired from a career in medical device sales. That was six years ago.
"I really enjoy it," he said. "The best part is getting to know the students and seeing their growth from first year to second year. They are so smart and full of energy."
During his recent "cardiac episode," Brazil studied the provided script and memorized the background details. His symptoms became even more real thanks to a programmable stethoscope.
"I have a button I push that simulates different heart sounds," he explained. "The goal is to get the students to ask the right questions."
Interacting with people instead of mannequins offers students crucial communication experiences.
"In clinical situations sometimes patients are anxious or worried, sometimes they're quiet and don't offer much information," Hauxwell said. "Working with Standardized Patients helps our students respond to a patient's emotion and hone their communication skills-- in medicine communication is vital."
This kind of interaction early in their education proves incredibly helpful.
First-year student Tess O'Rourke admitted he was nervous when he first did a motivational interview with an SP.
"Motivational interviews involve talking to people about making a positive lifestyle change, like exercise," he said. "I felt like a deer in the headlights, but what's nice about SP's is the feeling of safety they provide. They're so patient and kind."
That kindness and thoughtful feedback go a long way to helping students feel at ease.
"There's no question that students move into their third and fourth years with better clinical skills," said Hauxwell.
Darlene Arnold began working as an SP in 2016 through Gonzaga's nurse practitioner program.
"It was really interesting," she said. "The following year I did a workshop that was a collaboration between GU's nursing school and UW's medical school. That's when I found out there are many opportunities and needs for Standardized Patients here in Spokane."
Like Brazil, she delights in seeing the growth of the students as she gets to know them.
"The students are great," she said. "And I enjoy giving back to my community."
In addition to scripts, Standardized Patients meet with medical school faculty before the workshops.
"We go over the scenario, answer questions and explain nuances," said Hauxwell.
Then students, usually in groups of six, rotate through the exam room. At the end of the session, the SPs offer feedback to them.
"They're teaching us how to be physicians from the patient's point of view," explained O'Rourke.
The workshops are often beneficial to more than just the students.
"I feel like I've gotten a lot out of this," Arnold said. "I'm feeling empowered in speaking up when I see my own provider."
Hauxwell said these experiences help students learn how to ask sensitive questions and deal with emotions that physical exams can sometimes unearth.
Arnold finds her role as a Standardized Patient extremely fulfilling.
"So many people complain about healthcare professionals not listening to them," she said. "I'm able to model a doctor/patient relationship that emphasizes the importance of listening. I'm helping build the next generation of healthcare providers."
Learn more about UWSOM and GU Partnership