Opportunity Northeast Fellowships Launch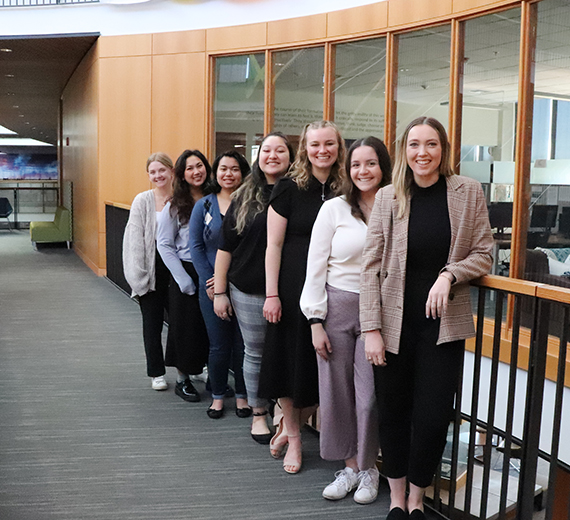 ---
We are pleased to introduce our2022 Opportunity Northeast Fellows. The Opportunity Northeast Fellows spend the summer working in the Northeast neighborhoods in partnership with community organizations supporting two focus areas (food security and educational opportunity). Forming a cohort of 8, fellows gather regularly for professional development from June to mid August.
Allison Salvador '23 (she/her)
Major: Political Science Minor: Criminology
"I am excited about this job opportunity, as it allows me to foster authentic and genuine connections between the Gonzaga student population and the Northeast Spokane community! I hope to make Spokane a place where everyone is welcomed and feels like they belong."
Emily Shiraishi '23 (she/her)
Major: Psychology, Sociology
"I'm excited about the Opportunity Northeast fellowship because I'm looking forward to helping create a healthier Spokane and building strong relationships with the Spokane community!"
Isabella Sedano '25 (she/her)
Major: International Studies Minor: Spanish
"I am excited about the Opportunity Northeast Fellowship this summer because I will get the opportunity to meet new people, build stronger ties within the community, and assist youth with their transition into high school!"
Maureen (Moe) Burns '23 (she/her)
Major: English Literature, Sociology Minor: Solidarity and Social Justice
"My volunteer experience with the CCE fulfills me in so many ways, and I am really looking forward to further engaging with the Spokane community through this office. I am so excited to build relationships with so many different individuals and get to learn about myself, others, the community, and social justice in the process.
Jessica Childress '23 (she/her)
Major: B.S. Applied Mathematics
"I'm excited about being a summer fellow because of all the great kids I continue to meet through CCE's youth programming initiatives.
Aaliyah Mae Maniego Lewis '24 (she/they)
Major: Computer Science & Computational Thinking, concentration in Communications
"I am excited to return to the Fellowship to create intentional and authentic relationships with the students we'll be working with this summer."
Spenser Yousko '23 (she/her)
Major: Business Administration, concentrations in Marketing and Entrepreneurship Minor: Solidarity and Social Justice
"I'm really excited for this Fellowship to get more involved with the Spokane community, especially working with the schools and youth!"
Avery Kain '23 (she/her)
Major: Sociology Minor: Business
"I'm excited to be a Opportunity Northeast Summer Fellow and continue working alongside the Logan community in the postsecondary area!"