Gonzaga honors seven on Commencement weekend May 7-8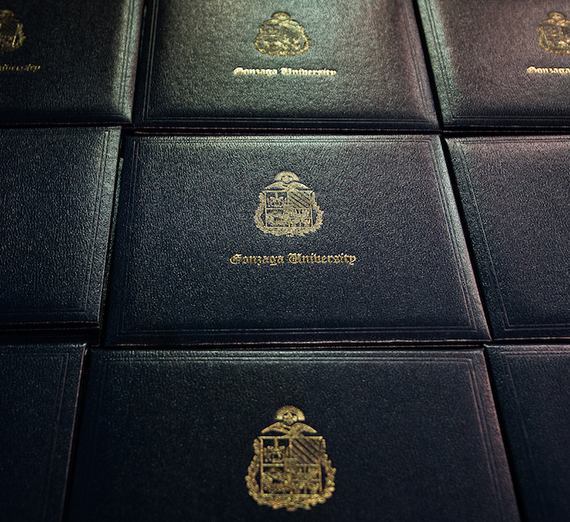 ---
SPOKANE, Wash. – Gonzaga University will bestow awards at Commencement ceremonies on a former governor, the commissioner of the West Coast Conference, a businessman-philanthropist, a couple whose entrepreneurship invigorated the local hospitality scene, a difference-maker in education and a Holocaust survivor who has shared her story and spoken of forgiveness.
---
Christine Gregoire, former Washington governor and attorney general, will receive Gonzaga's Law Medal at the Law School ceremony on Saturday, May 7.
In 2005, Gregoire became the state's second female governor and served two milestone-filled terms through 2013.
She created the Department of Early Learning, spurred reforms to the K-12 system and investment in higher education, and spearheaded an investment in infrastructure, including the building of the largest floating bridge in the world and the transportation tunnel to open Seattle's waterfront. She also led key trade missions and foster care system reform. During her second term, Gregoire positioned the state to emerge from the "Great Recession" as one of the most financially secure.
In her role as CEO of Challenge Seattle, Gregoire leads an alliance of CEOs from 21 of the region's largest private-sector employers who work together to ensure the greater Seattle area remains vibrant, innovative and globally competitive.
Upon graduating from Gonzaga University Law School in 1977, Gregoire honed her law and leadership skills as an assistant state attorney general. She went on to serve four years as director of the state Department of Ecology and in 1992 was elected state attorney general, a position she held for three terms.
---
Gloria Nevarez serves as the fourth full-time commissioner in the 66-year history of the West Coast Conference and is one of nine female conference commissioners serving at Division I schools.
In the last two years, Nevarez has directed overhauls to the conference's branding by expanding the league's national television contracts and adding a long-term title sponsor for the men's and women's basketball tournaments.
She also has launched groundbreaking social justice initiatives, with the WCC becoming the first Division I conference to adopt a diversity hiring practice, the groundbreaking "Russell Rule" adopted in July 2020.
She also advises WCC presidents on issues such as NCAA policy on name, image and likeness, and evolving transfer rules.
Nevarez received her Juris Doctor from the University of California and began her athletics administrative career at San Jose State University, followed by positions at Cal, the University of Oklahoma and the Pac-12 Conference.
She will receive an honorary Doctor of Laws degree at Saturday's Law School ceremony, at which she is the featured speaker.
---
Terry Payne's most recent company, PayneWest Insurance Inc., is ranked among the 100 Largest U.S. Brokers and has been named by Business Insurance magazine as among the "Best Places to Work in Insurance."
That concern for a healthy environment extends beyond employees to several communities in the form of philanthropic endeavors.
The Payne Family Native American Center & Elouise Cobell Land and Culture Institute at the University of Montana exemplify the importance Terry and Patt Payne and their family place on the Indigenous cultures and people of their home region. The Paynes also helped fund the recently opened American Indian Hall at Montana State University.
At Gonzaga, The Payne Center for Leadership Development represents the priority Payne places on ensuring that people from all backgrounds and academic disciplines are given the opportunity to grow as leaders. Significant support of student scholarships, especially for those coming to Gonzaga from underrepresented groups as well as through the Robert J. Spitzer Endowed Scholarship, furthers that priority
Payne will receive an honorary Doctor of Laws degree at Saturday's Graduate School ceremony, at which he is the featured speaker.
---
Through a strong partnership centered on the hospitality industry but also extending beyond it, Walt and Karen Worthy made Spokane a better community with their entrepreneurial spirit.
Best known for restoring the long-closed Davenport Hotel, which dates to 1914, they reopened it to great fanfare in 2002. The Worthys then expanded the Davenport brand with Hotel Lusso, the 22-story Davenport Tower and the Davenport Grand hotel.
All of this was done through Worthy Enterprises LLC, a real estate development company whose footprint also is seen in office complexes throughout the area. As billboards reminded residents, "Walt Worthy has square feet."
Their citation notes: "They have exemplified the spirit of Gonzaga University by building and strengthening the structural foundations of our community, just as the University seeks to develop and fortify the foundation of the values- and faith-filled education upon which students can build their lives."
The Worthys each will receive a Doctor of Humane Letters degree at Saturday's Graduate School ceremony.
---
Angela Jones has been working to improve public education for more than a quarter century.
She grew up on U.S. Navy air bases and developed a fascination with airplanes. She had an early interest in science, technology, engineering and math, but was unsure how she might carve a path in one of those disciplines.
Years later, as CEO of the nonprofit Washington STEM, Jones led initiatives that sought to leverage science, technology, engineering and mathematics for social change, seeking to remove barriers and create equitable access for historically excluded students.
Recognizing her capacity to effect real change, the Bill and Melinda Gates Foundation appointed Jones as director of its Washington State Initiative, emphasizing transformational change that begins at the grassroots of communities.
Jones brought to her leadership roles her experiences at Gonzaga's Law School, where she was involved with the Black Student Union, served as diversity chair of the Gonzaga Student Law Bar Association and was a student representative for Gonzaga Law on the Minority and Justice Commission.
Her studies and activities emphasized equity and creating opportunities for all people, passions she applied first as a teacher and then as director of Human Resources and Conciliation Services at Spokane Public Schools.
Jones will receive a Doctor of Humane Letters degree at Sunday's undergraduate ceremony, at which she is the featured speaker.
---
Carla Peperzak arrived in Spokane in 2004 and made an immediate impact as she shared her experiences as a Jewish girl and young woman in the Netherlands during the Holocaust, during which she lost 18 family members. Her bravery that saved many lives is well-documented.
Peperzak has spoken to students throughout the region and was featured at Gonzaga's Hate Studies Conference in 2017, where she shared her story and message of forgiveness and empathy. In 2021, she helped Gonzaga's Jewish community celebrate the acquisition of a Torah.
She was named Washingtonian of the Year in 2020 and a local middle school under construction will bear her name.
Peperzak will receive an honorary Doctor of Humane Letters degree at Sunday's undergraduate ceremony.