I Love Being a Zag Because... Part 2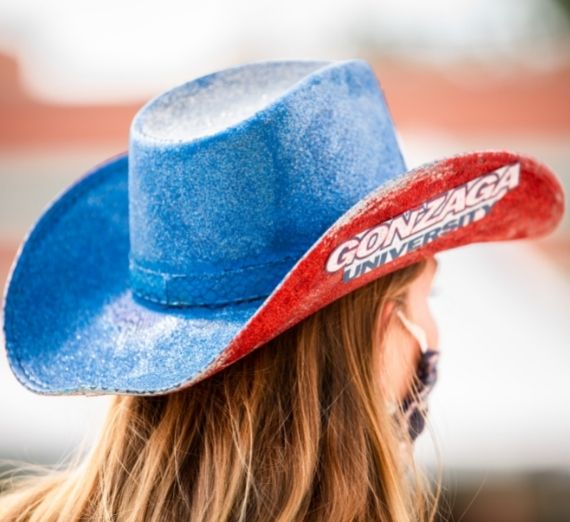 ---
Annie French '24
I love being a Zag because of the amazing school spirit and people. Nothing compares to game days where practically everyone puts on their GU gear and lines up for the games. Even though we were only able to tent once for
Tent City
this year, it was an experience I will remember forever. I am so lucky that the people I met here will be my lifelong friends. I didn't know anyone going to Gonzaga, so my roommate and I were a random pairing. However, we bonded over our love for basketball and are living together all four years. While this experience doesn't apply to everyone, it shows how school spirit can lead to lifelong friendships.
Jensen Kintzele '24
To be a Zag is to be a member of the Gonzaga community, and trust me, it is great to be a Zag. Being a Zag can take many different forms, and I have a multitude of reasons for why my experience has made me love being a part of the Gonzaga community. I love the close relationships with professors and how accessible they are outside of class. I love walking down the brick paths waving at everyone I know. I love how active participation is in intramurals and in general outdoor activities. I love walking fifteen minutes to downtown Spokane through
Riverfront Park
. I love being able to cross our cozy campus on my feet without needing to bike or drive. I love students' willingness to help each other, often studying together outside of class or holding the door open for one another. I love attending Gonzaga sporting events, especially basketball where everyone goes crazy in The Kennel. Most of all, I love the tight knit group of friends I have formed as part of a welcoming, and caring community here on campus. These are just a few of the reasons why Gonzaga makes it so easy to love being a Zag.
Ryan Rizzuti '24
I love being a Zag for many reasons. Choosing a school wasn't easy but being a Zag felt like more of a calling. The best part by far is being a part of that Zag community. Associating yourself with that identity is a powerful feeling. Being a Zag is knowing you have the support of your classmates, your professors, your counselors, advisors, mentors, and resources committed to helping you succeed. Being a Zag means your apart of the energy that fuels all students: at the Kennel, in intramurals, in the classroom and through service. As a sophomore, my favorite part about being a Zag being able to live with all my friends that I made freshman year. We all live together, do intramurals together, and most importantly support each other through every hard time we face and push each other to do our best.
Audrey Gratzer '24
I love being a Zag because I get to be surrounded by a community who supports me. I love being able to feel the excitement of everyone around me as we cheer for our basketball team in the Kennel. I love the idea that Gonzaga embodies the saying "Zags Help Zags." This means that everyone can rely on others in a time of need and everyone can always lend a helping hand. One special thing about Gonzaga is how everyone holds open the door for others when going into your classroom. I also love being a Zag because I get to go through the college experience surrounded by my friends, making memories with them, whether it's studying late at night or going skiing. Being a Zag means I can feel surrounded by a community that has my best interests at heart. I love being a Zag because of the great positive community that influences me to be a better person.