Building up the "B-School Class of '91" impact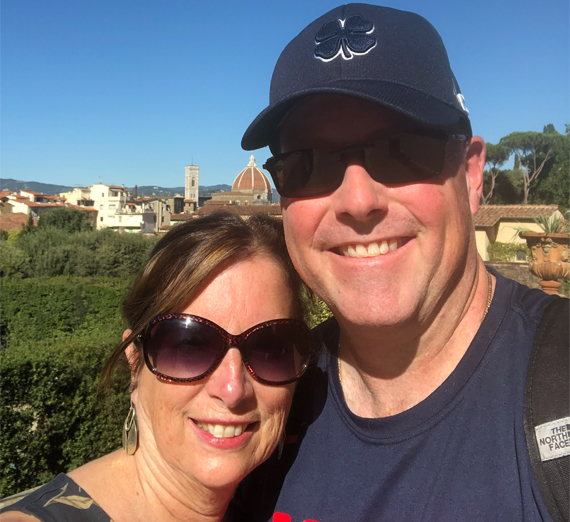 ---
Born and raised in Kent, Washington, Kevin Briscoe's parents modeled the family value of giving back to the community with regular giving to their Alma Mater. Briscoe loved his own collegiate experience so much—especially as a member of Gonzaga's club crew team and student in the School of Business Administration—that when he and his wife, Carol, discussed plans for their own philanthropic impact, Gonzaga was a natural fit. But when it came time to name the scholarship they'd created, the Briscoes paused.
"It's about having a meaningful impact," he remarked. "That's why we landed on the 'B-School Class of '91' for the name—in honor of his graduating class from Gonzaga's School of Business Administration. Briscoe is excited for what the scholarship will do for students who might not otherwise be able to access a Gonzaga education and for the fund's potential to grow.
"If other classmates join in contributing, we could build it up together," said Briscoe. He added, "My Gonzaga education was seminal to the success I experienced in my career. It was the perfect environment for me to be held accountable, and the business and liberal arts focus was the differentiator in terms of my ability to effectively communicate ideas and convey concepts. The scholarship is so others can benefit from that, too."
After graduating from Gonzaga, Briscoe joined a Fortune 100 company right after graduation and worked with companies large, small, and in an ownership role, leading him to where he is today, working with a company called CFO Selections.
"We focus on small to mid-market companies that generally don't need a full-time chief financial officer," explained Briscoe. "We have a team of professionals who've worked in those senior executive roles in companies before but are ready to pull back from the 70-hour workweek. It's a lifestyle business with about 100 consultants."
Another brand of the company helps provide professionals in other financial roles, and another focuses on interim executive directors for nonprofit organizations. The company just went public in Colorado and has a significant presence in the Pacific Northwest. True to Briscoe's Gonzaga roots, which run deeply in service of others, the profits from all three brands contribute to a foundation that awards grants to more than 30 organizations—just over $1,000,000 so far.
Briscoe's gift to Gonzaga comes as the University celebrates the 100th anniversary of the School of Business Administration. He takes pride in the growth of the School since his days as a student.
"It's become far more prestigious," he mused, "and regardless of the growth, you still have a very strong community."
He also enjoys telling families with children considering colleges about the benefits he experienced at Gonzaga and offers his alumni tuition waiver whenever he can.
Kevin Briscoe and his wife, Carol.
Join the Briscoes in supporting Gonzaga students with a gift to the B-School Class of '91 Scholarship