Student-Athletes Match Sport Achievements with Classroom Success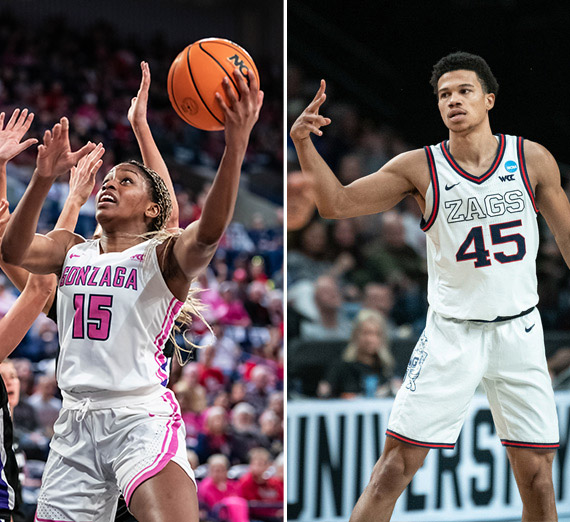 ---
Updated February 22, 2023
Since 1978, Gonzaga student-athletes have received 34 Academic All-America honors, including nine who have been honored more than once, and three – basketball's Bryce McPhee (1985) and Jeff Brown ('94), and soccer's George Josten ('07) – who have received the recognition thrice. Since the current 23-year NCAA men's basketball tournament run began in 1999, Dan Dickau ('02), Blake Stepp ('03, '04), Kelly Olynyk ('13), Domantas Sabonis ('16), Nigel-Williams-Goss ('17) and Corey Kispert ('21) have made the list.
Why Gonzaga student-athletes continue to be among the nation's leaders on their courts, fields, courses, tracks and waterways while also ranking among the top universities in academic achievement is a rather unusual phenomenon.
Why does this happen here?
"It's a total team effort. It starts with the coaches who recruit student-athletes who care about academics and work hard to excel in the classroom as well as their sport. And it involves faculty and staff who work with students as they balance their academic pursuits with athletics and other commitments," says Peggy Sue Loroz, professor of marketing and Gonzaga's NCAA faculty athletics representative.
"Our student-athletes care about their community and understand their academic purpose," says Senior Associate Athletic Director Rian Oliver. "And our faculty are committed to helping these student-athletes, and all Gonzaga students, pursue their academic and extracurricular passions."
"We've had student-athletes who compete for their country's national teams during the academic year which requires significant travel, and yet they successfully navigate that while keeping up with their coursework," said Assistant Athletic Director for Academic Services Steffany Galbraith. "We have faculty who are supportive of these kinds of unique opportunities.
"In our line of work, our 'moments' are more apt to be small daily accomplishments we get to be a part of with our student-athletes like a high grade on an exam they had studied hard for, a presentation they were nervous about giving but came back and told us they did well, or finding new ways to help students stay organized with planners or weekly to-do lists. Graduations, getting their first jobs or helping them find a major they thrive in are big moments for us," Galbraith explains.
Gonzaga Athletics' academic services department meets consistently with incoming first-year and transfer student-athletes in their first semester here to ensure a successful transition to GU academic life. About 20 undergraduate students from a breadth of majors serve as peer tutors for student-athletes. In a New Athlete Orientation class offered each fall, upper-class student-athletes share the inside scoop on their majors pertinent to those shared by the first-year students. The department also tracks academic progress, both NCAA academic eligibility and graduation from Gonzaga, on all 340 student-athletes.
The assistance doesn't stop there. Athletic training, strength and conditioning, health and wellness education and life skills prep are also offered through Athletics, all focused on supporting the student-athletes. "We're all pulling the rope in the same direction," Oliver says.
In addition, all students receive steadfast support from the University's Center for Community Engagement, Center for Student Academic Success, Center for Cura Personalis, Office of Health Promotion, Health and Counseling Services, and Career and Professional Development, Oliver adds.
This work by Gonzaga's student-athletes and support from many corners of the university help Zags to maintain high academic marks:
Fall 2022 department grade point average is 3.51
26% of Gonzaga's 340 student-athletes major in business, 9% in nursing and human physiology, 8% in engineering and 7% in biology
Women's tennis had a department-high 3.89 GPA last fall, with men's tennis at 3.83
Women's basketball fall GPA is 3.48, men's basketball 2.86
Men's basketball player Rasir Bolton was a 2022 Division I-AAA Athletic Directors Association Scholar Athlete
Gonzaga's student-athlete Graduation Success Rate (recognizing those athletes who complete their eligibility here) ranks among the nation's top schools at 97%, with 11 of Gonzaga's 13 countable programs possessing 100% graduation rates. The national GSR average is 89%.
255 Zag student-athletes were honored on the WCC Commissioner's Academic Honor Roll (cumulative GPA above a 3.0) for the 2021-22 academic year, with GU first in the conference in number of student-athletes receiving gold, silver and bronze awards


Check out our basketball page for more hoops-inspired stories.