U.S. News Ranks Gonzaga's MBA Programs among Nation's Best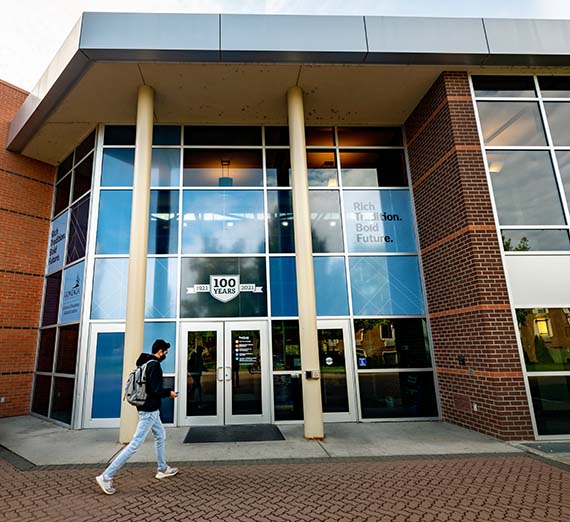 ---
SPOKANE, Wash. — U.S. News & World Report ranks Gonzaga University's part-time MBA program 57th best in the nation and Gonzaga's MBA in American Indian Entrepreneurship program 14th best in the nation. The publication also recognized Gonzaga's MBA concentration in Project Management as sixth in the nation in the respective specialty category. The rankings, released today, are part of the 2023 edition of "Best Graduate Schools."
Gonzaga's MBA programs currently enroll approximately 150 students. The Gonzaga MBA combines small class sizes, internationally recognized educators, a faculty-led study abroad program, community-engaged courses, and a relevant curriculum to tailor the student experience for individual goals and flexibility.
"Being ranked 57th nationally is a recognition of the high quality of our students, the dedication of our faculty and staff, and the relevance of the curriculum," said Mirjeta Beqiri, Ph.D., director of Gonzaga's MBA Programs and a professor of operations management. "What our students value most about our program is the integration of ethical, social, and sustainable themes across the curriculum – which exemplify Gonzaga's mission in action.
"The MBA in American Indian Entrepreneurship program strives to equip business leaders with the necessary skills to effectively manage and support sustainable businesses and make a significant impact on their tribes and reservations. Being ranked in the top 15 nationally in the Entrepreneurship specialty category highlights the tireless work of our inspiring students and our devoted faculty and staff."
"I'd like to extend a heartfelt thank you to all our students and colleagues for their resilience and commitment to our MBA programs during such a challenging time," Beqiri added.
By collecting graduate school data annually, U.S. News is able to present the most current figures on enrollment, job placement, faculty and other critical quality indicators that help prospective students make informed decisions.
U.S. News & World Report is the global leader in quality rankings that empower consumers, business leaders and policy officials to make better, more informed decisions about important issues affecting their lives. A multifaceted digital media company with Education, Health, Money, Travel, Cars, News and 360 Reviews platforms, U.S. News provides rankings, independent reporting, data journalism, consumer advice and U.S. News Live events. More than 40 million people visit USNews.com each month for research and guidance. Founded in 1933, U.S. News is headquartered in Washington, D.C.
Gonzaga's School of Business Administration, celebrating its centennial, was founded in 1921 to help stock a fledgling city with business leaders, bankers, accountants and professionals in economics, finance, and trade. The first formal degree was a Bachelor of Science in Business Administration in 1930. The first master's degree was an MBA in 1961. Gonzaga's MBA in American Indian Entrepreneurship (MBA-AIE) program was established in 2001 with the generous help of the Johnson Scholarship Foundation.
Gonzaga University's Graduate School of Business is home to innovative master's level programs in business and accounting. For more information, visit www.gonzaga.edu/school-of-business-administration/graduate-programs or contact Haley Topliff at (509) 313-7047.
Learn more about Gonzaga's MBA and MBA-AIE Programs.