Jesuit with Gonzaga Connections Served in Ukraine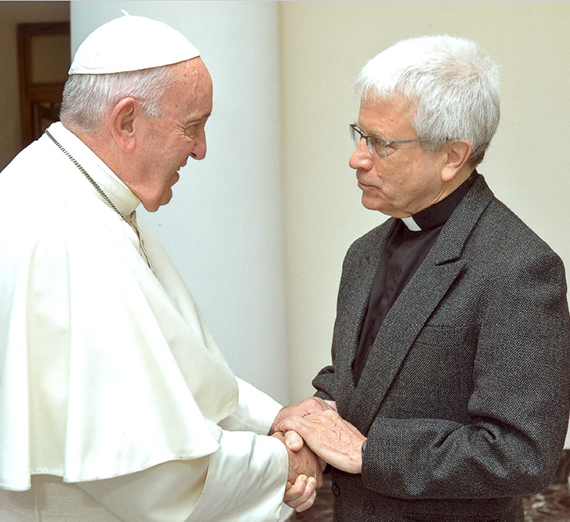 ---
Fleeing from War
A Jesuit priest who studied at Gonzaga University and later oversaw Jesuit works in Ukraine for 13 years after the fall of the Soviet Union says a refugee center he helped start in the western city of Lviv is right in the middle of citizens' flight from the war.

"Lviv is now receiving about 50,000 refugees per day," said the Rev. David Nazar, S.J., who was born in Toronto to a family of Ukrainian origin. "Virtually all the displaced people who are fleeing to Poland and more broadly in Europe would be passing through, so the center is very busy with the refugees providing advice for other organizations."
Lviv, just 43 miles from the Polish border, was considered mostly safe until recently, when first its outskirts and then on Saturday the city itself came under attack.
The center there is run by the Jesuit Refugee Service, an organization founded in 1980 by the Rev. Pedro Arrupe, S.J., then superior general of the Jesuits, to respond to the plight of Vietnamese boat people fleeing their war-ravaged homeland. With 10 regional offices, JRS now serves refugees in 56 countries with a mission to accompany, serve and advocate on behalf of refugees and other forcibly displaced persons.
Nazar wrote at length from Rome, where he was appointed rector of The Orientale by Pope Francis in 2015. It is one of three international academic institutes entrusted to the Jesuits there. His work now is in sharp contrast to lighter days at Gonzaga in the 1970s, when he played keyboard in a popular all-Jesuit campus band. He was studying at GU as he advanced toward ordination.
"With many students and professors from former Soviet countries and also from the Middle East, the sensibility to political conflict and war is very high," Nazar said. "The Orientale community is intensely preoccupied with the invasion into Ukraine. For our Middle Eastern students it is the felt compassion of 'déjà vu' whereas for those of Eastern Europe there is the fear of 'Are we next?' again. There is no evident conflict between our Russian and Ukrainian students."
"We have a lot of Ukrainian students and are well-connected to the Ukrainian church," Nazar said.
Religion plays a crucial role for Ukrainians, he explained.
"Ukraine has a very religious culture and the churches have a high appeal and authority among the people," he said.
The churches' voice was front and center, he said, during the Orange Revolution of 2004 and the Maidan of 2014, a wave of demonstrations and civil unrest that began at Maidan Nezalezhnosti (Independence Square) in the capital, Kyiv. The protests were sparked by the Ukrainian government's sudden decision not to sign the European Union-Ukraine Association Agreement, instead choosing closer ties to Russia and the Eurasian Economic Union.
Ukraine's parliament had overwhelmingly approved of concluding the agreement with the EU, while Russia had put pressure on Ukraine to reject it.
Of the churches' influence, Nazar said: "It is an impressive voice for dignity, integrity and justice without violence. It is a voice of defense, not of aggression and retaliation.
"This very much matches something deep in the Ukrainian character. It should be noted that there is no conflict between Russian and Ukrainian people. The conflict rests at the top of the political hierarchy and with oligarchs."
Nazar, who said there might be 100 alumni of the Orientale in Ukraine, among them some 17 canon lawyers and several bishops, is confident the Russians will continue to meet staunch resistance.
"Neither for political nor for religious reasons would Ukraine submit to Russian domination. Its people and its churches survived 70 years of Soviet rule with sanguine character and very active underground churches. They will do this again, if need be," Nazar said.
"Invasive attempts by Vladimir Putin are much weaker than the Soviet variety. He has a diminishing circle of like-minded ex-Soviet types who want to restore an empire. As the popular demonstrations in Russia have shown, there is not popular support for this kind of adventurism.
"There is a Soviet saying that goes: 'If I can't have it, I will make sure that you can't either.' Hence, in the long term, while not being able to (intimidate) Ukrainians, Putin can do a lot of damage to the country and its people, as well as its neighbors. The former Warsaw Pact countries are watching with great anxiety because they firmly believe that Putin wants them next. The West might laugh at this attitude, but it is deeply felt in the neighboring countries and with good reasons based in lived memory."
A Historical Perspective
"For both pre-revolutionary Russia and the Soviet Union, Ukraine was disproportionately important as a rich source of agriculture and mineral wealth," he said. "Its extended coast on the Black Sea has important benefits for trade, tourism, defense, and access to the Mediterranean Sea and its markets. Ukraine accounted for 25% of the wealth of the Soviet Union, including much of its metals production and manufacturing. Vladimir Putin's nostalgia for the Soviet Union is in part based on the opportunities for wealth and global connections that Ukraine offers."
Nazar added that Ukrainians hold a long-term view of the ugly present.
"Ironically, many Ukrainians feel that their conflict with Russia could be the turning point for Russia itself, the occasion of its conversion," he said. "This was a common thought during the Maidan of 2014 when the Ukrainian president was taking hourly instruction from Putin, as was subsequently admitted.
"Putin also sent sharpshooters to the Maidan in unmarked uniforms, as he also did in Crimea. The hope was that if Ukrainians could meet violence with non-violence, they would win not only the battle but defeat this destructive Soviet-style ideology once and for all. And the Russian people would taste new freedoms."
He added that Russian people are not free to read what they wish, that the national media are heavily controlled, that outside of Moscow there is great poverty, that elections are publicly manipulated and corrupt interests control national decision-making.
"If the current expression of Russian authoritarianism can be broken or shown to be undeserving, the people would have a chance to create their own country for the first time in Russian history," he said.
"This is a Ukrainian view that gives broader dignity to their suffering. It is fair to view the war not as a battle between two countries, but between two worldviews, one of which Russia alone retains."
The unity among nations following the invasion buttresses Ukrainians' hope, Nazar said.
"The solidarity that the rest of the world is showing is a new phenomenon, one that we have rarely seen, perhaps reminiscent of the South African boycott of the last century," he said. "The moral and material support of Ukraine is key, not only for Ukraine. As Solzhenitsyn used to say of the Soviet Union, it needs constant moral pressure backed up with concrete measures, not war, to bring it down.
"Ukraine needs food and material supplies to continue and surely military support to continue its battle against a larger aggressor. I think it would be an error for other countries to enter into the war without having been first attacked. The international support for Ukraine is obviously key and it could have the same effect on Russia that the Afghanistan war eventually had."
Don't miss other news from Gonzaga University.