Gonzaga Named Bicycle Friendly University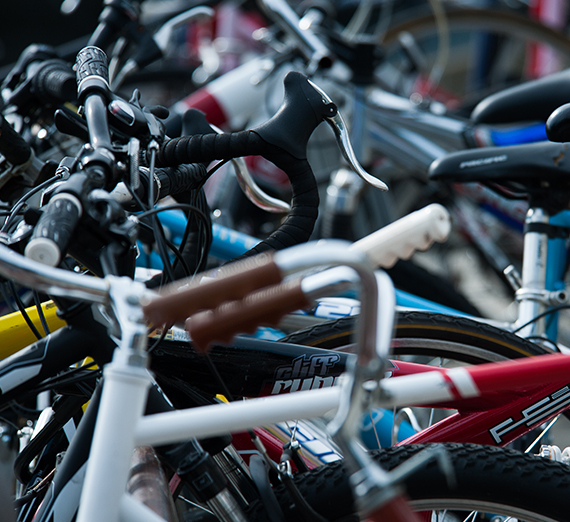 ---
SPOKANE, Wash. – The League of American Bicyclists, a grassroots organization encouraging better bicycling and protecting the rights of people who bike, has named Gonzaga University a bronze-level Bicycle Friendly University campus in recognition of achievements in promoting and enabling safe, accessible bicycling.
"I am pleased to celebrate 33 new and renewing Bicycle Friendly Universities joining the movement to build a Bicycle Friendly America for everyone," said Bill Nesper, executive director of the League of American Bicyclists.
"On many campuses, bikes are simply another way to get around but at Bicycle Friendly Universities, students, faculty and staff are encouraged to think beyond the utility of bikes as transportation, truly valuing their ability to foster a healthier, more connected campus life."
Nespert noted recent challenges.
"Even in the midst of a pandemic that left many no choice but to transition online, these universities are not only making it safer and easier for people to get around their campus by bike but finding ways to keep campus bike culture alive and well," he said.
Jacob Morgan of Gonzaga's Office of Sustainability submitted the application.
"It included information on our bicycling amenities, our abundance of bicycle parking, safety, bicycle education, bicycle promotion," Morgan said. "The organization also had me administer a survey that allowed them to evaluate the Gonzaga community's perception of bicycling. We received more than 300 responses."
The Bicycle Friendly University program now includes 222 colleges and universities in 47 states and the District of Columbia, and is part of the organization's Bicycle Friendly America program, which awards certifications to communities and businesses.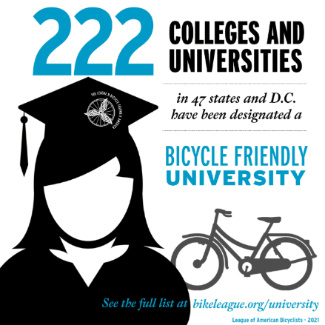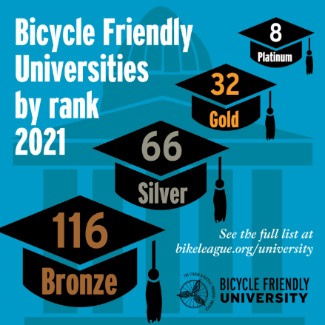 Not all college or university applicants receive an award, but each receives feedback and guidance on how to improve. There is an honorable mention category. Those designated as bronze or above must renew their status every four years to ensure they merit continued recognition.
Among institutions that moved from honorable mention to bronze status is the University of San Francisco. Loyola Marymount University advanced to silver.
Jim Simon, director of GU's Office of Sustainability, noted the bronze-level award and indicated efforts will be made to reach silver or gold status – perhaps even platinum, achieved by just eight schools so far. Thirty-two are at the gold level.
"This is a great place to start," Simon said. "It gives us something to plan toward for a higher rating in the future."
Learn more about the League of American Bicyclists and its Bicycle Friendly University program at bikeleague.org