Gonzaga Grad Rises to Mariners VP
SPOKANE, Wash. – The Seattle Mariners have named a Gonzaga University accounting graduate to a top leadership position as she begins her ninth season with the club in March.
Vice President, People and Culture is the new title for Brooke Sullivan, who earned her degree at Gonzaga in 2003 and completed a master's in accountancy a year later.
She's excited about the challenge.
"People and Culture is really about initiatives that support employees in their entire lifecycle with a company, and culture is about how work is done in your organization," said Sullivan, who was appointed senior director of the area in 2020."
"I think People and Culture has really evolved to become a strategic part of most successful organizations. Maybe better stated, when companies make people and culture part of a strategic plan and not simply compliance-related, you see better business results."
As for the Mariners?
"This is the best time to be on board the Mariners train," Sullivan gushed in an email, mindful of the optimism surrounding the team and its highly rated minor-league pipeline. "The last homestand of the season in 2021 was so incredible. The fans showed up, without much warning, and showed anyone newer to the Seattle area that this place is a baseball town too!"
Gonzaga memories – and a hurdle
Sullivan, who served as vice president of the GU alumni's Seattle Chapter from 2009 to 2013, had a difficult time narrowing "favorite memories" from her undergraduate years but landed on a couple.
"From an academic standpoint, Dr. Eddie Birrer and his 8 a.m Intermediate (accounting) courses were definitely impactful for many reasons," she recalled. "First, why did 8 a.m. used to seem so early as a college student? Of course, he was an amazing teacher of the actual material we were learning, but also the care he took for each student.
"He was always available for extra help and just simply having high expectations of all of us was impactful in that you knew he trusted that we could do it. That confidence has informed the way I approach hard situations. Very little is actually impossible, it just takes hard work, dedication and perseverance to get there."
And getting there wasn't always easy for Sullivan, who was Brooke Wilson before marrying a fellow Zag.
"I had to retake Intermediate 2 in the summer to improve my grade!" she said. "Having to retake that course was one of my first real 'failures' in my adult life and I look back on that with gratitude to have had the opportunity to fail in an environment that was supportive enough to know that failure isn't permanent."
Sullivan also recalled an opportunity that she now views through the prism of GU's mission.
"I had an amazing opportunity to be a part of planning a National Jesuit Leadership Conference and I remember feeling like it was a lot of responsibility," she said. "I am not 100% sure why I was entrusted with it, but when I reflect I think it is central to Gonzaga's mission of developing the whole person – another great opportunity to take a risk in a safe environment and building confidence to go out in the world and make a difference in whatever you are doing."
From accounting to human resources
Sullivan's decision to shift her business focus emerged over time, developing during her nearly decade-long work at accounting firm Deloitte's Seattle office as a staff auditor and audit manager.
"Even as an audit manager at Deloitte, I was always drawn to the part of the job that was focused on developing the team and individuals to be able to do their best work," she said. "I also spent a good amount of time working on recruitment of new staff and orientation of our new staff each year. I knew that was the part of my job that really brought me joy."
Sullivan, who serves on the Gonzaga Accounting Advisory Board, joined the M's in 2014 as assistant controller and became controller three years later. The big move to human resources, just a few offices down the hall, came in 2018.
"When the opportunity presented itself in the HR organization at the Mariners, I thought a lot about if I wanted to make a full career change," she said. "I felt like the background I had at Deloitte of training, development and recruitment, combined with the analytical skills I had developed through my work in auditing and corporate accounting, would be a good fit in a people organization.
"We had a new senior vice president of HR at the time and I am so thankful she was supportive of the idea to have me make the move. I really wanted to be able to feel that joy that I was able to get in the times I was able to focus on people initiatives at Deloitte as part of my everyday job.
"But while I am a nerdy accountant at heart and miss all my spreadsheets sometimes, you may be surprised just how many spreadsheets are used in HR too!"
About that closing homestand
With the Mariners still in the hunt for a playoff berth and "Believe" signs everywhere, fans rocked T-Mobile Park for the final homestand of 2021.
"We had everyone in the organization helping, from our amazing announcer Rick Rizzs placing placards on seats before gates opened to front office folks scanning tickets," Sullivan remembered. "And, of course, our amazing event staff who are always providing the great fan experience helped to orient people who had come back to the ballpark for the first time in a while due to COVID.
"You will not want to miss this season. And there is not much better than watching the sunset over the Sound while watching the Mariners win on a warm summer night."
Her children's take on her job
She and her husband, 2003 GU alum Matt, live in Issaquah. He not only has served as president of the Seattle alumni chapter but is joining GU's Board of Regents this spring. While their four children – Colin, Ryan, Patrick and Claire – think it's cool that mom works for the Mariners, their grasp of her responsibilities comes up a bit short.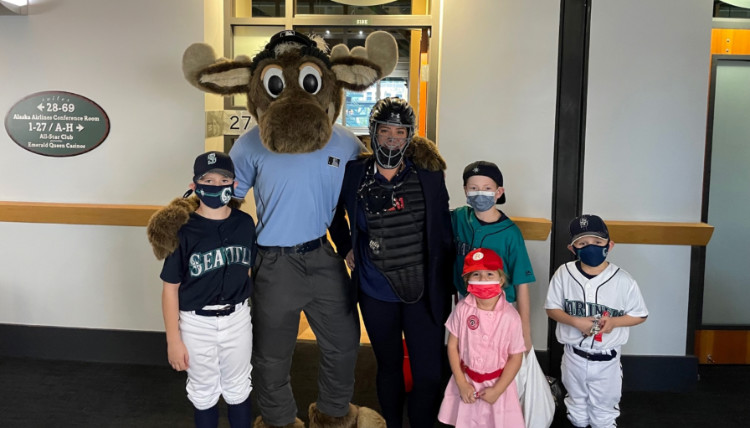 "They love baseball and they love the Mariners," she said, "but they have no idea what I do. One of my kids asked me if I just go to work and watch baseball all day. So, I would say they are very excited to get the perks of having a mom work for the Mariners, but the role itself? I think they would rather I was the first-base coach or something."
Advice for students
Her own path to her present position gives Sullivan credibility when offering "how to get there" advice.
"To those who are looking to have a career in HR/People and Culture," she said, "you do not have to take a traditional route to get there – so many people who are in this career started in other careers.
"It is so hard to know exactly where you may want to focus when it comes to a career in general. So be open to opportunities and, even in the role you may have, look at opportunities to take yourself outside your comfort zone and try new things – as long as you are getting your work done first."
Gonzaga Night is coming
While this annual tradition dates to 2015, and Zag basketball standouts Gary Bell Jr. and Josh Perkins have been among those to throw out the ceremonial first pitch, last April 3 turned into an informal Gonzaga Night at T-Mobile Park when the Zags' Jalen Suggs nailed a buzzer-beater against UCLA in Indianapolis to send GU to the national championship game.
The half-court shot came in the bottom of the sixth inning of the M's game vs. the San Francisco Giants, and the initial reactions were scattered as folks streaming on their mobile devices were seeing the shot at slightly different times. Their reaction made audible waves throughout the ballpark. Some fans begin to chant "Let's go Bulldogs!"
Then a timely pitching change by the Giants allowed stadium game day operators to show the highlight on the big screen, at which time Mariners ace and Gonzaga alum Marco Gonzales jumped onto the top step of the dugout and pounded the railing in excitement. He flapped his arms to keep the crowd's enthusiasm going before shouting "Let's go Zags!"
That same enthusiasm will be hard to match, but Sullivan said T-Mobile will be ready.
YES! Gonzaga night at the Mariners is on Saturday, June 11, vs the Red Sox.
"We have an amazing group planning the event, and I cannot take any credit, but I will be there with my Zag and Mariners gear on, ready to cheer on the M's with all my fellow Zags!"
Careers & Outcomes
School of Business Administration
Business Administration
Sport Management