"Unforgettable" – the Legacy of Carl Maxey

Enter the Center for Civil and Human Rights in Gonzaga's School of Law and behold a bold and powerful tribute to Carl Maxey, civil rights leader, boxing champion and Gonzaga Law graduate. Aptly titled "Unforgettable," the piece depicts the life and enduring legacy of Maxey, whose passion for social justice continues to inspire students.
During his career of more than 40 years, Maxey earned a well-deserved reputation as an exceptional trial lawyer. He was the first African American attorney in Eastern Washington and a powerful advocate for the underserved. Despite a highly successful private law practice, Maxey devoted about 20 percent of his time to pro bono work and often took cases that other lawyers wouldn't.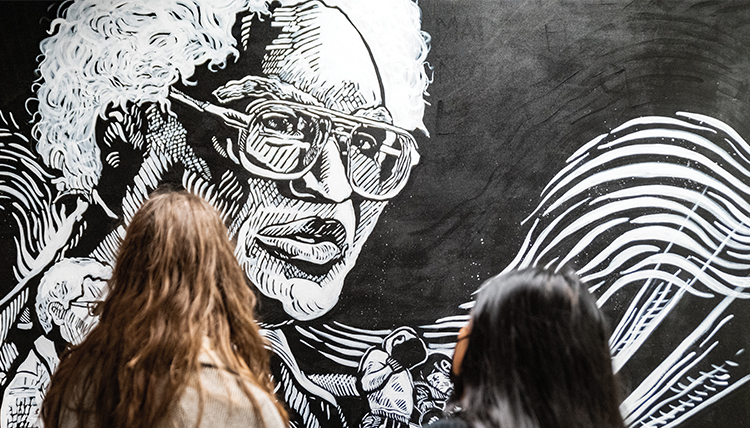 "Unforgettable" - Reinaldo Gil Zambrano
The Center for Civil and Human Rights selected "Unforgettable" after launching a call to the local artist community for submissions that commemorate Maxey and demonstrate a lasting and powerful imprint on social justice. In consultation with the Maxey family, the review committee selected the work of award-winning printmaking artist and assistant professor Reinaldo Gil Zambrano, who came to Gonzaga in 2020.
Originally from Caracas, Venezuela, Gil Zambrano uses relief printing as a storytelling tool for its illustration and reflection. His work expands to installations, murals and even large-scale printmaking with a steamroller. Gil Zambrano holds an MFA from the University of Idaho and a BFA from the College of Idaho. His work has been displayed at local galleries across the Inland Northwest and at international locations.
Asked how he pursued capturing Maxey's powerful ethos and rich personal history, Gil Zambrano replied: "The power of resilience strongly inspired me. Carl was a fighter since an early age, and he demonstrated that proactiveness and willingness to challenge and change during his life. I wanted to illustrate his resilience on a dynamic piece showing his early years as a student-athlete to become a lawyer and a voice for the invisibilized in his community."
The artist also sought to illustrate movement, depicting how dynamic Maxey was, with layers of historical facts and pivotal moments of his life.
"I appreciate the space the Gonzaga School of Law gives to the arts, providing images that interpret the history and legacy growing inside its walls," says Gil Zambrano.
Watch Now: The Artist's Story.
Continuing the Legacy
The Law School's Carl Maxey Social Justice Scholarship Program provides financial assistance to students from historically underserved communities. Last year, three first-year law students became the inaugural scholars in this program, which supports their commitment to social justice.

Want to support the Carl Maxey Social Justice Scholarship? Make your gift here.

Academics
Arts & Culture
Diversity & Inclusion
School of Law
Center for Civil and Human Rights
Gonzaga Magazine