UW School of Medicine-Spokane Student Serves Country and Community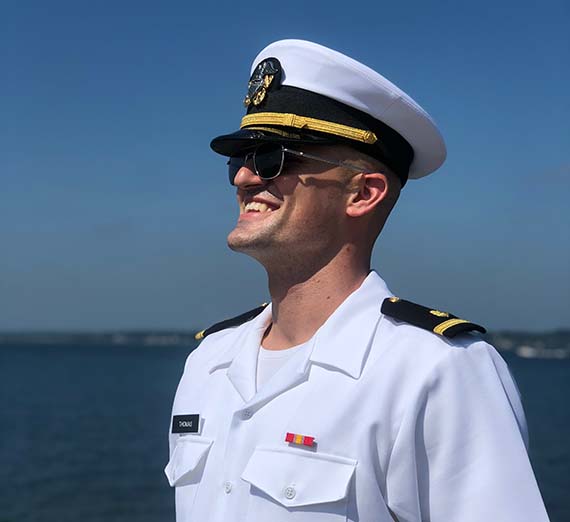 ---
"Medicine is the only thing I thought I'd ever do," said second-year UW School of Medicine (UWSOM)-Spokane student Matthew Thomas.
His parents are both physicians, but Thomas is the only one of their five children to follow in their footsteps.
"Having the desire to help people coupled with the training and ability to do so is what attracted me to medicine,"
Thomas received funding for medical school from the Health Professions Scholarship Program (HPSP), created under the authority of the Uniformed Services Health Professions Revitalization Act of 1972—the primary source of trained healthcare professionals entering the US Armed Forces.
"It pays for my school in return for a term of service in the military," he explained. "I chose to serve in the Navy. I was drawn to the scope of the opportunities and global medicine has always been an interest."
Originally from Salem, Oregon, Thomas was sworn into the Navy the summer before he started at UWSOM-Spokane.
As a Whitworth University grad, he's no stranger to the area, but he was still surprised and delighted by the welcome he received.
"I pulled up at 9:30 at night and a neighbor came out and offered to help me unload."
He quickly acclimated to medical school, however navigating the intricate requirements of his scholarship proved daunting.
"I'm the only military medical student in my year in Spokane," he said. "There's lots of things you need to get done on an HPSP scholarship—lots of extra steps."
While traditional scholarships have well-established frameworks to assist students, Thomas discovered information about military scholarships is difficult to track down.
He persevered, pinpointing resources and helpful contacts. Then he decided to launch the Military in Medicine group at UWSOM-Spokane.
"I thought it would be a waste of all that time and research not to share it with others," he said. "Especially since there are three first-year military medical students in Spokane."
Wanting to collaborate with other universities to pool ideas and assistance, he contacted Military in Medicine groups at Washington State University Elson S. Floyd College of Medicine in Spokane and Pacific Northwest University-Health Sciences in Yakima to join the group at UWSOM, which partners with Gonzaga University for medical and health education, research and innovation.
"I'm establishing a bigger network—more people equal more knowledge."
"I'm also reaching out to first- and second-year UWSOM-Idaho students at the University of Idaho," said Thomas.
Recently he connected with Dr. Pamela Pentin, a UW Assistant Professor of Family Medicine in Seattle. Pentin is a U.S. Navy Reserve Medical Officer with 20 years of combined active duty and reserve experience.
"She formerly led the Military in Medicine group at UWSOM," he said. "She's been a great help, sharing her experience of running a group and the types of events and speakers to include."
This summer Thomas hosted the group's first event featuring a Navy physician he'd met during his training.
"He spoke via Zoom about the process of applying to military and civilian residency programs," said Thomas.
In January, the group will host a WWAMI-wide (Washington, Wyoming, Alaska, Montana, and Idaho) Zoom event. Thomas hopes the event will offer connection points for military medical students across the region.
With six weeks of active duty training each year, coupled with his studies, he plans to pass the Military in Medicine leadership baton to another student next year. He hopes the group will continue to grow and help other students navigate the often complicated world of military scholarships.
"There's no handbook for military scholarships," Thomas said. "I want to offer people as resources instead of internet searches and create a lasting resource that's easy to use. That personal touch is integral to medicine."
The UW/GU Health Partnership is expanding and enhancing top-ranked medical education in Spokane to improve the health and vitality of our region.