Medicine, Business, Law and More in Alumni News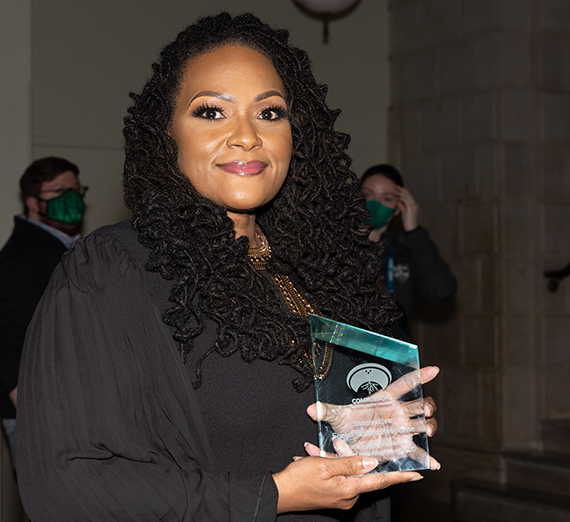 ---
Big Achiever
'10 Kimberly Harden (shown above) won the 2022 Innovative Social Justice Response award from the Commission for Social Justice Educators and the 2022 Community, Equity and Social Justice Award from Washington State University. Founder and CEO of Harden Consulting Group, she has published her first book, "The Allyship Challenge."
Noteworthy
'12 Lizzie Braicks-Rinker gave a TED Talk at the University of Washington this May.
'13 Andy Patton created a website dedicated to Gonzaga content called ScoreZagsScore and hosts the "Locked on Zags" podcast.
'14 Carson Thompson is a registered professional engineer working for Shutler Consulting Engineers in Bellevue, Washington.
Award-Winning
'67 Cornelia Davis, M.D., M.P.H., received the gold medallion and alumni humanitarian service award from her medical school alma mater, University of California-San Francisco, for 50 years of service as a physician and humanitarian worker.
'90 Alfonso Garcia Arriola is a 2022- 2023 Albert Einstein Educator Fellow, an honor earned for his work as a STEM teacher. '01 Sarah Hoiland received a $2.3M grant from the National Science Foundation.
'04 Mikayla Patella-Buckley received a Fulbright Distinguished Award in Teaching Research Programs, funding travel with her family to Finland to conduct educational research and teach science.
'08 Sarah Olson received an International Education Administrator Fulbright Award to go to Germany in fall 2022.
'11 Jorge Quintana has earned five Excellence in Communications Awards from the California Public Relations Association during his time as the director of communications and community engagement for the Redwood City School District in California.

(Left: Mikayla Patella-Buckley; right: Ryan Tacke)
Business Leaders
'96 Troy Ballew is chief operating officer after 15 years as chief financial officer at Oregon Beverage Recycling Cooperative. '08 Stefani Herr is co-founder of SortJoy, a female-founded, earth- friendly company that recently collaborated with Anthropologie.
'10 Estakio Beltran is the digital equity manager for Washington state's Department of Commerce. His work involves how families access education, connect with doctors, apply for financial assistance and maintain important social connections.
'12 Ryan Tacke is CEO of ThrivePass, a benefits technology company. He served as the organization's COO for the last three years.
'12 Matt Tarzwell is part of Fast Enterprises and has worked alongside five other Zags to help this company grow from 300 employees to 1,800. He is a project manager, celebrating 10 years with the Colorado-based enterprise.
Law
'95 Michael Ross serves the board of directors at Gallagher & Kennedy, a firm he joined in 2006.
'99 Mark Popovich is president of the Local Government Attorneys of Virginia.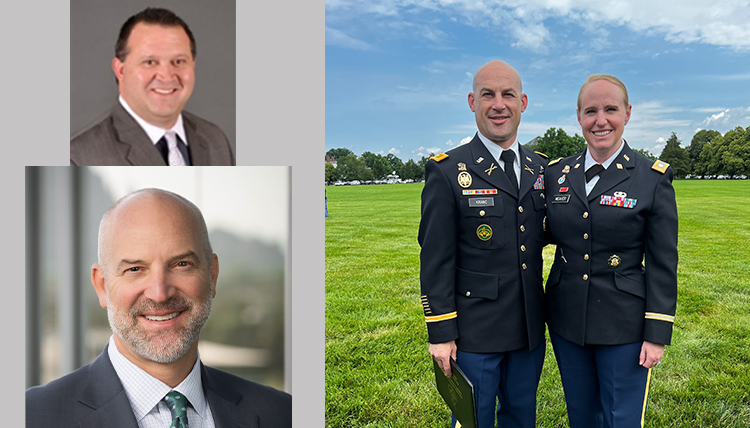 (Top: Mark Popovich; bottom: Michael Ross; right: Molly Weaver)
Government & Military
'86 Chris Jones retired from the U.S. Government Accountability Office after 33 years of service. He plans to travel around the U.S. and to Asia, Europe, South America and Antarctica.
'00 Molly Weaver graduated from the Dwight D. Eisenhower School for National Security and Resource Strategy and is director of strategic operations for the assistant secretary of the Army.
Health & Medicine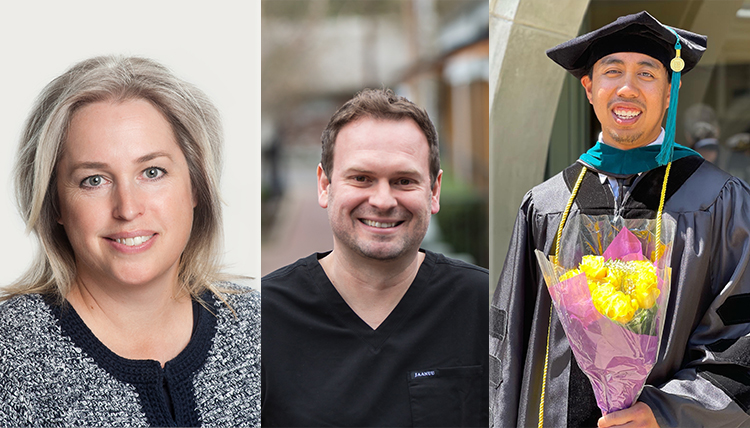 (Left: Diane Blake; center: Tyler Manson; right: Gerald Deocarzia, Jr.)
'94 Diane Blake, CEO of Cascade Medical in Leavenworth, Washington, is chair of the Washington State Hospital Association.
'07 Tyler Manson purchased his medical practice, Oregon Institute of Foot Care, in early 2022. He is the sole owner and practitioner in the Lake Oswego, Oregon, practice.
'14 Matt Beucherie graduated from Sidney Kimmel Medical College in May 2022 and started his anesthesiology residency at Harbor-UCLA Medical Center in June 2022.
'14 Kevin Ferriter, M.D. was Resident of the Year and the Resident Educator of the Year at University of Texas Austin Medical School. He is a chief resident for the school this academic year.
'14 Gerald Deocariza Jr. received his occupational therapy doctoral degree at University of St. Augustine for Health Sciences with a 3.94 GPA.
'19 Christina Borst is in her third year of business owning Front Range Family Psychiatry LLC, working to expand rural mental health care from two days per week to more.
Squisito!
'05, '08 M.B.A. Michelle (Chang) Manson and her husband co-host Chicca's Cooking Club, partnering with a friend in Tuscany, Italy, to produce online cooking classes live from Tuscany.
Faith & Religion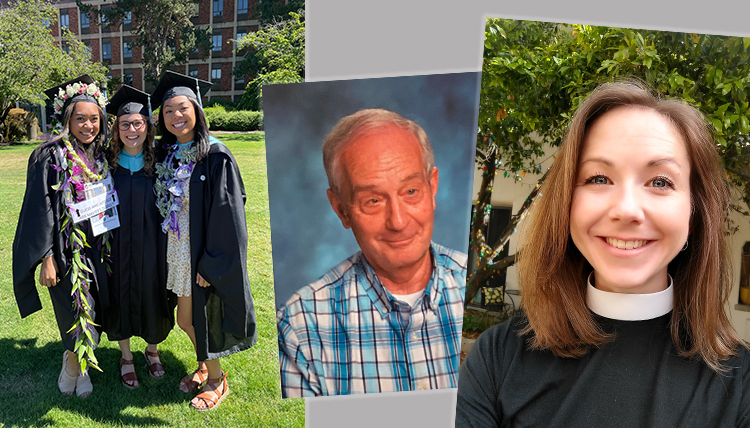 Catholic Educators on PACE: '20 Kau'i Ho'opi'i taught second grade at St. Cecelia in Portland. '20 Megan McNulty taught high school science at Kennedy Catholic in Seattle. '20 Sydney Lowe taught first grade at St. Ignatius in Boise. (The three are shown above, left.)
'74 James Welsford (above middle) a religion teacher at Bishop O'Connell High School (Arlington, Virginia), was honored for 40 years of teaching. He also received honors from the Diocese of Arlington.
'07 Amy Newell-Large (above right) was ordained a priest in the Episcopal Church with the Diocese of Colorado. She serves St. John's Cathedral as Curate for Parish Life, focusing on hospitality and small- group ministries.
Published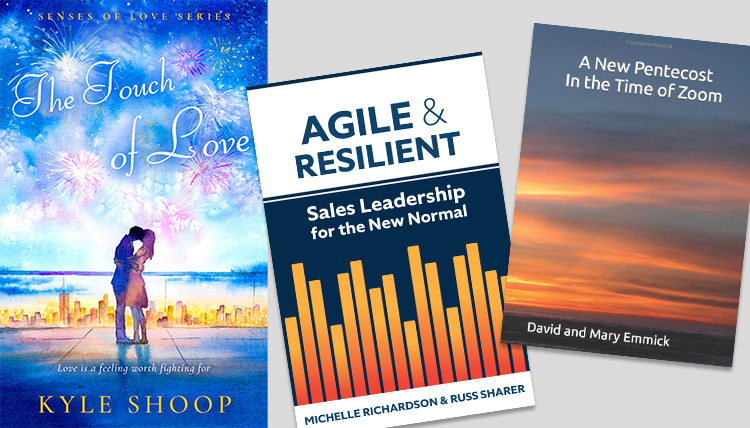 '60 Art McGinn published a comic novel, "Telegraph Hill," about life in San Francisco.
'79 Mary (Judge) Emmick and her husband, David, published "A New Pentecost in the Time of Zoom" as their Synod response.
'99 Joelle (Abi-Jaber) Jackson published "Unlock Your Conscious Leadership," which takes readers on a journey of self-reflection and empowerment.
'09 Tom Reuter wrote a book called "The Tom Report."
'10 Kyle Shoop published his eighth novel, "The Touch of Love," which tells two interconnected love stories that span generations.
'12 Russ Sharer published his first book with co-author Michelle Richardson. Agile and Resilient: Sales Leadership for the New Normal addresses how the COVID pandemic has accelerated trends in business-to-business sales.