Running Together: Health Partners In Stride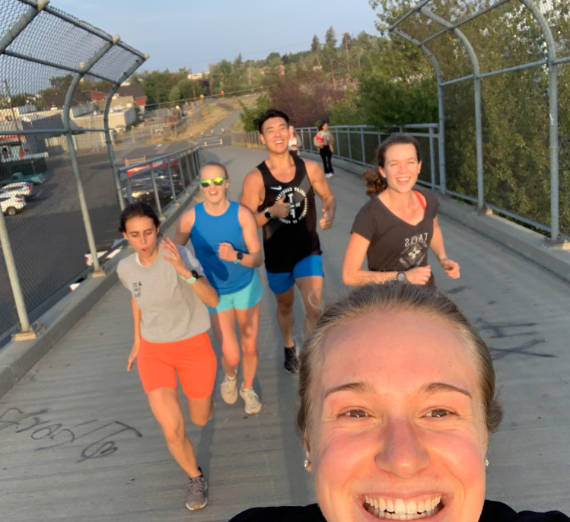 ---
When Jake Deckert arrived in Spokane in 2019 to teach for the UW School of Medicine-Gonzaga University Health Partnership, the avid runner hoped to start a running club for students and faculty.
Deckert teaches human physiology courses for Gonzaga University and Foundations of Medical Science and Research for UWSOM-Spokane.
"There's overlap between physical activity and the brain and how we learn," he said. "I thought a running club would be a great thing for students and allow us to get to know each other. I wanted to include both UW and GU students--then COVID happened."
His idea simmered on the back burner until he saw a UWSOM student's t-shirt.
"I'm on the Spokane SWIFTS, it's a women's competitive running group," said Claire Schaef. "I wore a SWIFTS shirt to class one day and Professor Deckert saw it and told me he wanted to start a running group."
The baton was passed and Schaef and fellow UW medical student Freddy Pan launched the group in July.
"We meet Thursday evenings at our new UW School of Medicine-Gonzaga Health Partnership building," she said. "We reached out to Gonzaga students and we've got several nursing students who run with us. We're hoping premed students will join us, too."
While Schaef is a competitive runner, Pan said he'd gone about three years without running.
"I'm a competitive weight lifter, but I wanted to start running again," he said.
The group's two- to six-mile runs take them through the University District and downtown.
"I'm getting to know the city since I just moved here from Tri-Cities," Schaef said.
Pan, who's from Portland, Oregon, agreed.
"It's great to get out of the gym and explore," he said.
People of all fitness levels participate in the non-competitive group which was exactly what Deckert hoped for.
"The run typically sorts into a couple of pace groups, including a faster group who occasionally goes further, a conversational group, and an interval group, focused on intermittent running/walking," he said.
He's gratified by the good turnout.
"I hear from a lot of med students that they lose their fitness due to school and studies," said Deckert.
Schaef can relate.
"Often medical students are perfectionists," Schaef said. "You feel like you need to study more-- do more, and healthy habits like exercise get sacrificed."
Both students say the social component of the group is valuable and including GU students has been especially rewarding.
"I'm enjoying the interaction with future healthcare workers," said Pan. "Who knows? We might end up working together someday, so it's great to have professional networking, too."
The benefits of regular exercise are myriad.
"I get so much from running and exercise," Deckert said. "The physiological benefits and the mental clarity help my focus and knowledge retention."
That's something the students appreciate and what they hope to model for others.
"We want to encourage habits that make healthier, happier healthcare workers," said Pan.
While stories of medical school's intense years of study and hard work abound, Schaef is delighted to discover there's more.
"There are beautiful parts of being a medical student and this running group is one of them," she said. "We do have a lot of good times."
Tips For Starting A Running Group
Running with a group allows people to become part of a community of like-minded people and to connect through a common interest. Deckert suggests these tips before starting a group.
Determine the goal: Our goal was to get students moving and give them a way to interact with each other in a setting outside of the classroom.
Be clear about the focus: Establish upfront what Is desired as the purpose for your group. Is it competitive or social? Is it focused on training for one specific event or is it ongoing? From the beginning, participants are allowed to set their own goals and their own pace. Our focus is to be open and inclusive to runners of all abilities. We established at the beginning that it will be a social, non-competitive group.
Identify safe routes: Consider where the group meets and be sure the surrounding areas have access to safe running routes with varying distances. Our group runs near University campuses, making it convenient for runners.
Establish leadership: How can you create and maintain participation in your group? Create leadership roles for members of the group to lead and inspire others. We have a large student population and a handful of student leaders who attend every group run. This will help maintain membership, and continue to grow it over time.
Have fun: Keep in mind the goal and focus of the group. Consistent participation will foster good health and new friendships.