Jacob Rooksby Appointed Inaugural Smithmoore P. Myers Dean of Gonzaga School of Law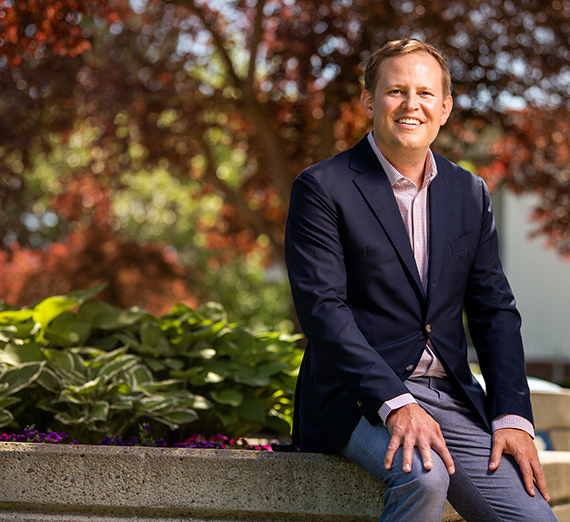 ---
Dean Jacob Rooksby has been leading Gonzaga's law school since arriving in Spokane in 2018, but his role took on a new gravity this semester as the dean role officially became an endowed position named in honor of Gonzaga legal legend Smithmoore P. Myers.
"As many know, Smithmoore Myers – affectionately known as Smitty – twice served as dean during his illustrious career and was widely regarded as one of the institution's best leaders," said Provost Sacha Kopp upon announcing Rooksby's "new" position.
"Appointing Dean Rooksby to this role is consistent with the Myers family's philanthropic wishes and intent, specifically reinforcing the importance of the leadership role the dean holds within legal education and at a law school."
In addition to serving as dean of the School of Law, Rooksby also holds appointments as a professor of both law and leadership studies.
"I am deeply honored to serve as the inaugural Smithmoore P. Myers Dean of Gonzaga Law School," Rooksby said. "While Smitty had passed a few years prior to my arrival at Gonzaga, his status and work in our legal community are the stuff of legend. This named and endowed deanship will ensure his legacy is closely linked with the institution he proudly attended, indelibly improved, and forever loved."
Besides his two stints serving as law school dean, Myers ('39) was a veteran of the U.S. Navy, worked in the Washington state Attorney General's office, was appointed U.S. attorney for the Eastern District of Washington by President Lyndon Johnson and served as a U.S. Magistrate Judge for Eastern Washington, in addition to working several years in private practice and teaching law students. Myers died in 2015 at the age of 101.
The Myers estate's endowment of the dean's position is intended to help the GU law school compete with its peers and attract and retain qualified leaders like Dean Rooksby. His appointment comes with the endorsement and recommendation of the Board of Directors of the Gonzaga Law School Foundation, which manages the Myers family bequest, upon nomination for the position by GU President Thayne McCulloh.
Learn about Smithmoore "Smitty" Myers' career.