Gospel Greats the Blind Boys of Alabama Visit GU Dec. 18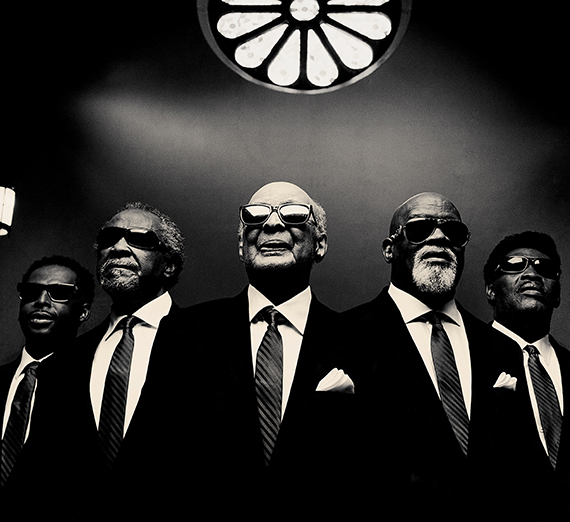 ---
Legendary gospel group the Blind Boys of Alabama are coming to Gonzaga University's Myrtle Woldson Performing Arts Center for a Christmas concert on Sunday, Dec. 18. The 2 p.m. show will feature the innovative gospel and blues group from the South that has delivered more than eight decades of stunning vocal performances. 

The original Blind Boys formed at the Alabama Institute for the Negro Blind in 1939, and their iconic fusion of gospel, blues, jazz and soul through the years led to widespread critical acclaim, and tours that have taken them around the world. While rooted in spiritual music, the Blind Boys have also recorded songs and toured with the likes of Prince, Peter Gabriel, Bonnie Raitt, Bon Iver and Ben Harper. Their stirring cover of Tom Waits' "Way Down In A Hole" served as the theme song for TV hit "The Wire."

The Blind Boys didn't just evolve out of the gospel tradition; they helped define it through the years. Singing at events for Dr. Martin Luther King, Jr., they contributed to the sounds of the Civil Rights Movement in the United States, and they toured during the Jim Crow era. In the modern day, they have had an immense impact on the shaping of the new 21st Century gospel sound.
The Blind Boys have won five Grammy Awards, been inducted in the Gospel Music Hall of Fame and performed at the White House for three different presidents.
Audience members of all ages are encouraged to attend the Blind Boys of Alabama Christmas show on the Myrtle Woldson stage. Their Christmas music renditions are a staple of the season and were first recorded on their 2003 album "Go Tell It on the Mountain." The album combines beloved Christmas songs with gospel classics. They later recorded a second holiday music collection called "Talking Christmas" in 2014. 

On Dec. 18, the Blind Boys' set list will likely include "Silent Night," "White Christmas," "Amazing Grace" and "Go Tell It On The Mountain," a timeless gospel tune. The group was specially chosen by the Myrtle Woldson to bring the holiday spirit to the Spokane community.

Tickets are on sale now, and start at $50 for adults and $25 for students. Also, you can give the gift of gospel and celebrate the season of giving by purchasing a $100 ticket, and the Myrtle Woldson will gift one adult community member or two students a Blind Boys of Alabama ticket. More information on the show, tickets, and the Myrtle Woldson Performing Arts Center can be found on Gonzaga University's ticket website, Gonzaga.edu/ticketcenter.  
See the Blind Boys of Alabama in person