Zags Reunite During All-Class Zagapalooza Weekend
Event brought decades of Zags together for an unforgettable in-person celebration.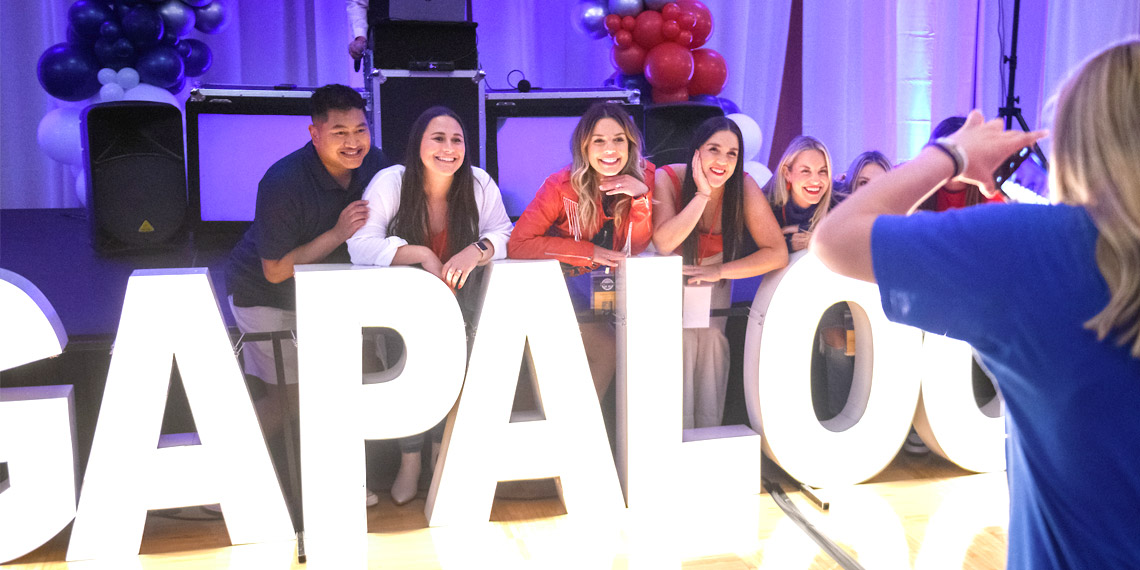 From the class of 1954 to 2022, nearly 70 years of Zag alumni came home to Gonzaga for Zagapalooza October 14-16. The all-class reunion weekend included more than 20 alumni events on campus and around Spokane, culminating with the BULLDOG BLAST party at the Spokane Convention Center.
Alumni toured campus, participated in class socials and took delight in visiting with friends. For some, this was their first time back to campus in a very long time.
"I haven't been back in 40 years," said Dorothea Burke ('82), who flew in from Tampa, Florida, for the weekend.
"It was a great opportunity to see where the University has gone and to reflect on all the things the University gave me."
Burke noted new programs and expanded academic offerings for students, and said Gonzaga inspires her to continue learning today.
Hosted by the Office of Alumni Relations, Zagapalooza featured partnerships with the School of Business Administration, the School of Engineering and Applied Science, Unity Multicultural Education Center (UMEC), the Office of Mission and Ministry, Career & Professional Development, Admissions, Athletics, Theatre & Dance, and others.
The variety of programming allowed alumni to reconnect with their Gonzaga experience through social gatherings, prayerful moments, continuing education and festive celebrations.
Gonzaga President Thayne McCulloh remarked that it has been far too long since alumni were able to gather on campus, noting the two-year pause due to the COVID-19 pandemic.
"Thank you for taking the time this weekend to come home to Gonzaga," McCulloh said during a presidential address on Saturday. "I'm a fellow alum, and what motivates me again every day is trying to figure out how we can become a better place that more fully lives out this mission. I am so grateful to all of you who—in so many different ways—show up for Gonzaga."
Alumni are a critical component of the lifelong education Gonzaga provides for its students, said McCulloh.
"Our students benefit so much from the wisdom and the perspective that alumni, who are out there in the world doing amazing things, can share with them."
McCulloh also shared that the University depends on the prayers, good will and financial support of alumni to continue the work of providing a Jesuit education.
See some highlights from Zagapalooza 2022.
Alum Mark Puetz ('02) was anxious to see how current Gonzaga students are interacting with their learning environment and the new facilities on campus.
"I really wanted to see where the students are at today," said Puetz, who came in from South Dakota for the weekend. "This is a good opportunity to see campus and all the new things that have been happening. And to see friends."
Traditional anniversary classes, including 40th, 30th, 25th, 20th, 15th, 10th, 5th and 1-year reunions, were able to gather in small group settings at local restaurants during volunteer-led socials on Friday night.
One group of young alumni, all 2021 graduates, came to Zagapalooza to celebrate an event in person, something they rarely got to do during the pandemic.
"It's special to come back and meet someone that, during COVID, you would see during passing period, but you didn't get to connect with," said Katie Connolly ('21).
Emily Pinder ('21) echoed Connolly and shared that the quality of relationships at Gonzaga is unique and inspired her to come back for Zagapalooza.
"There's just something special that you get at Gonzaga that you don't get anywhere else."
Those relationships are exactly what brought Melissa (Brockman) Bathum and Maggie (Cramer) Connors, both 1997 alumni, to campus for Zagapalooza. It had been 22 years since they saw each other at Bathum's wedding.
"There's something about those four years, there's an intensity in the relationships that you don't necessarily have anymore," Connors said. "We did all these fun things—it's like 20 years of amazing memories."
The weekend was "full of great moments," said Kara Hertz ('01), assistant vice president, Alumni Relations & External Partnerships, highlighting the many interactions she observed.
"Each alum has made a special imprint on our university and our community," Hertz said. "For the many alumni who joined us, it was wonderful to welcome them back 'home.' We hope the weekend reminded them of their vital place in the Gonzaga family."
Check out some more opportunities to gather with your fellow Zags!
Alumni
Alumni
University Advancement
News Center