Family to receive remains of Gonzaga graduate, Navy pilot missing since 1967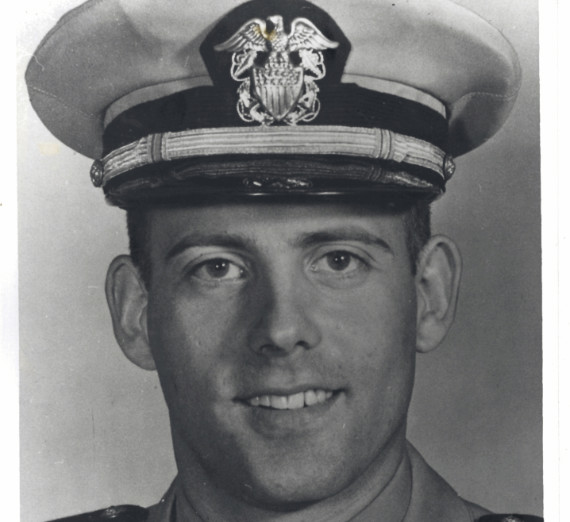 ---
SPOKANE, Wash. – The remains of a Gonzaga University graduate and Navy pilot who went missing during the Vietnam War will be brought home to his family, including his 101-year-old mother, after 50-plus years.
The single-seat A-1H Skyraider piloted by U.S. Naval Reserve Cmdr. Paul Charvet, 26, of Grandview, Washington, then a lieutenant, was part of a three-plane flight supporting a naval gunfire mission on March 21, 1967. It apparently was shot down northeast of Hon Me Island near Thanh Hoa Province. On March 22, Radio Hanoi Broadcast reported an American aircraft was shot down the day before, and Charvet's plane was the only U.S. aircraft lost in that area March 21.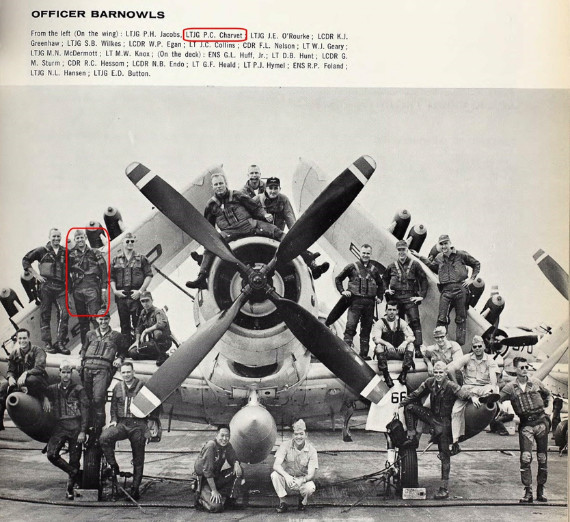 Charvet, born May 27, 1940, was the oldest of three children and graduated from Gonzaga with an English major in 1962. Both of his sisters will be with his mother, Blanche Charvet, for the Navy ceremony on Jan. 26 in Anchorage, Alaska. His mother lives there in an assisted-living setting, not far from her daughter Lorraine Charvet and a granddaughter.
Dona Re' Shute, who lives in New Jersey and is four years younger than Paul, said her sister shared the news with their mother when identification became official last May.
"Mother was 100 and I took a picture of Paul to her and said, 'Mom, remember you had a son and he was in the Navy' and that he had been found. She replied, 'That is wonderful news.' That thrilled us because she doesn't talk much now" and her memory is spotty, Lorraine said.
Blanche Charvet also perked up when reminded about her son a few months later.
"I was there in October," Dona Re' said. "She did know me and we did talk about Paul and she was very engaged."
Family ties at Gonzaga
Dona Re' enthusiastically remembers how much Paul enjoyed his years at Gonzaga, and that he married fellow Zag Christina Johnson, of Selah, Washington.
"He loved it," she said. "He and Chris were in the play 'Oklahoma' together. He was very outgoing and loved every minute of his college career. He was involved in all sorts of activities. And she was SUCH a lovely person."
And Dona Re' knew that firsthand because she began high school at Holy Names Academy, down the street from GU, in 1959. All three children went to boarding school starting with high school. Paul graduated from the Benedictines' now-closed St. Martin's High School in Olympia, Washington.
Dona Re' went on to study at Seattle University and finished a nursing degree at the University of Washington.
Lorraine also spent time with her brother during his undergraduate days, overlapping with his freshman year. She graduated from Holy Names in 1959, the same year that Dona Re' started, and attended Gonzaga her freshman year before being accepted into the Sacred Heart Nursing program in Spokane.
Jeff Colliton, who had a baseball scholarship at GU, remembers his days as a teammate of Paul's on the varsity baseball team. Paul was a left-handed pitcher.
"He was pretty good. Obviously better than average or he wouldn't have played at the college level," Colliton said. "I was his catcher for most of his early games but then I moved to second base."
Pictures of the team can be seen in the Rogues Gallery that lines the first-floor hallway of what is now College Hall, formerly the Administration Building.
Before becoming a Zag, Dona Re' said her brother played for Grandview in a summer baseball league. She especially remembers him playing against Mel Stottlemyre, who was raised in nearby Mabton and went on to become a star pitcher for the New York Yankees.
Paul's love for baseball may have come from his dad, Ray Charvet, who played baseball. A farmer, he also may have influenced Paul's choice to become a pilot. Ray flew coastal air patrols and later shared a private plane at the Prosser, Washington, airport with buddies, occasionally taking his family for rides.
Colliton, a former Spokane City Council member, was in Vietnam when Charvet went missing.
"When Paul was shot down, I was in the southern part of South Vietnam during my first tour, and somehow I found out that he was missing," recalls Colliton, who retired from the Army as a full colonel after serving 26 years as a helicopter pilot and active-duty officer.
Remains found
The A-1H Skyraider piloted by Charvet was assigned to Attack Squadron 215 aboard the USS Bon Homme Richard (CV-31). Charvet was considered missing in action until Dec. 2, 1977, when his status was changed to "Presumed Killed in Action."
On Sept. 24, 2020, the Socialist Republic of Vietnam turned over presumed human remains and material evidence to the U.S. Additional material evidence was transferred Oct. 15, 2020. The remains and evidence were sent to the laboratory at Joint Base Pearl Harbor-Hickam, Hawaii, run by the Defense POW/MIA Accounting Agency. Final identification was in May 2021.
Charvet's name is recorded on the National Vietnam Veterans Memorial in Washington, D.C., and the American Battle Monuments Commission's Courts of the Missing at the National Memorial Cemetery of the Pacific in Honolulu, along with others who are unaccounted for from the Vietnam War. A rosette will be placed next to his name to indicate he has been accounted for.
Always remembered, never forgotten
A tree at the northwest corner of the Crosby Center on Gonzaga's campus was designated "The Freedom Tree" in Charvet's honor in 1975 with this inscription: "The Freedom Tree. With the vision of universal freedom for all mankind, this tree is dedicated to LCDR Paul C. Charvet and all prisoners of war and missing in action, 1974."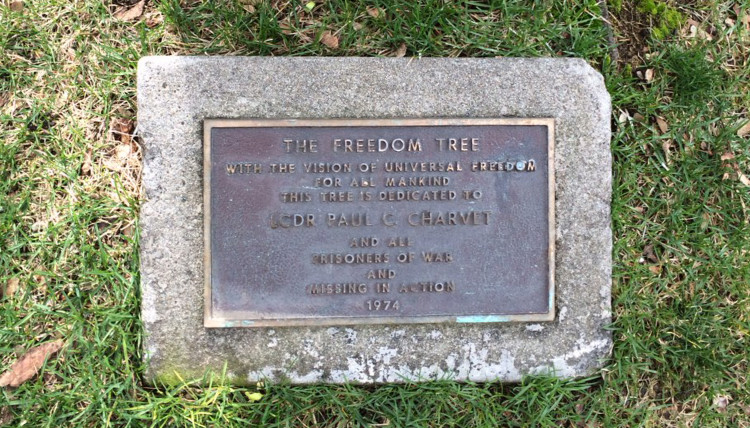 The idea originated with members of his GU alumni class of 1962.
Charvet was promoted to lieutenant commander (LCDR) during the time he was MIA. After his status was changed to "Presumed Killed in Action" on Dec. 2, 1977, he was posthumously promoted to the rank of commander.
The national Wall of Faces project features a page dedicated to honoring and remembering every person whose name is inscribed on the Vietnam Veterans Memorial in Washington, D.C. It allows family and friends to share memories, post photos and connect with each other.
A review of notes left on The Wall of Faces website shows that Paul was never forgotten. From a fellow Navy pilot trainee to numerous people proud to share that they have worn for years a bracelet inscribed with his name, and even passed it from generation to generation, it's readily apparent that his sacrifice was an inspiration to many. Here are three recent posts:
"Paul was in my preflight class in the Summer of '62.
A great guy, and fellow Naval Aviator!
I have never forgotten!" (Aug. 2, 2020)
"When I was in high school, students could mail in for POW/MIA bracelets. They were a silver metal and engraved with the name & rank of the soldier. I wore mine for 4 years, until I went off to college. I am now 65 and will never forget his name, LtCdr. Paul Charvet. I have been to D.C. several times, and always stopped to look at his name on The Wall." (Nov. 18, 2020)
"Our dear friend, the late Dorance (Andy) Anderson, DDS, wore LCDR Charvet's MIA bracelet for about 30 years. That bracelet has been passed to me by Dr. Anderson's son asking that I place it at the Wall's Panel 17E. I intend to do just that this week. We honor your service, LCDR Paul C. Charvet, and the sacrifice of your family." (April 15, 2019)
A new sense of closure
As news of the recovery of Paul's remains spreads, it "makes a lot of people happy," Dona Re' said, adding that her daughter wears a remembrance around her neck.
The family has been touched.
"We weren't even looking for closure," she said. "After 10 years they declared him 'presumed killed' and we had a funeral Mass. Knowing that he died suddenly was a comfort to us.
"His coming home – we didn't realize we needed it."
Paul's father is buried in Mabton, Washington, where there is a marker in the cemetery with Paul's name on it, placed years ago by the family. His remains eventually will rest there, with a headstone provided by the Navy. Paul's mother also will be buried there when the time comes, Dona Re' said.