Gonzaga Welcomes Second-Largest First-Year Class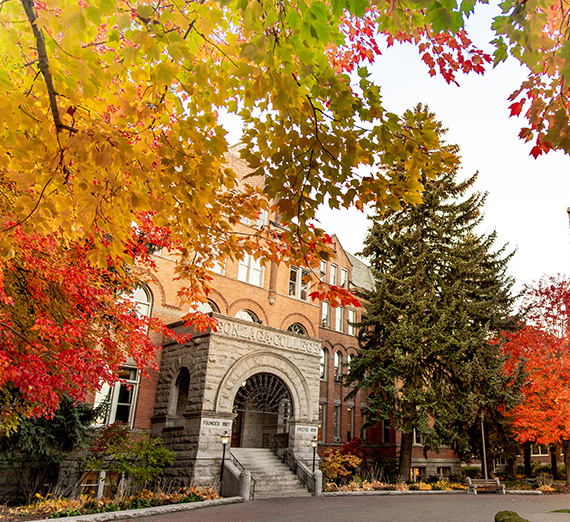 ---
SPOKANE, Wash. – Gonzaga University will welcome its second-largest first-year class this week when students begin to fill residence halls and prepare for the first day of class. The 1,330 students expected also represent the school's most geographically and racially and ethnically diverse class.
New student orientation is scheduled for Aug. 27-30. Classes start Aug. 31.
The first-year students boast an average 3.85 grade point average, as reported by their high schools (*3.69 unweighted GPA), among the highest in class history.
In addition to the first-year class, Gonzaga also welcomes 164 transfer students from diverse educational backgrounds and interests.
"Both the first-year and transfer student numbers are higher than we anticipated, largely due to an increase in out-of-state students," said Erin Hays, director of undergraduate admission. "It is exciting to see the Zag spirit reach a little farther than in previous years!
"Furthermore, we are thrilled with the diversity of the incoming students, for 30 percent of the first-year students self-identify as students of color. We cannot wait to welcome all of the new students. They will greatly contribute to the Gonzaga community."
(*Unweighted GPAs are measured on a scale of 0 to 4.0 and do not account for course difficulty.)
A snapshot
A look at the new class reveals it is loaded with leaders, which Hays finds remarkable.
"The students have had a most unique academic experience due to the pandemic," Hays said. "Much of the last year and a half was in a virtual setting, from classes to extracurricular activities. Somehow, despite the pandemic, these students still found ways to be exceptionally involved in their communities."
The class boasts the following: 14 student body presidents; 128 class presidents and officers; 268 student government members; 998 indicate significant volunteering experience; and 554 report leadership experience. In addition, the class includes 64 students who took part in speech and debate, 1,072 participants in athletics or outdoor activities, 298 musicians, 170 theater participants, 115 ecology/sustainability club members, and 734 who were employed in summer or part-time jobs.
Hailing from
The first-year students represent 44 states and the District of Columbia. They also come from 11 countries outside the U.S.: Australia, Canada, China, Ethiopia, India, Nicaragua, Nigeria, the Philippines, Spain, United Kingdom and Vietnam.
The transfer students hail from 21 states and 15 countries: Belize, Bulgaria, Canada, China, Congo, France, Ghana, Japan, Netherlands, the Philippines, Saudi Arabia, Spain, Uganda, United Kingdom and Venezuela.
Official fall enrollment figures will not be confirmed until Sept. 30. Currently, Gonzaga reports 7,386 total students: an estimated 5,015 undergraduates, 1,912 graduate students (master's and doctoral), and approximately 453 Gonzaga School of Law students.