Gonzaga Earns Fair Trade University Distinction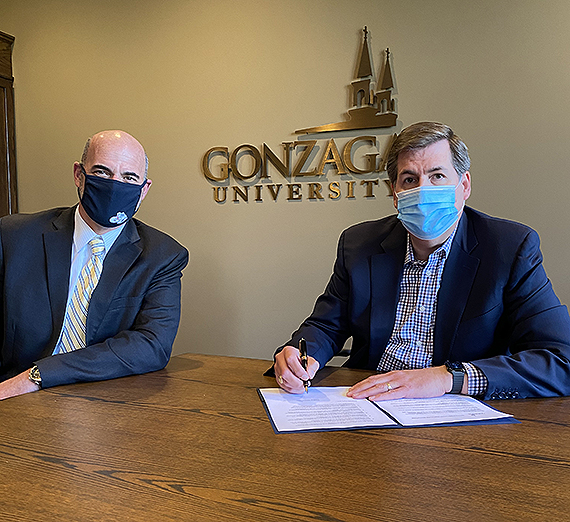 ---
SPOKANE, Wash. — Consistent with Gonzaga University's commitment to create a campus culture of environmental sustainability, President Thayne McCulloh, D-Phil., today approved the Gonzaga University Fair Trade Resolution, the final component needed to earn the Fair Trade University distinction from the international Fair Trade Campaigns organization.
Gonzaga joins more than 70 U.S. colleges and universities, including six other Jesuit colleges or universities, to pass a Fair Trade Resolution.
The resolution commits Gonzaga to make Fair Trade produced products available in on-campus food service locations and on-campus retail locations. Fair Trade Gonzaga, a student group, has worked tirelessly over the last two years with Sodexo to meet or exceed all requirements of recognition. These commitments include making a certain number of Fair Trade food products available in all on-campus dining facilities and catered events, the inclusion of Fair trade products in on-campus retail stores, and continued community education around the importance of Fair Trade.
Isabel Zimmerman, president of Fair Trade Gonzaga, said the group's members are excited to see the work they've done over the past several years come to fruition.
"Fair Trade products are vital to the lives of farmers and workers around the world and providing more access to these products on Gonzaga's campus allows students to vote with their dollar for the kind of companies they want to support," Zimmerman said. "Although our work doesn't end here, passing this resolution is a huge step forward in Gonzaga's commitment to Fair Trade and support of their mission statement."
Jim Simon, Gonzaga's director of sustainability, notes the designation is consistent with what Pope Francis describes in "Laudato Si," his encyclical letter on the environment and human ecology, as an "integral ecology" in which the human and social dimensions of ecology are respected.
"This designation is a result of deep collaboration between students in the Gonzaga Environmental Organization (GEO), Fair Trade Gonzaga, Zag Dining by Sodexo, the Office of Sustainability, and the Food Systems working group. To achieve our Real Food goal and Fair Trade designation in quick succession is a testament to the commitment that Gonzaga has to care for the planet and examine our consumption patterns towards a common good," Simon said.
Additional information about sustainability at Gonzaga can be found at www.gonzaga.edu/sustainability

Visit the following link for more information about Fair Trade campaigns.